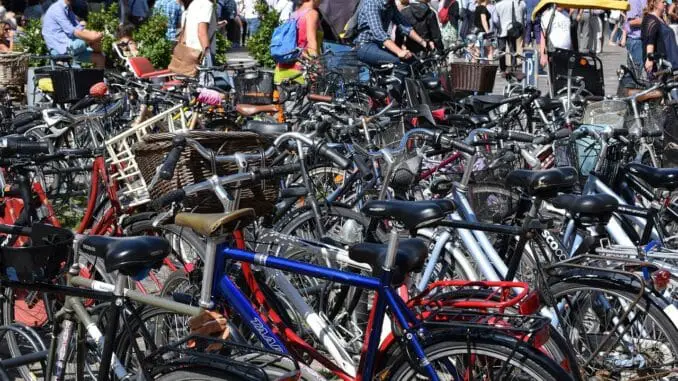 Denmark is at the forefront of the green wave. This push toward a brighter future is in part due to an increased focus on cleaner energy and technology. However, the greatest contributor to Copenhagen's status as a green capital is an old innovation often regarded as a toy. Copenhagen truly is the biking capital of Europe, as the central district boasts having more bikes than citizens. In an era where so many major cities are clogged with traffic, Copenhagen has embraced the efficacy of moving one person on two wheels.
 Now this effort is not merely a coincidence. There have been investments in Copenhagen's bicycle culture from the top down. Even the cities basic infrastructure contributes to the pedal-pushers daily commute. The pipes that carry Copenhagen's hot water are located (by design) beneath the city's bike paths, ensuring that obtrusive snow will be quickly melted. Furthermore, Copenhagen features an intricate network of bike lanes that take riders from rural to urban zones free of the dangers of oncoming traffic. Copenhagen was literally designed with the bicycle in mind. The citizens do not take that for granted.
Government statistics show that 50% of Copenhageners commute to work or school on their bikes. This startling number is not just limited to the working class as 67% of the members of the Danish Parliament bike to and from work. In Copenhagen, the bike is the great equalizer. Citizens of all means and creeds are respected when on the road. So what does this mean for you as a tourist? It's clear the best way to see Copenhagen is on the back of a bicycle.
With a bicycle and map an adventurous traveler could see many very distinct parts of the city. You can go from the gritty stylishness of Vesterbro, to the peaceful quiet of Frederiksberg, to the zany lifestyle of Christiania, to the beach, and back, all in a few hours. Obviously, the best time to do a self-guided bike tour is in the heart of summer. Midday in June or July will give you the best chance at the weather Copenhagen's beautiful natural scenery deserves. But you can find Danes biking in all sorts of inclement weather. Don't be scared off by a little rain. Sometimes in a foreign country it can be hard to get around without a car, or someone to show you the way. The best part about biking in Copenhagen is the total freedom. If you're riding along and see an interesting shop or café just park your ride outside and take your time checking it out. With a bike in Copenhagen you are the master of your own experience.
All of Copenhagen's attractions are easily reachable by bike. Tivoli Gardens, The Opera House, Nyhavn, Carlsberg Brewery, and the city center all have ample bicycle paths and parking. History buffs can also ride to the cities many influential sites like the National Museum, Ny Carlsberg Glyptotek (magnificent art collection of Carlsberg Brewery founders), and the royal palaces of Amalienborg and Rosenborg. You can create your own hop-on/hop-off tour based on your interests. Feel free to cruise through Copenhagen's gorgeous green spaces in many of the surrounding and less densely inhabited boroughs. If you get lost or tired find your nearest metro station, carry your bike onto the designated train and ride back to town in a more leisurely fashion. In Copenhagen the bike and public transportation are symbiotic.
Becoming a part of the Copenhagen biking scene is extremely easy. Almost every bike shop in the city center will have rentals available for around 15-20 US dollars per day. If you're planning a longer stay, most shops will provide a discounted extended rate. The other option is the ease of the Copenhagen City Bike. Register online and you can save time by just swiping your card at the rental station. There are dozens around the city center and suburbs. For $4 dollars per hour, you can rent a bike with GPS and information about Copenhagen's historic sites. Not getting lost may deprive you of the chance to speak with a Dane, but there's no cheaper guided tour. Feel free to pick up the bike at one station and return it at another to further customize your tour. Register for your bike and find any other relevant City Bike information at http://bycyklen.dk/en/ .
Some people prefer the structure and information that only a human guide can provide. While it will undoubtedly be more expensive, and perhaps a bit more strenuous, Copenhagen has a variety of bike tour providers offering unique takes on the classic bike ride. The tours often have distinct focal points. From street art, to architecture, to nature parks, or history, you can find a tour that fits your inclinations. Many of the bike rental shops also offer tours, so you can get off to a rolling start. While these bike tours can cost around 40-50 dollars, you will get the distinct pleasure of a guided tour with information relayed by aCopenhagen bike enthusiast. It will be better than any guidebook, or video. So find a tour company that fits your needs, either edgy or outdoorsy, and match that with your budget. Whether self-guided or professionally led a Copenhagen bike tour is the best way to see the entire city.
The bike is a symbol of Denmark's openness. People on bikes are all equal, from parliamentarians to panhandlers. The streets are wide and accessible. The scenery is breathtaking. A ride around Copenhagen will show you what "Going Green" actually means. A bike is so much more than two tires, and a frame. Cycling in Copenhagen is a way of life. You'll find the roads, the people, and the landscape to be in tip-top shape. A bicycle is a liberating thing. You can see what you want, when you want. No need to worry about parking, or bus schedules, or rail networks. You may find the journey to be as rewarding as the destination. So when in Copenhagen, do as the Danes do.