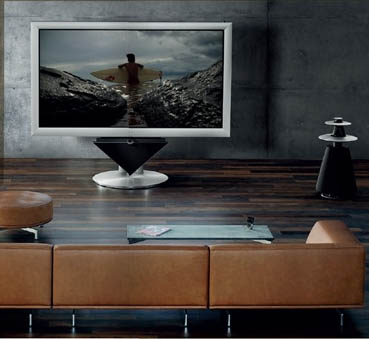 High end plasma TV just got bigger. Bang & Olufsen launched one of the world's biggest TV screens measuring a whopping 103 inches. The new Danish made television is part of the Beovision 4-series.
With just a push of a button, the television can be raised, twisted and tipped to give the perfect angle.
The company behind this new TV is Bang & Olufsen of Denmark, a leading designer and manufacturer of audio-video devices such as telephones and televisions.
This new B&O mega flatscreen television is going on a tour of the United States for its launching to the press and selected customers. The Beovision TV will visit three U.S. cities such as New York, Los Angeles and Chicago. First stop will be New York on Wednesday followed by Los Angeles, California on May 20 and Chicago on June 16.
The giant plasma Beovision TV is considered a luxury television with a unique concept. It won't be sold at the Bang & Olufsen shops, though, because this new TV will be made available by commission.
The men behind this innovative company founded in 1925 are Peter Bang and Svend Olufsen. The firm's line of products carry a Beo prefix and its TV series is known as Beovision.