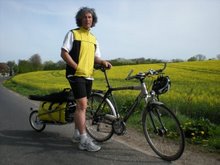 It can be devastating for a person to find out that he or she has a disease that will change his life forever and one which will no longer make him capable of doing his usual routine. This is what multiple sclerosis can do to anybody but thanks to a Danish musician, information about this disease and its effects are being spread across the United States.
Rupert Dale, a resident of Odense, Denmark is now on doing a U.S. tour to raise awareness about multiple sclerosis. What makes his campaign very unique is that he's doing it on a bike and performing music to people during his 60-day transcontinental journey in the United States. Dale is only out to spread the word and does not even collect donations when he performs in restaurants, cafes and bars. He plays his favorite folk music such as those of Woody Guthrie, Bob Dylan and his very own original compositions using his guitar.
Dale is a teacher and musician in Odense, Denmark. It was last year when he made a decision to start the campaign. This was after he learned from a good friend who used to play the double bass but who could no longer do so because of multiple sclerosis. Dale felt very bad for his friend for not being able to do what he loves to do due to his condition.
Rupert Dale had a send-off concert in Odense, Denmark notably at the school where he teahers music, English, sports and woodworking. Each day, he bikes 70 to 90 miles and he targets to end his campaign in San Francisco. He constantly communicates with his wife and daughter back in Odense, Denmark through SMS and his blogs.
This great Dane says he's doing this journey for a worthy cause describing it as an investment in life. For him, taking the time to spread the message about MS to people is a very important trip.