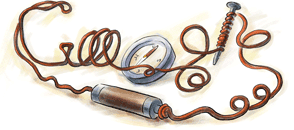 If you're a regular internet user, you are surely very familiar with the most popular Google search engine. You may have also noticed that the Google name on top of the search engine page normally has images notably animated graphics that change every now and then to reflect the season of the year.
Last week, Google released a new logo that honors a major part of Denmark history. The logo shows a cord connected with a battery in the shape of the Google name and was unveiled to commemorate the birth anniversary of the renowned Hans Christian Orsted, a physicist and chemist from Denmark land. The logo is linked to a results page that will provide information on the life of this physicist and his contribution in Denmark history.
Born on August 14, 1777, Hans Christian Orsted is credited for discovering the magnetic fields created by electric currents back in 1820. He is also known for producing the metal aluminum in 1825. The aluminum discovery resulted from the reaction of anhydrous aluminum chloride with potassium amalgam.
The National Museum of Denmark revealed that apart from Orsted's scientific contributions in Denmark history, he was also a socially responsible individual and one with a gift for poetry. The Danish chemist was actually fond of writing verses and prose during his time and was instrumental to the modernization of the Danish language. Did you know that Orsted formed more than 2,000 new Danish words?
The famous Danish physicist died on March 9, 1851 at the age of 73. Known as the leader of the Danish Golden Age, Orsted was also a good friend of another renowned Danish personality and author and his namesake Hans Christian Andersen. After his death, he has been honored in various ways from being featured in the Denmark kroner to carrying his name by scientific institutions and even the first Danish satellite which was launched in 1999.