The city of Nykøbing Falster is located in the Guldborgsund kommune. It belongs to the region of Sjælland.
Nykøbing Falster stretches over two islands, Lolland and Falster, connected by the 295 meter long Frederick IX Bridge over the Guldborgsund (Guldborg Strait) waterway.  Nykøbing Falster has a population of 19,679 (2004), of which 16,784 live on the Falster side, and 2,895 live on the Lolland side.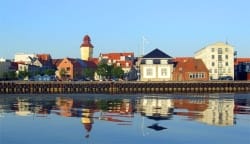 Nykøbing Falster is the largest city on the islands of Lolland and Falster, and is often called "Nykøbing F." to distinguish it from at least two other cities in Denmark with the name of Nykøbing: Nykøbing Mors and Nykøbing Sjælland.
There is a 0.5 kilometer long commercial district, walking street (gågade) on the Falster side of the city with a wide selection of shops. At the end of the street is a large plaza where events are arranged. These include popular late night events, which are held several times a year.
The town receives many visitors during the summer, especially from Sydfalster.
Related Article