Introduction
The island city of Odense has a lot to offer the visitor, with cultural activities galore and a quaint old town centre. Well located at just under 2 hours' drive from both Aarhus and Copenhagen, this little known gem is well worth a look! Let's see hotels in Odense Denmark !
Not only is Odense the birthplace of one of Denmark's most famous exports – Hans Christian Anderson – but there are a lot of other interesting sights too. Read on to find out more about Denmark's third biggest city and discover the best hotels in Odense Denmark.
Odense Denmark City Map
Get to know the city by checking out this handy map, and then use it when working out where to stay in Odense.
The Odense C Zone is the central part of town. The Pedestrian Zone will set you up nicely for your stay if you wish to be close to all the action. Here, get to grips with city life in Odense, with a selection of cultural sights to explore.
This is also where you will find most of the Odense Hotels. Odense C is also home to the Old Town Quarter, a charming network of medieval streets and traditional architecture. The Nedergade and surroundingarea is the original old town of Odense, and is well worth exploring. Finally, The Latin Quarter is located in the streets around Brandt's Passage.
The Odense Harbour is a little bit of a walk out of town – about 40 minutes. Here you can dine on the best food in the area and take in the vibe of regeneration.
A bit further out you will find the likes of Odense M, which are good options for those looking to stay out of the hustle and bustle. This is also a university area so offers some good budget options at which to dine out. 
 Odense C – City Centre Pedestrian Zone
Odense C has it all. Check out the cathedral – the Domkirken – and wander around the Flakhaven city square. From here, you will have easy access to the pedestrian areas, perfect for ambling along and enjoying a bit of shopping. The Eventyrhaven and nearby Klosterhaven gardens are also a charming place for a quick stroll in the warmer months.
Odense Hotels – Pedestrian Area of Odense C
Luxury
The 19th century First Hotel Grand is one that offers an amazing location near to Odense C Pedestrian Area, as well as great rooms.
The building has retained its original features, but the rooms offer luxurious bedding and modern décor. Smack bang in the middle of town, you cannot beat this one for location.
Prices start at €140 a night and a decent breakfast is on offer – included in the price.
Budget
The Milling Hotel Mini 19 is also in a prime location. With free tea, coffee and juice on tap, as well as pretty decent rooms with a fab décor, this is a great option. It is only a walk to the main square too.
A small twin starts from just €80, and you can add a great breakfast on for just €10 at the neighbouring sister hotel the Milling Ansgar. The secret to the cheap price? The hotel has no staff!
Hotels in Odense Denmark – The Latin Quarter
The Brandt's Passage area is known as the Latin Quarter and is situated in the spot of a former textile factory. Like many former industrial quarters in modern cities, the old warehouses and factory shops have been turned into museums, cafes, bars and restaurants. Definitely worth a look.
Hotels in Odense Denmark – Brandt's Passage – Latin Quarter
Luxury
A luxury experience awaits you near the Latin Quarter in Odense. The gorgeous rooms of the Hotel Odeon will have you wanting to stay in your hotel all day. Stylish décor abounds throughout this hotel, and the trendy restaurant serves up great food.
The highlight? Sunday brunch!
Basic rooms start from €191.
Budget
There are plenty of hotels in Odense Denmark, but sometimes an apartment can work out as the best budget option. You can find some really good deals, such as the rooms on offer at the Amelie Bed And Breakfast Apartments.
Simplistic but fabulous Danish décor abounds here. Choose from a private room with bathroom, or a standard room with shared toilet and shower facilities. Shared facility rooms start from €75, with a private bathroom starting at €100.
Odense – The Old Town Quarter
On the east side, the Old Town Quarter of Odense is waiting to be explored. The medieval streets spilling off the Overgade and Nedergade are a feast for the eyes.
Step back in time here exploring the roads with traditional timber framed houses; everything is just a little bit wonky, adding to the charm.
Luxury
The H.C Andersen Hotel has comfortable and well decorated rooms starting from just €130 a night. Sculptures showcasing some of Hans Christian Andersen's work are on display here, and there is even an onsite casino!
You are right in the heart of the Old Town Quarter here, so the hotel is the perfect base from which to explore.
Budget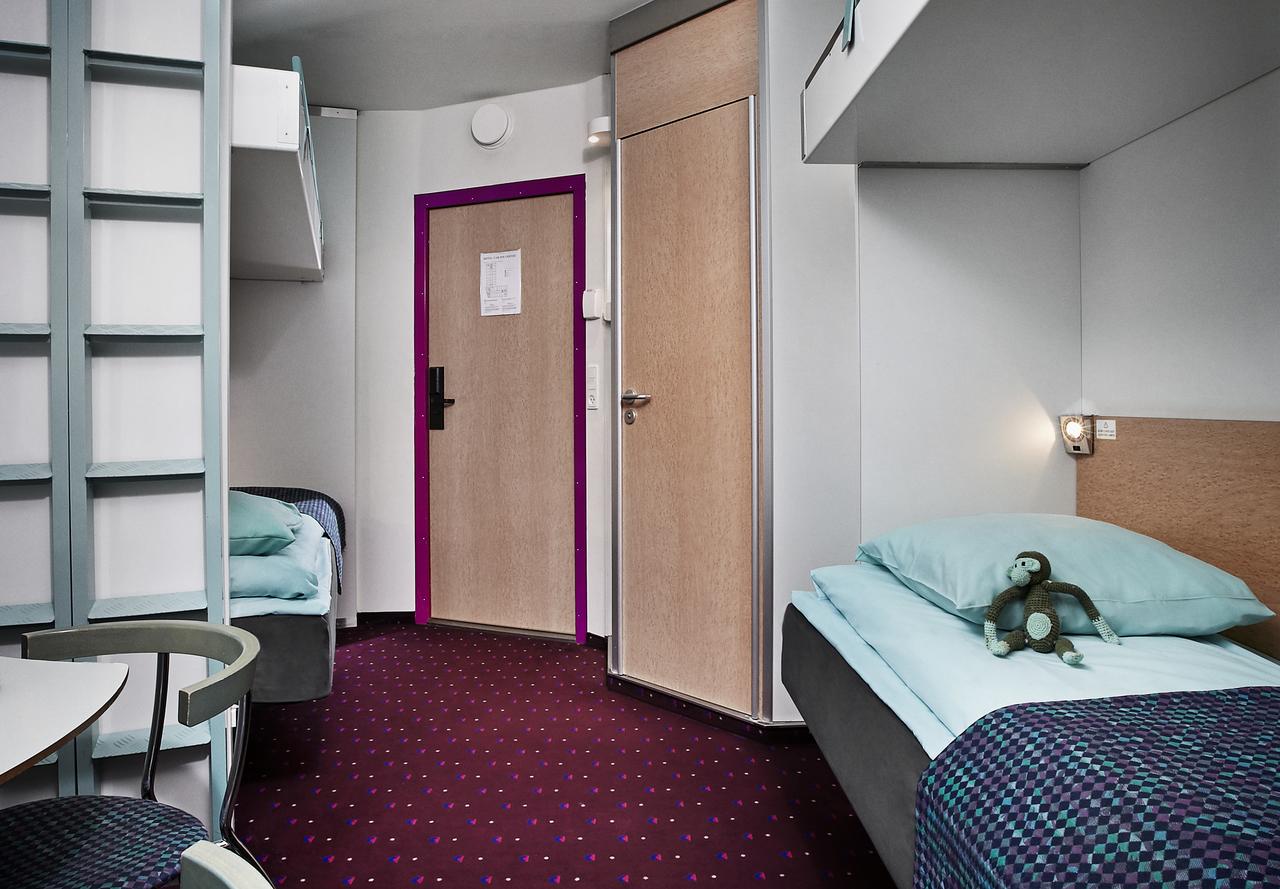 Cabinn Odense is also well located to the Old Town and is a great option for the budget conscious traveller.
Rooms start here from €80 for a twin. Reception here sells drinks and snacks, and the rooms are comfortable and have everything you will need, including a kettle.
Odense – Harbour
This former industrial harbour is becoming somewhat of a trendy place in Odense. Newly built sports facilities, including an open air pool, attract the fit and sporty. There are also several great restaurants and cafés too.
Luxury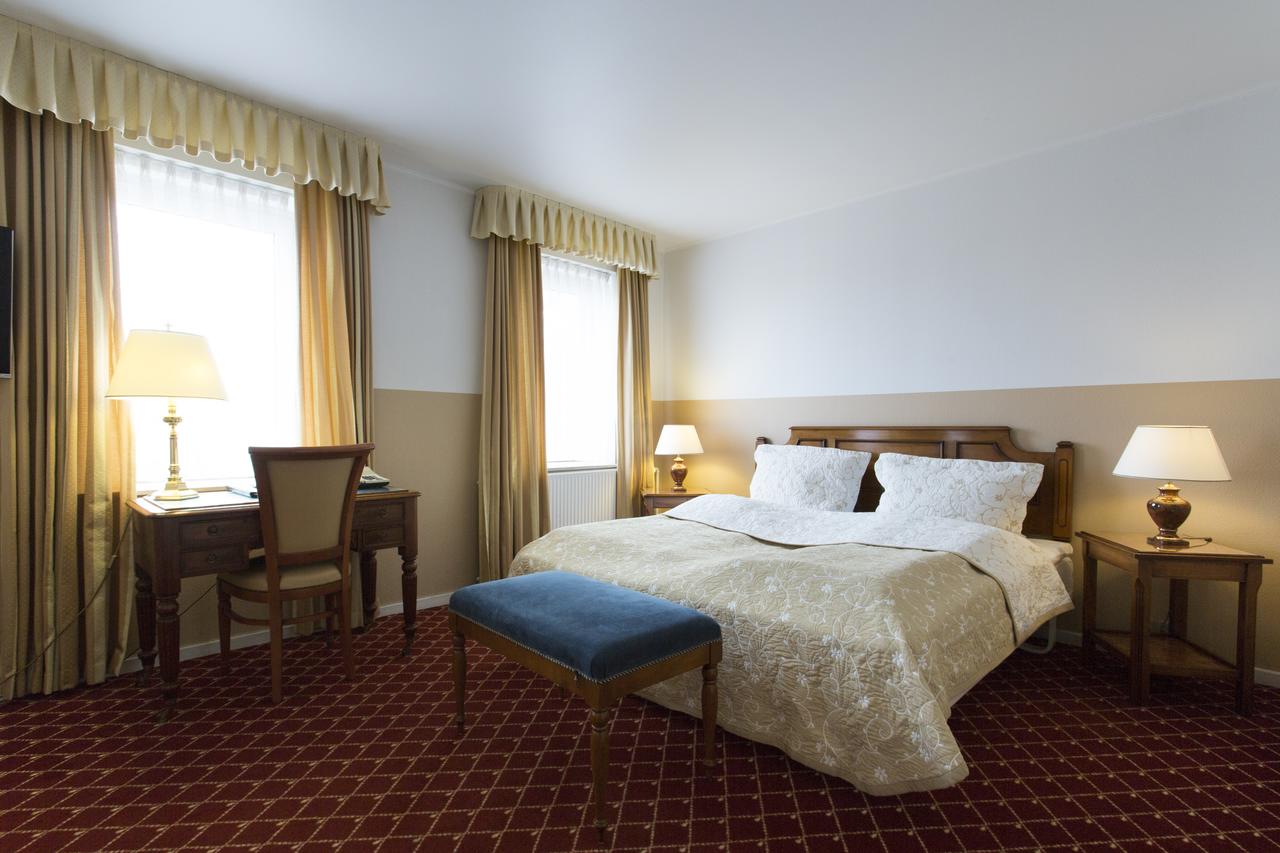 The luxurious rooms of the Milling Hotel Plaza are one reason to stay at this 4* hotel. Free Wi-Fi, tea, coffee and movies are another! Ideally located only less than half a mile from the harbour you are primed and ready to explore after a good night's sleep and an amazing breakfast.
Rooms start from €138.
Budget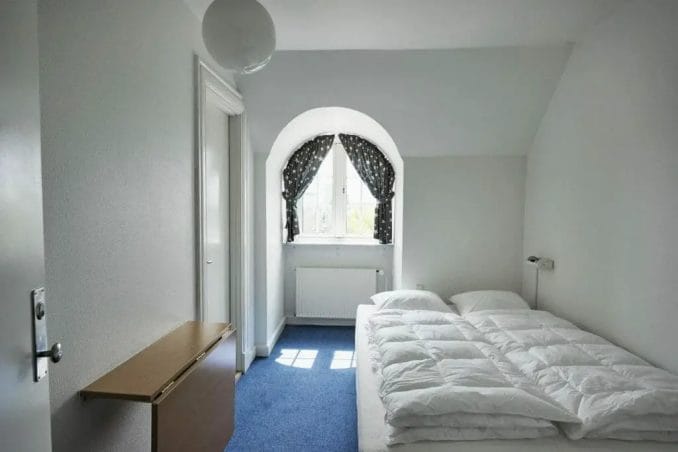 Danhostel Odense City has comfortable private rooms starting at €70. There is also a TV room on site if you need to put your feet up.
Ideally located, this is one for those who wish to save their cash for shopping or other activities in Odense.
Top 3 Odense Denmark Hotels with the best value for money
Check out the best value for money hotels in Odense, Denmark here!
Budget
Danhostel Odense Kragsbjerggaard offers twin rooms with a shared bathroom starting at just €59. It is a steal for the chance to stay in this gorgeous 18th century timber framed farmhouse with its' charming cobbled courtyard. Breakfast is pretty decent too and available for about €10.
Mid-Range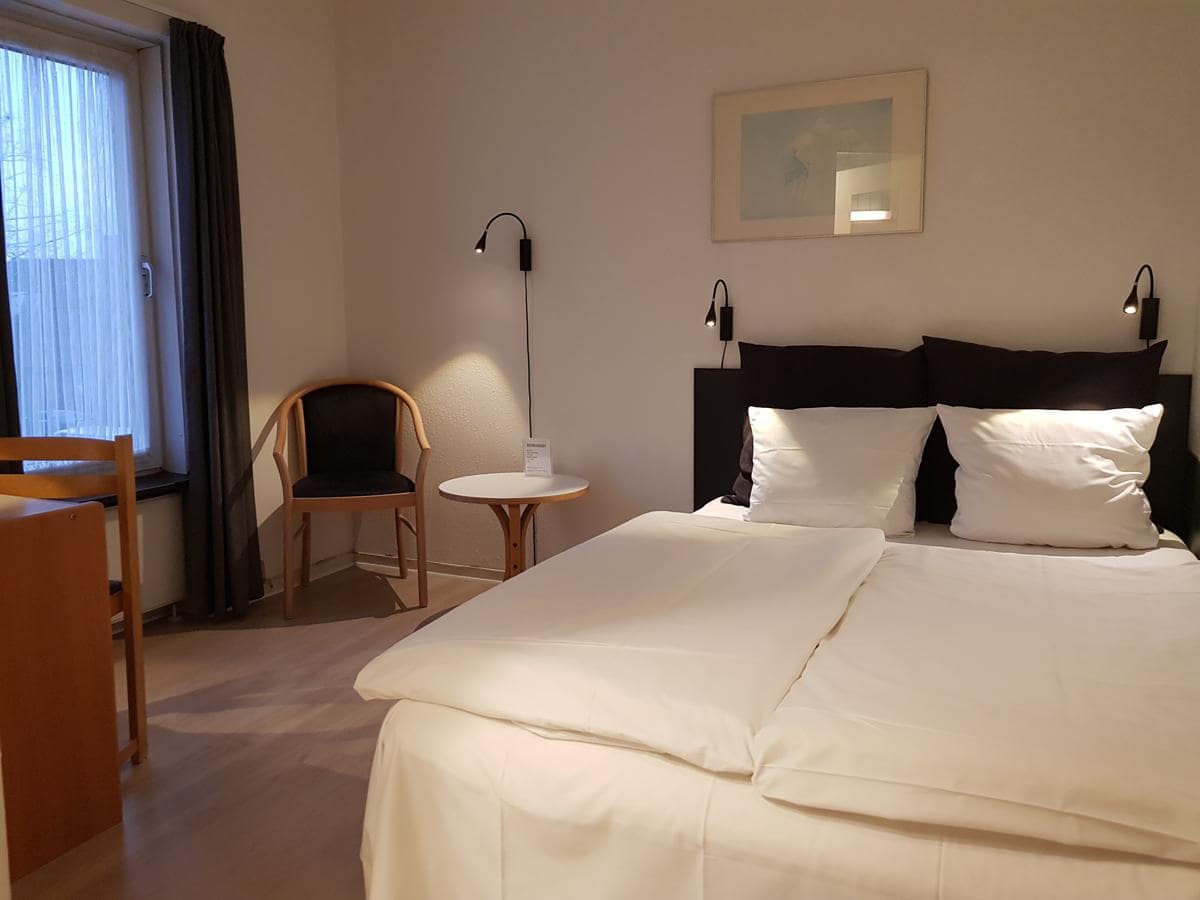 City Hotel Odense boasts rooms from as little as €115 a night and is located only 650 yards from the centre of Odense.
The rooms are basic yet comfortable, and there is an on site games room. Perfect for those who want to be right in the middle of the action but keep the costs down.
Luxury
The Best Western Hotel Knudsens Gaard offers 4* facilities at a great price. The charming timber framed farmhouse is a change from the usual chain hotel structure.
It is slightly out of town but still only a 20 minute walk to the main sites.
Double rooms here start at €164 for a basic suite.
Airbnb Hotels in Odense Denmark
With an average price per night for a 2 person private apartment at just €100, Airbnb offers excellent alternatives for those looking for a bit more space.
You will also be able to cook your own meals and relax in a more homely environment. Perfect if you are travelling in a large group and want to be together, or bringing the kids.
Holiday Homes in Odense Denmark
Airbnb offers a great selection, but if you are looking for a bigger holiday home or space when in Denmark, then do not forget to also check out holidaylettings or homeaway. These are ideal sites if you are looking for an extended stay in Odense.
Bed and Breakfast Odense
If you want a more personal touch when staying in Odense then perhaps a Bed and Breakfast is for you? You will meet other like-minded travellers over breakfast, and get a wealth of local knowledge from your hosts.
Check out Alexandrine's Bed and Breakfast for example, with rooms from €70 a night.
Campsites in Odense
For camping in Odense, check out DCU Camping in Odense. The site boasts plenty of activities to keep the little ones entertained. There is not only a swimming pool, but also a volleyball court, football areas and a kids club in the summer.
Near to the Funen Open Air Village, the campsite offers a place to pitch a tent or campervan. However, if you do not fancy slumming it in a tent there are several quaint and quirky cabins to be hired as well.
Conclusion on hotels in odense Denmark
Now, we have given you plenty of different options – it is time for you to decide where to stay in Odense! Get booking your trip to Denmark now and let us know how you get on!
Related Articles :