Whether you are staying in Copenhagen for a day or a week, you cannot miss a visit at the Tivoli Gardens. Young and old alike will definitely fall in love with this place. Conveniently located a few blocks away from the city hall and the Copenhagen Central Station, you cannot help but visit this expansive garden full of your favorite flowers in full bloom.
About Tivoli Gardens Copenhagen's Playground
Since it was discovered and developed in 1843, the Tivoli Garden became more than just a historical landmark in Denmark. It has become an international attraction that brought a lot of visitors in Copenhagen each year. It has enticed people from all walks of life to visit the place. Walt Disney and Hans Christian Anderson were among the famous people who have visited the Tivoli Gardens and have fallen in love with it.
Everybody knows about Disneyland, but they should also know about the treasure they have in Copenhagen. Tivoli Gardens is an internationally renowned amusement park that is located in the heart of Copenhagen.  It is usually open during the summer time.  However, in 1994, it began opening in mid-November until the end of December.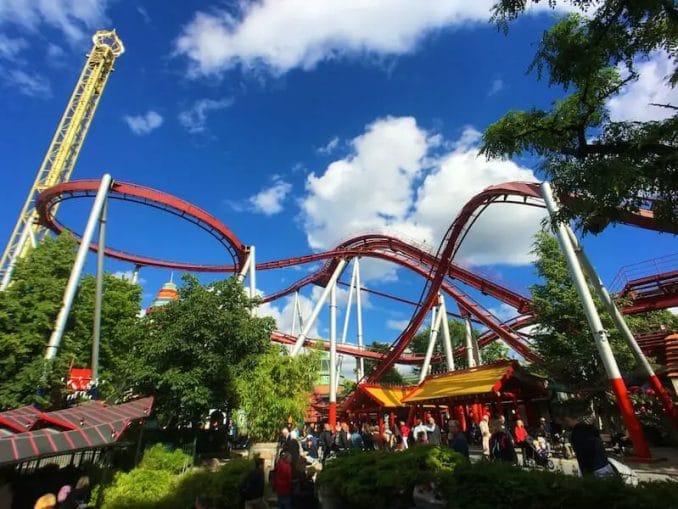 Tivoli also became the first park in the world to operate entirely on renewable energy.  It has its own windmill.
Tivoli Gardens tradition
It has a rich tradition that started way back by a man named Georg Carstensen who got a five year charter from King Christian VIII  when he explained that if people had something to amuse themselves, they would not think about politics. He roughly was given around 15 acres of land as Tivoli was outside the city, accessible through Vesterport. Tivoli originally had cafe's, flower gardens, and mechanical amusement rides, but over the years that has changed. Tivoli soon learned that it would have to abandon its charm and go to a more theme park style and that has brought about many different changes all for the better it seems.
The park was bombed on June 25th 1944 so not much of the original park remains with the exception of the wooden rollercoaster which was built in 1914.  No one knows who did it.  Until now, it remains a mystery.
Tivoli Copenhagen is a Denmark must-see
Tivoli Gardens is the most visited attraction in Denmark.  It is the second oldest amusement park in the world.  The best part about the place is that it is not just for kids.  Even adults can have a great time since there are over 30 restaurants, 25 rides, 400,000 flowers and many different arts and crafts. There are also over 150 concerts a year from international ballet troops and symphony orchestras to rock bands.
As you can see Tivoli has really evolved from what one guy's idea and today is a place where people go to enjoy themselves for some fun. Tivoli Gardens is a place that has something for the whole family to enjoy from small to old and in the end a good time will be had for all no matter what their preferences maybe.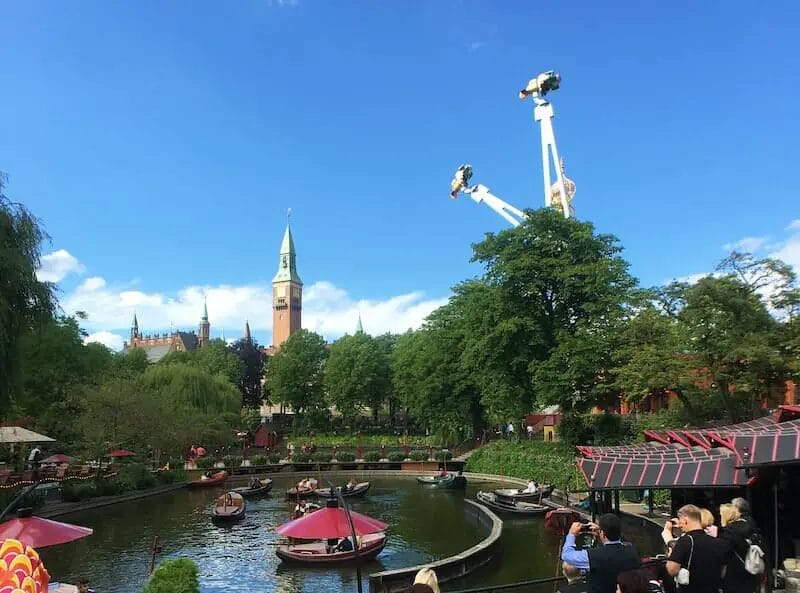 Tivoli Gardens, the famous amusement Park
Today Tivoli Gardens is a very popular amusement park among the locals and visitors to the area. This park is best known for its wooden roller coaster named the Rutsjebanen or some people call it Bjerg Banen, which means Mountain Track. It was built around 1914 in Sweden and is one of the oldest operating wooden roller coasters in use today. Other attractions at Tivoli that you will enjoy is the Daemonen which features a Immelmann loop and a Zero-G roll giving you a very fast thrill ride that will leave you speechless. Now many people do not realize that Tivoli Gardens also played host to Jamie Cullen as part of the Copenhagen Jazz week as well. During the summer months the park is home to many different events including Fredagsrock, which is dubbed Friday Rock where some top musical acts such as the Smashing Pumpkins, Sting, and the Pet Shop Boys.
Buy your Tivoli Gardens Tickets Online
Why you should really go to Tivoli Gardens
For those who have not seen the place yet, they might be wondering what makes it any different from the other gardens you can find around the world. The secret of the Tivoli Gardens Copenhagen is pretty simple – it has something for everyone. From the exotic architecture to the historical buildings to the lush gardens that will make you love this place. There is definitely something that suite what everyone wants.
Indeed, the Tivoli Gardens is genuinely beautiful, day or night. At night, a thousand worth of lights will liven up the entire place. It will make your fairytale fantasies come to life. Not only will nights be magical, but they can be very nostalgic too. There is nothing about it that you will not love.
Tivoli Copenhagen tickets
Tivoli Skip the line ticket
The Tivoli Gardens is probably the most visited attraction in Copenhagen. The park can be quite busy during the high seasons. We'd recommend you to book your tickets ahead to avoid the queue. You can check our skip the line ticket right bellow:
Canal tour and Tivoli entrance combined tickets
One of our top tip is to book an one-hour cruise ad Tivoli entrance ticket to discover Copenhagen from the boat. With this combo ticket, you'll get the access to the Tivoli Park. This is a great way to earn time and get value for your money! You can book your tour ticket right here.
Copenhagen Card: free entrance to Tivoli Gardens
If you plan to stay many days in Copenhagen and discover the top city attractions, the most valuable option would be to get the Copenhagen Card. With the pass, you'll have a free and priority access to the Tivoli Gardens. And you'll be able to visit 79 other attractions for free! You can also enjoy the free public transport for all the validity of your Copenhagen Card. To learn more about the Copenhagen Card, click here.
World's Longest Aquarium
Lovers of the sea and its creatures but who don't want to get into the real seawaters should definitely have something to look forward to when visiting Denmark. It is because they will have a great opportunity to see some unique aquatic creatures live in front of their own two eyes without having to go scuba diving.
We're talking about the longest aquarium in the entire Europe and it's situated right inside the Tivoli Gardens complex notably at the Tivoli Concert Hall.
For a little trivia, this project cost actually cost US$4.5 million and was completed in 2005. A closed recirculating system, this huge aquarium makes use of artificial sea water approximately 300,000 liters. It is a record setter in terms of having the single longest view panel for an aquarium in the world with some 1,600 marine aquarium fish species including sting rays and sharks in a real tropical reef environment.
This unique salt water aquarium is situated in the basement level of the Tivoli Concert Hall. Constructed in 1956, the hall was designed by Hans Hansen and Frits Shlegel. It is open to visitors the whole day except when there's a private function scheduled.
For maintenance, three technicians keep watch of the fish and sharks in the area. The entire aquarium is also supervised by a veterinarian.
Visiting Europe's longest aquarium not only lets you see different fish species but it allows you to visit Copenhagen's beautiful concert hall as well. Apart from this water facility, the concert hall has other wonderful features such as the orchestra pit which can accommodate 80 musicians, a Wagamama restaurant, an arcade, a rehearsal hall, meeting rooms and a canteen for the staff of Tivoli.
Seasons in Tivoli Gardens Copenhagen
Tivoli Christmas season
When you happen to be in Denmark from November to December, the Tivoli Gardens is one place you should not ever miss. It is here where you will get to experience the loveliest winter wonderland featuring lots of Christmas lights and decorations all over the place.
The Tivoli Christmas Season starts early November and runs for almost two months each year. From being a regular amusement park on ordinary days, this famous tourist spot in Copenhagen becomes a festive area filled with colorful and twinkling lights and sweet treats for sale. The lights that surround the Tivoli village are made up of more than 1,800 light chains all in an effort to create a vibrant Christmas atmosphere within the entire amusement park.
Food should not be a problem as there are some 38 restaurants in place at the Tivoli Gardens. Visitors just need to choose whether to go for the traditional Danish dishes, the modern cuisine or the fast food.
A magical setting for children
Santa Claus and his helpers are present to greet guests and pose for souvenir photos with them. There's an open air stage area as well where children can visit Santa's sleigh filled with presents for kids.
For an unforgettable family outing, taking a stroll around the market with more than 70 different stalls is a great activity to do. The market is also where you can buy some authentic Danish produce from food and drinks to creative decors that's only available during the Christmas season. If you want to discover Copenhagen during Christmas time, check out our article to find the 5 best Christmas markets in Copenhagen.
The usual rides continue to operate such as the 150-year-old double decker merry go round which is believed to be the world's oldest carousel. And don't miss the Pixieville where hundreds of mechanical pixies are shown preparing for the Christmas season.
Christmas romantic atmosphere in Tivoli Gardens
Tivoli's Christmas theme is a marvel to behold so tourist who are in Copenhagen at that time should find time to see the park especially in the evening.  They can have a pleasant dining experience and take a stroll.  It is also a great place to have a drink or two with friends or your special someone.
Visitors who can brave the cold are most welcome to go ice skating at the Tivoli Lake at night for a more romantic activity.
Musical entertainment can also be experienced during the Tivoli Christmas in Copenhagen. Performances are normally scheduled at the Glass Hall and the Concert Hall. Events that take place include musical concerts and ballet performances among others.
A Russian Christmas in Tivoli
Tivoli Gardens Christmas theme in 2011 was a Russian decor, showcasing a copy of St. Basil's Cathedral, which celebrated its 450th anniversary. There was a Christmas village where there are stalls with towers and onion domes. Many ice crystals and spruce branches also added on to the feel of being at the Red Square in Kremlin.
It took two years for Tivoli's architects, set designers and gardeners to conceptualize and develop the project. It entailed a lot of traveling, creativity and unique ideas. "The Russian city is inspired by the building style of the Czarist days with opulent onion domes, towers and precious carillons. Inside St. Basil's Cathedral, visitors can board a miniature version of the Trans-Siberian railway which will take them through Russian landscapes featuring pixies, angelic choirs and extravagant Fabergé eggs".
Halloween in Tivoli Gardens Copenhagen
Can't wait for the end of October to celebrate Halloween? Now is your chance to enjoy this yearly spooky event with your kids where else but at Copenhagen's Tivoli Gardens.
A great family horror time in Tivoli
Families are in for tricks and treats at Tivoli in October as Denmark marks its yearly fall break. The park opens at 11 a.m. and closes at near midnight for a real Halloween atmosphere. During this time, Copenhagen's popular and largest amusement park will be a sight filled with scarecrows, pumpkins and witches to give children a bit of that scary experience. Tivoli's very own heroes such as Harlequin, Pierrot and Columbine will be there to greet you, too.
All 25 rides in the park will be open and at the entrance area, there is a Harvest Fair where visitors will get acquainted with a variety of things they can do during the autumn season. Three great rides you can experience with your kids until the winter season are the Music Carousel, the Swing Carousel and the Chinese Lantern.
The scariest disguise ever rewarded
Children who'd like to come in their unique costumes are most welcome and who knows one of your kids will be lucky to be picked as one with the best or wildest costume for the day. One winner is chosen daily at 3 p.m.
The Tivoli Halloween shows
Other things you can watch are the Halloween parade which happens every day at 1 p.m. and 4 p.m.; the Witches Magic Show which takes place at 2:30 p.m. and at 9 p.m. and the Witches Dance Medley at 5:30 p.m. and 8 p.m. A pumpkin band also performs from the Promenade Pavilion as well as the Halloween Village starting at 5 p.m.  and to cap your fun experience, don't miss the lights show which is a showcase of light, fire, laser lights, smoke, water and music.
Danish cartoon characters in Tivoli
In April 2010, Denmark' famous Tivoli Gardens welcomed into its home four new members. They're the popular Danish cartoon characters Petzi as well as his friends Pelle, Pingo and Old Salt. Along with their good ship named Mary on which they often sail, the newest members will grace Tivoli starting on April 15 which is the official start of the 2010 summer season at the amusement park in Copenhagen.
The kids perfect animaton
This is another golden opportunity for families to visit the Tivoli site what with new attractions such as these cute cartoon characters and a separate playground where kids can have a chance to come up close with them.
The Petzi's World area inside the Tivoli Gardens Copenhagen covers around 1,300 square meters and will have more than 40 various exciting activities that children will surely love. Here in this specific space, kids and even adults can play for free as long as they want. Most of these activities will revolve around the stories of Petzi with an emphasis on discovering the senses. To give you a hint, there will be rope ladders that children can use to go up to the tower steeples and tunnels where kids can crawl as they go to Pingonesia.

Tivoli officials say Petzi's World is their major offering in 2010 after introducing the wildest ride called Vertigo in 2009 for adventure seeking people. This attraction has replaced the old playground beside the Tivoli Lake but is larger in size.
Petzi's World reminder
Petzi was created by Carla Hansen and illustrated by her husband Vilhelm in 1951. The first album entitled "Petzi Builds a Ship" was published a year after. So far, more than 80 Petzi books have already been released.
For those of you not in the know yet, the cartoon series of Petzi and friends have already sold more than 20 million copies in over 20 countries worldwide.
Unique Dairy Treats at Tivoli Denmark
Do you love fresh milk? What about yoghurts and cheese? Health conscious people should readily say yes to these.
But we're not talking about just the ordinary dairy products here. Because in Tivoli Denmark, there's one place where tourists can get a taste of unique dairy treats. The name of this gourmet house is Chr. Hansen at Denmark's Tivoli Gardens in the capital of Copenhagen. This is the very first dairy of the internationally renowned amusement park.
Organic products only in Tivoli!
What visitors can taste there are fresh organic milk taken from the cows just a few hours before you arrive as well as creamy yoghurts that were allowed to develop naturally and slowly. For those who love butter, perhaps it's only at Chr. Hansen where you can taste homemade churned butter with French made and sun-dried salt. Other premium dairy products available include soured whole milk, buttermilk, cottage cheese, sour cream and chocolate milk.
But that's not all there is to it. This gourmet dairy outlet in Tivoli Denmark has more one of a kind products being planned such as the fruity probiotic whey shots. This exciting dairy treat and the already existing products of Chr. Hansen are good for the health.
Chr. Hansen bioscience company
This dairy outlet in Tivoli Denmark which opened to the public in May 2009 is operated by Logismose, a respected producer and importer of fine foods in the country. It boasts of using only the finest raw materials that have been examined very well. Chr. Hansen is known for having the world's biggest collection of lactic acid bacteria used in making dairy products.
Chr. Hansen has been a major player in the global dairy industry for more than 130 years now. You can find Chr. Hansen at the NIMB gourmet area where a gourmet restaurant, deli shop, wine bar and hotel suites are also situated. Denmark's Tivoli Gardens accommodates more than four million visitors each year.
How to get to the Tivoli Gardens
Tivoli is near Copenhagen's Central Train Station and Stroget, which is the longest pedestrian street in Europe.
You can access the Park by bus, metro, tram and train.