Struggling to decide where to stay in Aarhus? Read on for our guide to the best hotels in Aarhus, Denmark!
If you have not yet heard of Aarhus, here is the low down. Denmark's second city is a seafront clash of old and new – with a thriving student population setting the pace.
From wonderful modern Danish architecture to museums, churches and restaurants, there is something for everyone! A 2017 European Capital of Culture awaits you in Aarhus! Get planning your trip here and check out our low down on the best hotels in Aarhus, Denmark!
Aarhus Hotels & Neighbourhood Map
First, get your bearings. Check out this handy map, which shows the neighbourhoods in Aarhus. Each neighbourhood boasts a selection of Aarhus hotels, from the modern and trendy to the quaint and traditional.
Check out the best areas in Aarhus below and work out where to stay in Aarhus.  
Must see Aarhus Neighbourhoods?
Definitely the Latin Quarter – in Danish "Latinerkvarteret". This is the GORGEOUS old town, with little boutiques hidden in old 14th century buildings. Lose yourself in the cobbled streets here for a few hours. It is breath taking!
Vestergade is one for the shopaholic, and the main City Centre is the place to head for a culture fix.  From here, you will also need to head to Vesterbro to check out the amazing Old Town Museum as well as the Botanic Gardens.
Elsewhere, Frederiksbjerg is a must visit for foodies. Here, you will find bars, restaurants, cafés, delis….Anything you wish really.
Oh, and if you are on a budget or just fancy getting away from the crowds, the Trøjborg area will offer you an authentic experience with lower prices than those in the likes of the Latin Quarter.
Aarhus Card to enjoy the City Top Attractions
f you plan to visit Aarhus attractions, you should consider buying the AarhusCARD which allows you free admission to 25 museums! You'll be able to take buses for free to get around Aarhus as well. Take advantage of all its benefits by saving money and time for your visits. Find out more here.
| | |
| --- | --- |
| Adult | Child |
| 24H – €44,03 | 24H – €22,08 |
| 48H – €60,09 | 48H – €30,11 |
| 72H – €80,16 | 72H – €40,01 |
| 120H – €100,23 | 120H – €50,18 |
Aarhus Sightseeing Bus
Aarhus Hotels by Neighbourhood
Latinerkvarteret – The Latin Quarter
Everyone's favourite in Aarhus. The Latin Quarter is a treasure trove of traditional buildings, little boutiques and interesting architecture dating back to the 14th Century.
The main square is found here, the Pustervig Torv, as well as several interesting nooks and crannies waiting to be explored. The timber-framed houses, coupled with the cobbled streets, create an enchanting atmosphere. This is a place in which to wander at any time of year. 
Aarhus Hotels – the Latin Quarter
Check out the fabulous Hotel Royal when in the Latin Quarter. Set in a sumptuous 19th Century building with amazing interiors, this is one for those looking for comfort and proximity to the Latin Quarter's attractions.
A basic standard room will set you back about €180 in off-season, but you could splash out and rent the Penthouse, which offers stunning views and plenty of space.
For those who would rather keep their cash for exploring the city, the Cabinn Aarhus is a good option. This chain hotel offers you everything you need and is right on the doorstep of the Latin Quarter.
Breakfast is just €12 if you wish to add this on, and an economy double room starts at about €80.
City Centre – Indre By
The city centre of Aarhus is located in the Indre By area. This part of town used to be within the old city walls.
The main shopping street here – Stroget – is the place to head to on a Saturday afternoon for shopping and people watching. Stay here if you want to be right in the middle of weekend action!
Alternatively, perhaps you want to stumble back to your bedroom after a late night out in one of the many nightclubs in the area! There are lots of hotels in Aarhus City Centre to explore too….
Aarhus Hotels – Indre By
Check out Scandic The Mayor for a touch of luxury during your stay. Located right by the train station, this hotel epitomises stylish Danish design. Highly rated by couples, the hotel is just a 5-minute stroll from the Stroget area, and offers a sauna and a gym too.
A basic room starts at about €140 a night for 2 people sharing. Alternatively, splash out and get a superior king with breakfast for about €220.
Fancy keeping your cash for splashing on the shopping streets of Indre By? Then check out the Hotel Aarhus City Apartments.
Basic but still stylish, with everything you need and a little kitchenette, this is perfect for those on a budget.
A twin room starts at about €100, and you can save additional cash if you want to by preparing simple meals in your room.
Vesterbro
This vibrant area used to have a bad reputation, but has since become alive with trendy cafes, restaurants and boutiques. There are less tourists around here, so you can explore at a pace that suits you without the throngs.
The Carlsberg Museum is here, and Vesterbro is also well located for those wanting to check out the Old Town Museum in the Botanical Gardens. The Old Town Museum is a favourite stop for many – check out the interior here on Google Street.
Aarhus Hotels – Vesterbro
Stay at Villa Provence for wonderful service, a charming inner courtyard and beautiful interiors. A delicious French breakfast is served in the beautiful dining room.
It is not cheap – a double room will set you back about €200 in low season. On the other hand, you could go for the suite at about €440 a night.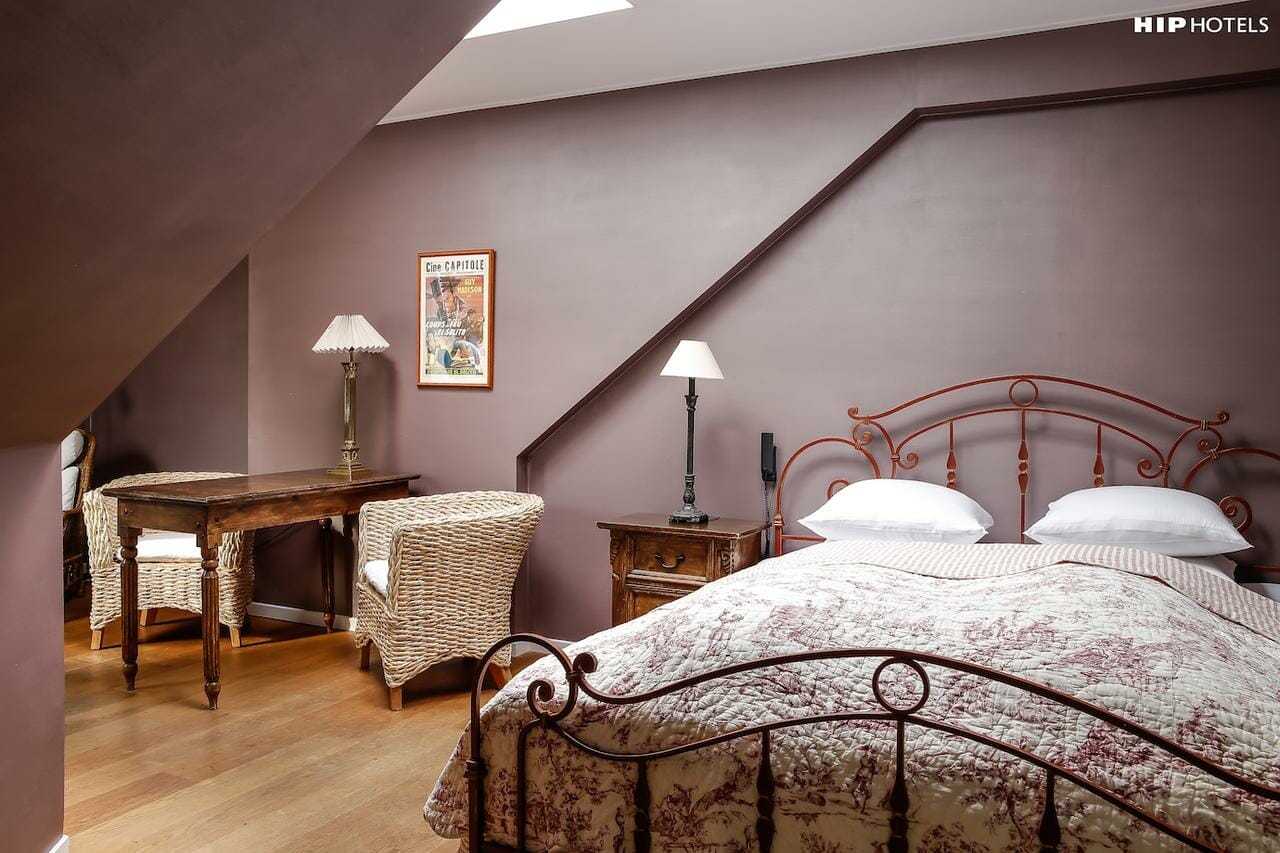 Hotel Carmel is a great option for the budget traveller. Boasting 4 stars but still affordable, this hotel is stylish and quirky.
You can get a double room here for about €100, although you might have to share a bathroom.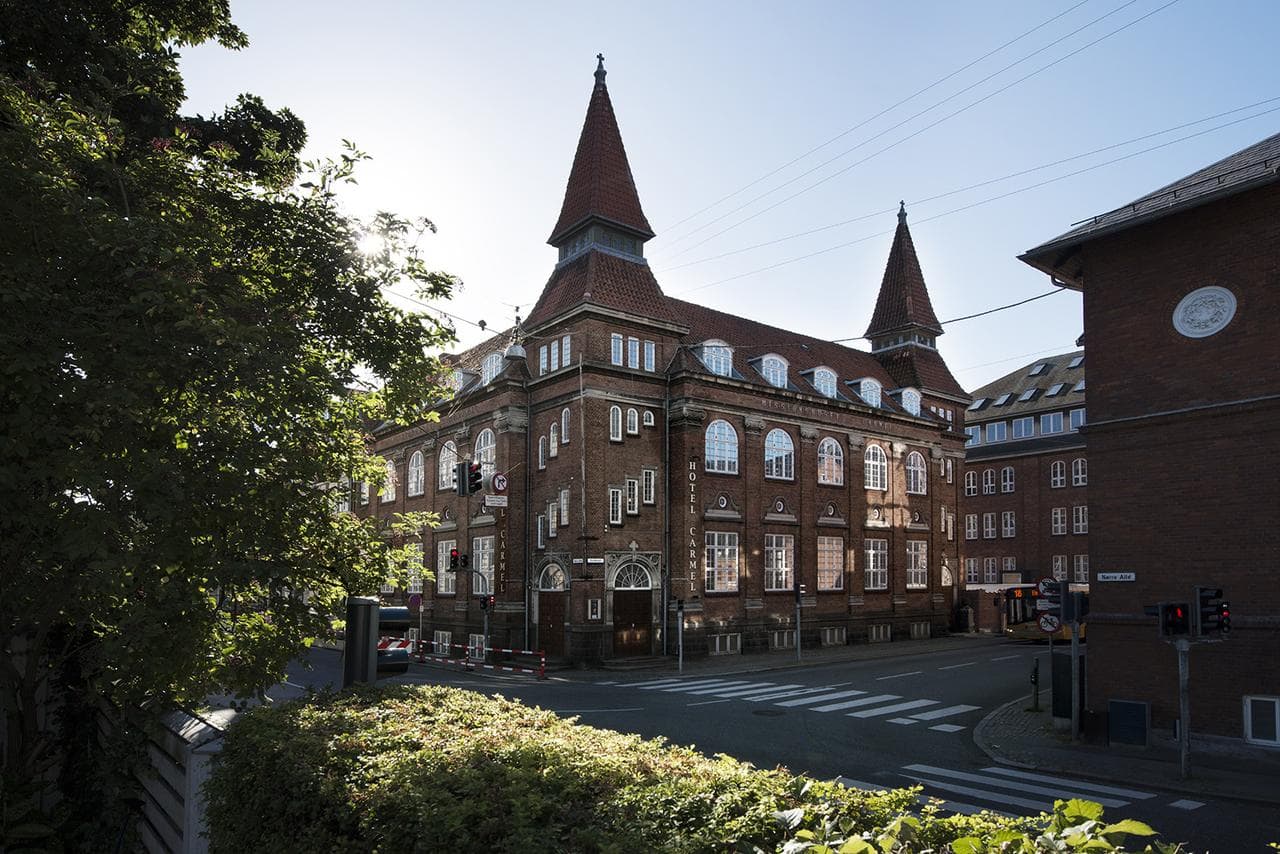 Frederiksbjerg
South of the centre, Frederiksbjerg offers those who want to sample a wide range of cuisine options a great choice. The area is known as the Larder of Aarhus due to its dining options! From traditional Danish food to upscale gourmet restaurants, there is something for everyone to taste in Frederiksbjerg.
Aarhus Hotels – Frederiksbjerg
The Scandic Aarhus City is in an excellent location, just less than a mile from Frederiksbjerg. You will find modern rooms here in a beautiful old building and an amazing breakfast.
A suite here will set you back €300.
Incidentally, the Scandic offers several chain hotels within Aarhus, including the already mentioned Scandic The Mayor (book here), and – a bit further out but still worth looking at – the Scandic Hotel Aarhus Vest.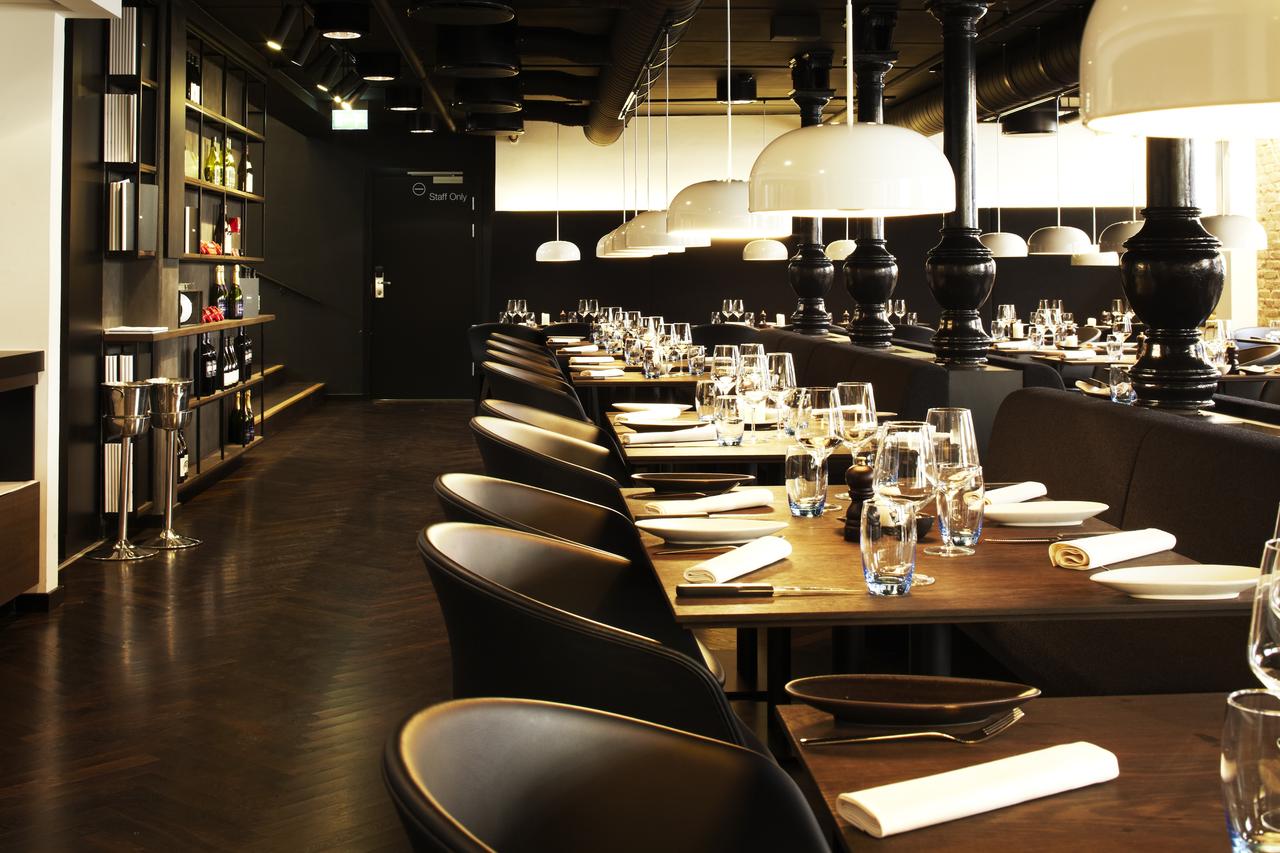 The Dan Hostel Aarhus City is within a mile of Frederiksbjerg and offers budget doubles, with a shared bathroom, from only €60. You can add on a basic breakfast or €9.
If you are really tight for cash, a bed in one of the dorms (they have mixed or gender-segregated) start at only €25.
Top 3 Aarhus Hotels with the Best Value for Money
There is plenty of choice in Aarhus! But which hotels in Aarhus give you best value for money? Read on to find out!
A bit out of town – you'd have to walk 45 minutes to get to the Latin Quarter for example) – but definitely worth considering.
The price in our view does not reflect the stunning sea view you will get from this property! With rooms available looking over Aarhus Bay starting at only €150 per couple of nights, this is a real steal for the scenery alone!
First Hotel Atlantic is one of the amazing hotels in Aarhus that offer great value for money and is just a ten-minute walk to the Latin Quarter.
Go for the breakfast – it is served up on the tenth floor with fabulous views over the city. A double room with balcony starts at just €150.
BB Hotels Aarhus Havnehotellet offers the BB Hotel Aarhus Harbour Tours is one such option. It is a little further out – about 3.5 k to the Old Town Museum for example, but a great little find in Aarhus.
Situated on the Marselisborg Marina, this hotel gives basic accommodation for great prices. You are about 30 minutes' walk from the Latin Quarter as well.
If you prefer to do your own thing, or maybe are travelling with kids and need a bit more personal space and a kitchen, then Airbnb is a great option. There is a wide range of choice here, with average prices for two for an entire place at about €110.
Holiday Homes in Aarhus
Airbnb offers a good selection of holiday homes, but for special occasions or perhaps longer stays with family groups, check out some of the holiday letting websites such as holidaylettings or homeaway.
Bed and Breakfasts in Aarhus
Staying at a bed and breakfast in Aarhus is a lovely alternative to a hotel. If you prefer a personal touch, or do not like the anonymity that comes with staying in a chain hotel, then this is a great choice.
Check out the Guesthouse Sharon Aarhus. Located about 3 miles from the centre, this charming homestay has double rooms from about €100 a night. You will have access to a well-equipped kitchen, free Wi-Fi and a sun terrace during your stay.
Camping in Aarhus
The forested areas around Aarhus are perfect places in which to camp and give an alternative option on where to stay in Aarhus! 
Our favourite for the summer months has got to be Ajstrup Strand Camping.  If you are not completely content to slum it in a tent, do not worry. The campsite also hosts several mini cabins complete with kitchenettes!
It is an amazing place at which to spend the summer months with the family! The cabins host up to 6 and start from €190.
If you are on a road trip around Denmark or Europe with your campervan, read on our article about Camping in Denmark to find the perfect spots where to stay! If you are into camping but no tent, you can also find cabins everywhere in the country!
Conclusion to our List of Aarhus Hotels
We hope you will let us know which of the Aarhus hotels you have picked! Check out the rest of the site for more hints, tips and ideas for your vacation in Denmark. 
Related Articles