When you think of Denmark what comes to mind? Quaint cobble streets? Around the clock bars? Navigable icy waters? Oh and that fairytale guy. What's his name? There's much more to Demark than the author of "The Little Mermaid," and "The Ugly Duckling."
The Danish have a lot of be proud of when it comes to famous people in history. Here are Nine Danes Who Changed the World!
Explorer Vitus Bering – this explorer with perhaps the most famous surname in the world may have been with the Russian Navy but he was born in the happy harbor hamlet of Horsens. A restless soul, Bering left his hometown as a young man and set about ship business, joining the Russian Navy in 1703. He explored northern Siberia for more than a decade eventually discovering Alaska and the land that bears his name. He died, marooned on that island. Nowadays, the Bering Strait, the Bering Sea, Bering Island, Bering Glacier and the Bering Land Bridge bear the explorer's name. Visit the University in Horsens named after him!
Nobel Prize Winner Niels Bohr – the son of a physiology professor, Niels Bohr was born in 1885 in Copenhagen. The young lad was surrounded by egg heads. His father was taught at the Copenhagen University. His mother was from an educated clan. He eventually grew up to be one of the greatest minds in physics and in particular atomic structure.  His discoveries were central to the development of quantum theory, something that other fellow Einstein wrote about.  He received the Nobel Prize for Physics in 1922. You can visit Niels' resting place in Copenhagen.
Writer Karen Blixen – If there were ever a woman who could ask God for a return on his investment it's Karen Blixen (aka Isak Dinsen). A playful Danish girl, born in Rungsted, just north of Copenhagen,  in 1913, she left the beautiful, lush green, garden-laden grounds of her childhood home to marry her distant cousin, a baron. He lived in the wilds of Africa.  childhood home for the wilds of Africa in 1913. A year into their marriage he promptly gave her syphilis.  Yet the young woman didn't languish in her illness. Instead she went on to write beautiful tales of her adventure and produced the book Out of Africa one of the greatest English-language books ever written. Her home is now a museum.
Drummer Lars Ulrich – Enough history let's get to some present Danes. There's none more famous or who kicks more ass than Metallica drummer and founder Lars Ulrich. (We don't have a photo of him 'cause he tends to get a little touchy about licensing…) A tennis star in training, young Lars whittle away his time listening to his tennis pro and part-time musician dad's jazz albums. Miles Davis and John Coltrane, were staples in his home. He got introduced to heavy metal through the British band Deep Purple and when he got his first drum set at age 13, history was born. Lars and his band mates changed heavy metal music forever with their "Enter the Sandman," album that was received by critics, metal fans and grandmothers alike.  Check out this footage of Lars visiting his childhood home in Gentofte, Denmark.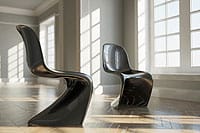 Designer Verner Panton – There must be something in the water in Gentofte because this Danish town on the north of Copenhagen produced some pretty cool dudes. Dudes like Ulrich and Verner Panton. Before Verner Panton came on the scene few people would have seen the beauty of a plastic chair. But by adding unique, circular and spindly design and vibrant, happy colors to his design inventions Panton reinvigorated the commercial design world. His chairs are those post-modern clone-shaped one-seaters that look too dainty to sit in. But people love those chairs! More than a decade after his death, people are still buying them. He's also known for unusual architecture and is credited by some with pioneering modern architecture.
Director Bille August – photographer, cinematographer, screenwriter and director, Bille August sure knows now to tell a story. He put Danish filmmaking on the map with a string of television dramas and movies. He's won every award there is including a Golden Palm from Cannes Film Festival in 1992 for Den goda viljan (Best Intentions), and an Emmy the same year for The Young Indiana Jones Chronicles. He also won numerous humanitarian awards for his film The Color of Freedom about a white, racist, South African prison guard who is won over by Nelson Mandela.
Handball Player Anja Andersen – Handball? What? Danes are crazy about handball, a unique sport that's a cross between volleyball, basketball and soccer. And Anja Andersen, from Odense, Denmark, is called the "Best Handball Player Ever!" She's the Michael Jordan of the sport and when she played you could hardly look anywhere else. She was prone to showcasing around-the-back, through the legs and overhead moves that dazzled spectators.  This Olympic Gold medalist was a beauty on the court but could also be a beast.  A heart defect pushed her out of active play but she still promotes handball all over the world.
Writer Hans Christian Andersen, or as he's known by Danish locals as H.C. Andersen, grew up among the idyllic countryside of Odense, Denmark. His childhood home was close to the St. Knud's Cathedral. H.C. Andersen grew up to write some of the most beloved fairytales including "The Red Shoes," and "The Princess and the Pea."
And as a bonus: Rasmus Lerdorf, the inventor of web scripting language PHP. Without PHP, not only would this site not be possible, but also many of the web's success stories rely on it: Amazon, Facebook, Yahoo, the list can go and on.
So there you have it, nine Danes who were not only famous, but helped to change the world. Doesn't it make you want to be a Dane?