Frugal travelers can find friendlier places than Denmark. $25 US dollars a day?  "More like $25 in two minutes," says Lara, a member of the online group Foreigners in Denmark.
Yet the savvy adventurer can get around this expensive country finding food, fun or festivities, for about $25 per person a day.
We're not talking about accommodation, long-distance travel, or three meals a day. And shopping, well, forget about it. But if you're in Denmark with $100 burning a hole in your pockets then here's what you can do.
Day One: Day Trip to Aalborg
Aalborg, a small city about four hours from Copenhagen has a charm that can't be bought. Begin your thrifty day at the Kunstmuseuum, where for $13 you can experience some of the best art Denmark has to offer. And the building is beautiful too. After a tour of the photography, sculptures and video artistry you'll probably be hungry. So, hop on over to one of the many pedestrian walks for a Danish and a hot dog for a mere $3. Finish off your day and $8 at the Viking Museum Lindholm Høje Musee. Total: $24.
Day Two: Swim Fun in Ballerup
Ballerup is small country town with big city dreams. It offers a plethora of sport parks and athletic fields, including handball courts and play ground parks and golf courses.
But if you want some cheap swim fun try East Kilbride Badet, a sports complex, complete with an indoor swimming pool. Day entry is just $5 for an adult and $2 per child. Seniors get in for a buck. The sports complex features water gymnastics, a solarium and a 50-meter pool with eight lanes.
With the money you have left over you can splurge on dinner at a nice Ballerup restaurant.
Day Three: Castle Storming in Bornhom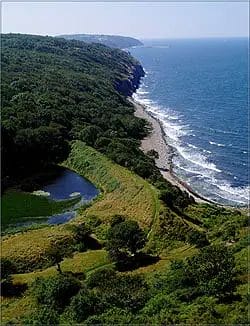 Hammershus was a formidable foe to marauding Danish kings keeping them from getting their grubby hands on the treasures on the isle of Bornhom. Now it's known as ruins but cool enough for you to explore. Walk the grounds and peek in on the Hammershus Lighthouse. Best of all it's free!
Run through ruins and then bob over to Pernille Bullow, a wonderful glass shop where artists create beauty with blown glass. You can watch them at work. Tired of all the hot air? Then cool down with a scrumptious treat from Boisenokologisk, a quaint ice cream shop which makes its own hand made sweets. Splurge, you have $25 to spend in here!
Day Four:  Free Copenhagen
There are tons of free stuff you can do in Denmark's capital. And if you have $25, well you're King of the road. For a $3 deposit grab a bike from Copenhagen's cool free city bike program. Cruise to the many museums in Copenhagen, including the National Museum, relax in one the city parks including Frederiksberg Have, a wide patch of land in the middle of the bustling city. When you're done frolicking in free land then stop by Astor Deep Pan Pizza in Vesterbrogade where you can get all-you-can-eat pizza and salad for just $11 bucks. You'll have enough left over for a couple of beers.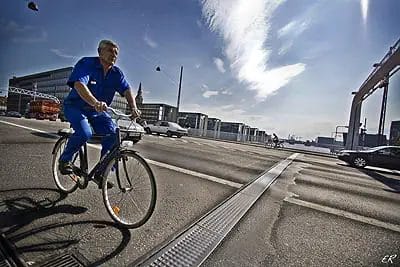 Well they said it couldn't be done but it looks like we got more than a couple of minutes out of our $100 bucks. Budget travelers – enjoy!