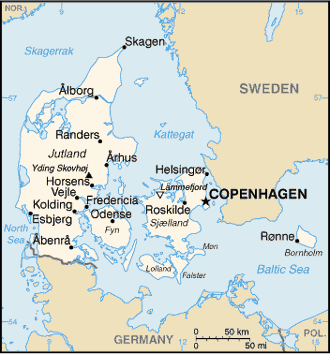 Compton, Calif., may keep it rocking but Denmark knows how to party.
Known as the "Happiest Place on Earth," — sorry Disney, the Danes have the survey results to prove it — this Scandinavian hot spot offers a heap of fun, food and fabulousness. But if you're stuck on a tour guide book or glued to a tourist Web site you just might miss the best Denmark has to offer. So ditch the Lonely Planet and strap on your seatbelts because you're about to take a journey to 10 Places in Denmark Your Tour Guide Knows Absolutely Nothing About.
1. Cafe Globen
A travelers' café located in the heart of downtown Copenhagen, this non-profit establishment is run by travelers for travelers. It's a unique gathering place where local Danes mix it up with visitors from all over the world. The café serves drinks only but – get this – you can bring your own food! That's a rarity in this tourist-sprinkled trendy district just off H.C. Andersen's Boulevard.
Show up and you just might see a slide show on someone's latest trip to Iran or sip on a Thai Beer. The volunteers who run the café have plates and silverware. Copenhagen native Claus Andersen who, along with a host of volunteers, runs the Café Globen, says meeting up with Danes at the beginning of your trip could make your trip in Denmark a whole lot easier. "A few contacts in advance [are] a very good thing in Denmark," he says, "as they are not the most talkative bunch toward strangers."
Location: Turesensgade 000 13. Hours: The café is only open after 5 p.m. until around 11 p.m., local time. If you get there early and are hungry try the Turesen, next door. It's a restaurant that Andersen's says serves a traditional Danish meal for a wonderful price.
2. Folkets Hus

Denmark is legendary for its party scene as most of the bars don't close until 5 a.m. But Folkets Hus is more than a party – it's a revolution. This counter-culture, post-modernist gathering place is like the American '60s revolution wrapped up in music, food and technology. Its name translates into "The People's House," and this denizen structure has been serving the people whatever they want for 25 years.
Folkets Hus demonstrates the true Bohemian nature of Danes. The gathering place has everything from music and dancing twice a month on Fridays, a choir that sings on Monday nights, Arabian dancing and something called "folkekokken," which Tue Rasmussen at SpottedbyLocals.com describes as "ecological meals." In addition, you can find protestors and underground television and radio broadcasts.
Entry to the Folkets Hus is free however they do ask for donations especially in their Cafe Under Construction.  Proceeds go to support causes selected by the Under Construction Fund, ran by the spot's duly elected board. If heavy politics isn't your thing just stop by Folkets Hus to see what all the fuss is about. It's guaranteed to be an experience.
Location: Stengade 50 2200 N (not far from Frederiksberg Hospital). Café is closed on Monday but opened from 2-11 p.m. every other night.
3. WAS (Wonderland Art Space)
Want to SEE the revolution but not BE the revolution? Then WAS, the Wonderland Art Space, is the place for you. This independent art gallery showcases the work of local Danish artists as well as international folks. This isn't the Louvre but you are guaranteed to see some memorable styles and collections. Ran by the Wonderland Magazine, WAS is an interesting stop on your tour of Denmark.
Location: Absalonsgade 21b, 1658 Copenhagen. Just off of Vesterbrogade in Frederiksberg.
4. Grantoftegaard
O.K., enough of the avant garde. If you have children, or even if you don't, how about experiencing some old fashioned Danish countryside? For that take a jaunt to Ballerup County. A place "Where Towns Meets Country," Ballerup is about 15 KM (9 miles) northwest of Copenhagen.It has all the old world charm made famous by Hans Christen Andersen books and a lot of sophistication.
While there, check out Grantoftegaard, an organic farm where the kiddos can feed baby goats and partake of scrumptious green leafy stuff.
Location: Pederstrupvej 69 2750 Ballerup
5. Legelandet
And if the children still have too much energy then take them to this indoor play land. A Danish Chucky Cheese, this protected playground offers hours and hours of harmless fun for young children.
Location: Legelandet Vejle, Friis Hansensvej 12 7100 Vejle and Legelandet Århus Holmstrupgaardvej 18 8220 Brabrand
6. Bjoernoe
Being voted off this island would sure be a bummer as it is one of the most beautiful secrets of the Danish landscape. Denmark is, of course, partially surrounded by water and dozens of little islands dot its coastline. But Bijoernoe, an archipelago, offers families, lovers and peace seekers a beautiful sanctuary.
Located off the coast of Faaborg, Denmark, this small island was once a safe haven for smugglers and WWII freedom fighters. Now, however, it offers camping, a bed-and-breakfast and a few other comforts for wayward tourists. Oh and it's a toad sanctuary.
Location: Faaborg is a two-hour drive from Copenhagen Airport and the island is a short ferry ride from there.
7. Egeskov Castle
For family fun, every guide book will list Tivoli Gardens a famous amusement park and "pleasure garden," in Copenhagen but if you want something a little less touristy but still visitor-friendly then try Egeskov Castle.
Open from May 1 to October 4 this year, Egeskov offers parks, museums, camping, a playground and even mazes. And of course there's the castle. Completed in 1554, Egeskov Castle is the "best preserved moat castle in Europe," so its press promotion says. It boasts more than 66 rooms, 200 windows, 171 doors and four mazes. Let's you think this structure outdated the Egeskov's has a bioenergy company creating sustainable energy products including wood materials.
Location: Kvaerndrup is about two hours from the Copenhagen Airport. Egeskov's Castle is Egeskov Gade 18 5772 Kværndrup
8. Vesterbro
If you're done exploring the hinterland come back to Copenhagen to trip the light fantastic with some Danish nightlife. Vesterbro isn't a place it's a destination. Once a red-light district with all kinds of sinful pleasures available Vesterbro has been gentrified into a hip, classy, art district where everyone wants to be.
Now this is cheating because Vesterbro is in many tour guide books but try these local-holes-in-the-walls to soak up some local flavor while being fleeced like a tourist. For eats and drinks try Lé Lé nhá hang, a Vietnamese restaurant with the flare for the dramatic.
Location: Vesterbrogade 40. For cinema try Vestervovvov, a small art-house theater with a café and a great avant garde line-up. Location: Absalonsgade 5 1658 Kobenhavn V. And to party, well you can do that just about anywhere in Vesterbro.
9. Cafe Bartof
Where the locals go to eat, drink and listen to merry music, this small local hang out is intimate and intriguing. Decked out in more wood than a pirate ship Bartof has the feel of a local bar and the charm of a post-modern gathering place. (It has an art gallery upstairs.) On any given day you can hear Irish lads sing songs of old or hill billy cowboys sing the blues. If you want a leisurely bite and a even more laid-back good time then Café Bartof is for you.
Location: Nordre Fasanvej 46 2000 Frederiksberg.
10. Frederiksberg Have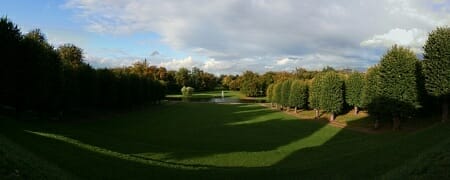 For a bit of the green check out Frederiksberg Have, a huge swath of green space in the middle of a bustling metropolis. The park has a waterfall, romantic garden, beautiful landscaping and green grass as far as the eye can see. The park is also close to the Copenhagen Zoo. This is a wonderful place to wind down from your tour of Denmark.
Location: Frederiksberg Runddel 1A 2000 Frederiksberg.
And More
We're at the end of our story and we haven't even scratched the surface of what Denmark has to offer.
There's Odense where famed fairytale writer Hans Christian was born. There are the windmills in Kerteminde, a small town on the island of Funen in central Denmark.
But this list isn't meant to be all inclusive. Even if you don't visit all these places – know that Denmark has much more to offer than fish, fairytales and free health care.