Camp Hverringe on the Bøgebjerg beach of the island of Fyn is a five-star luxury camping site.
This camping site in Denmark is a perfect place to spend a family vacation in the lovely countryside of Hindsholm with a panoramic view over the Great Belt.
A top-of-the-range campsite
The Camp Hverringe Bøgebjerg Strand is a true luxury camping site. It features a large, solar heated swimming pool with two additional children's pools and jacuzzis. Cabins, bicycles and boats are available for hire.
Camp Hverringe cabins equipments
If you don't want to bring a tent or your own caravan to the camping site, you can rent luxurious 25m2 cabins, furnished in top quality, with their own dishwasher, fridge, coffee machine and cooking area. Every cabin has a terrace with a BBQ. Campers can also choose either private or shared bathroom facilities.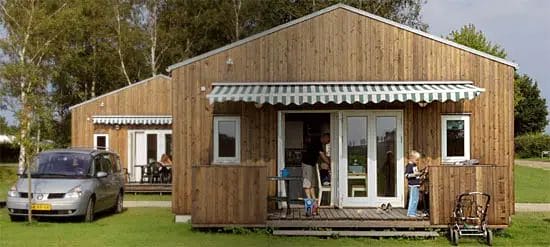 Why booking your holiday there?
Camp Hverringe is ideal for families with kids
Camp Hverringe Bøgebjerg Strand is located right next to its private, child-friendly beach. Family fun is guaranteed with the water trampoline, the large playground and the woods right next to the camping site. Camp Hverringe also features a large animal enclosure with horses, goats, and rabbits.
Perfect for nature lovers and outdoor sports enthusiast
The camping site is the ideal base for cycling trips and excursions to Odense, Copenhagen and Legoland. You can book your Legoland Day Pass here.
The camping site also organises excursions such  as a "Sea Safari" around Romsø and beach walks with a marine biologist.
For the adults, the lovely beach provides lots of opportunities for all types of water sports, fishing and walks in the woods.
Campsite equipment and activities
Sports activities are available on site, such as BMX cross tracks, volley ball or table tennis. For all the guests pleasure, they can lay down in the TV lounge room and enjoy a meal at the guest kitchen. And you know what, the Camp Hverringe has it own mini market!
If you'd like to explore around, you can drive 15 minutes to the Fjord & Belt Marine Centre or go to the Fyns Hoved Nature Reserve which is located 10 kms from the campsite. You can also go on a city trip to discover the beautiful Odense about 30 minutes by car. Well, there is no shortage of possibilities!
For your visit to Odense, find here the top attractions. If you're planning to go in Denmark mid August, I recommend you to go to the Odense annual Flower Festival!
Contact Camp Hverringe Bøgebjerg Strand Camping
Blæsenborgvej 200
5380 Dalby
Phone: 65 34 10 52
Web: http://www.camphverringe.dk