Holiday on a Denmark beach? No way. It will rain. It will certainly be cold.  I won't be able to swim. "Let's go to Spain instead," the kids say. Denmark beaches are not first on everyone's radar when they think of a beach holiday….. 
Well. By the end  of this article you might just have changed your mind…
Facts about Denmark Beaches most Tourists don't know
To many people, summer means the sun and the sea. Yes, the sun and the sea are a great combination and one which gives a lot of people so much joy.
This is mainly because the sunshine is usually associated with a smile. And when you're out at the beach, you get lots of open space, fresh air as well as cool and crystal clear waters.
So if you're still contemplating on what to do this summer, head off to the beaches for your unforgettable and relaxing Denmark holiday. If you're not sure where to go, Denmark actually has 218 Blue Flag awarded beaches on the country's coast.
Here are some top facts about beaches in Denmark that might just help you plan your Danish beach holiday. 
Denmark is actually an archipelago, and as such has over 400 islands. You can be sure there is a beach off one of them to suit your taste
Swimming is a mandatory lesson in schools. This is because there is over 7000 miles of coastline! 
One of the entire region's best beaches is located in Denmark. Head to Klitmoller to the aptly named "Cold Hawaii" beach for a surf. 
You are never less than an easy thirty miles away from  the waves  in  Denmark
The Denmark weather is a factor. The swimming season lasts usually from the end of June and is always wrapped up by the end of August. Of course, you can still enjoy the beaches in  Denmark without getting in the water.
Top 3 popular Denmark Beaches
  1 – Klampenborg Beach Denmark
Located in Klampenborg, Bellevue Beach Copenhagen Denmark is one of the country's most popular beaches.  
It's proximity to the centre of Copenhagen (only 10kms) means it is within easy reach. Take the S train to Klampenborg, then walk to Strandvejen 340. 
The beach has plenty of space to spread out with a picnic blanket on the long Danish summer nights. There are lifeguards on standby and on a clear day, you can see Sweden across the water.
  2 – Lønstrup Beach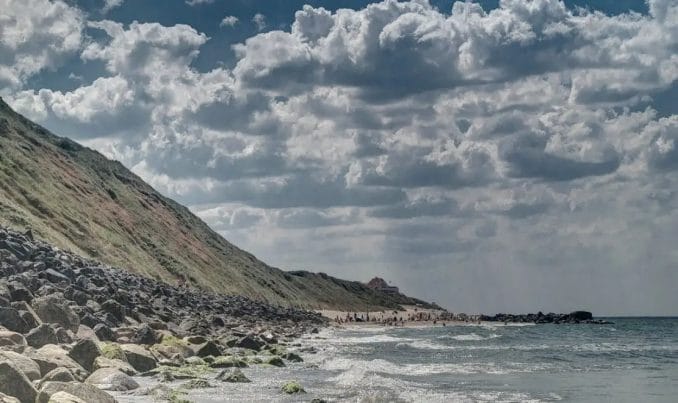 This family-friendly beach is located in Lønstrup in northwest Denmark. This is a great plain and simple beach experience, situated near an area popular with artists and handicraft workers. 
Find this gorgeous beach with calm waters at 13 Kysten, Hjørring, 9800, Denmark
3 – Amager Beach Park Denmark
This is a Copenhagen beach that can be easily accessed by the metro line 2 to Amager Strand. 
This is a beach for those who want to enjoy the action. There are plenty of watersports and other activities available on the beach. Otherwise, relax and watch the action!
At the Amager Strandpark, you can already enjoy four kilometers of white sand beaches.
Various water sports activities await visitors there such as:
kayaking
surfing
diving
or simply getting a soothing body massage
The place is about five kilometers from Copenhagen and two kilometers from the airport. Other great beaches worthy of your time are the Ocean beach, Madfish bay, Lights beach, and Parry beach.
Amager KiteSchool
Are you ready to take part in one of the the most exciting water sports in existence today?
Amager Kite School can make your kite surfing dreams become reality. They offer courses in kite surfing, taught by instructors who are fully trained and have eight years of national and international training experience.
Amager Kite School offers Turbo – 5h, Ti – 10h, and Elite – 17h training, as well as group activities, private lessons, and team training. For those who aren't sure if kite surfing is for them, they can sample kite surfing and enjoy a free kite surfing demo.
Amager Kite School also frequently holds clinics, which are designed to focus on teaching specific skills to those who are ready to take their training to the next level.
Those who are interested can visit Amager Kiteskole and order a sample of the course of interest. Gift certificates are also available.
Our extensive list of  best beaches in Denmark
Here's a further short summary of some of our favorite Denmark beaches:
Charlottenlund Beach. Just north of Copenhagen city centre is this hidden gem of a beach. Easy access from the city but nice and quiet, it makes for a good quick getaway
Skagen Beach Denmark. In the very north of Denmark. Here, the Baltic Sea meets the North Sea with beautiful white sandy beaches.
Nordstrand is one of the most popular beaches near Odense, Denmark. But, don't forget to check out Sydstrand too. It's less well known and offers more secluded space
Søndervig Beach Denmark was named Denmark's best beach in 2014. There is a great set of facilities here, including showers, lifeguards, restaurants, and surf schools.
Bisnap Beach Denmark is a beautiful child-friendly beach located between Bisnap and Hou. At just over 6 kilometers long, this beach gives plenty of space as well as little coves and enclaves.
Hou Beach Denmark is located right next to a nice seaport. This family-friendly beach is the perfect spot for kids to have fun. The port is also a ferry departur to Tunø and Samsø Islands. And every year, there's the Hou Harbor Festival you can attend.
Looking for a famous Nude Beach Denmark?
If you find yourself googling "nude beach Denmark" then we guess you want to try out a bit of freestyle bathing. 
For those who'd like to take all their clothes off while at the beach, there is every chance to do that in Denmark.
Where are Denmark Nude Beaches located?
In Denmark, these beaches can be found in the islands of Falster, Lolland, and Rømø. Most of the western coasts accommodate nude beaches. This is likewise true in the North of Aarhus Harbour, the islands of Anholt and Funen.
Even with such freedom allowed in the country, nudists are expected to be considerate to non-nudists by maintaining a reasonable distance from them and vice versa. You can find out more here or learn how to love your body the Danish way here.
Areas exclusively for people who want to enjoy the beach in their birthday suit include the south of Marielyst at Boto Strand on Falster island, Albuen on Lolland island, Romo island, the beaches around Skagen, Tannisbugten, Hirtshals and most of the western coasts.
We've already mentioned Bellevue beach above. Here, half the beach is sectioned off for nudists. 
Sonderstrand on Romo Island too offers space for naturists, as does  Houstrup Strand. You can also strip off at Albuen Beach too. If you want to visit a nude beach in Denmark, you will have plenty of choice.
Clothes-Optional Beaches in Denmark
Travelers will not see the beaches of Denmark prominently promoted as nude beaches. This is because nudity is allowed in most of the country's beaches. This simply means that Danes do not treat beach nudity as something extraordinary and it is something that is widely accepted by the locals and visitors.
People are legally free to swim and stay in nude beaches without anything on. In Denmark however, beaches are more often referred to as clothes-optional beaches instead of nude beaches.
The difference lies in that people have the option to go nude or not in the former compared to the latter which expects nudity from its visitors. A sign that specifically prohibits nudity will be displayed if a beach facility does not allow it.
How does it work?
Most nude beaches are located far from the city and mostly in relatively isolated places. Clothes-optional beaches typically have clear designations for nude swimming areas. This is to ensure that those who are particularly averse to public nudity in beaches will not be uncomfortable.
The same privacy is accorded for nude swimmers who would rather not be stared at by others. This is the reason why clothes-optional beaches usually offer large enough spaces that will allow comfortable distances from each other.
A Beach Adventure at Denmark's Whiskey Belt
Whiskey Belt is the nickname for the narrow strip of beaches, forests, pleasure gardens and villas that dot the 25 miles of coastline from Copenhagen's north to Hamlet's castle of Kronborg in Elsinore.
Also known as the gold coast, this is where you will find the country's best beaches, luxury villas, pleasure gardens, and thick forests. The Whiskey Belt can easily be reached by travelers via Copenhagen's mass transit system called the S-train.
Why it's named "Whiskey Belt"?
This long and narrow stretch of coastline is named "Whiskey Belt" because of the belief that the well-off residents of Denmark who live in the area want a tipple of whiskey. They say that while beer is popular in Copenhagen, whiskey is the more preferred drink in the north.
But if you think that it's all sand and water you'll see here, think again. Several attractions are awaiting travelers to this Whiskey Belt. Other than the beach road they call the Daisy Route, there's also the Bellevue Beach Resort which boasts of stylish and modern architecture from inside and out.
Just north of Copenhagen, stop for a lunch break at the Strandmoeller Kroen restaurant, built on the site of a 500-year-old paper mill. This is a favorite with city folk looking for a quaint taste of the country.
What else you can see?
The Deer Park or Dyrehaven is found behind the beach and has thick forests with towering oak trees. A former hunting ground, this place now has some 2,000 deers. Inside the park is also the Bakken Amusement Park featuring more than 100 rides, food stalls, bars and restaurants.
The Louisiana Museum of Modern Art is not to be missed. Denmark museums are astonishing. This has one of the world's extensive art collections. Also in the area is the Karen Blixen Museum amid a 40-acre park. The former home of the famous "Out of Africa" author, this has become a popular bird sanctuary as well.
Finally, never miss out on the Renaissance castle of Kronborg in Helsingor which inspired Shakespeare's play "Hamlet."
The best time to visit the Whiskey Belt is mid-June through late August when the weather (and beach life) is at is best. Out of season, it's still a pleasure to visit – with the benefit of less crowds.
Make your Denmark Beach Holiday Unforgettable
Denmark may be a small country but it takes pride in its beautiful beaches which are some of the cleanest you can ever find in Europe. So whether you want to swim, engage in water sports activities, or just simply relax, a beach is a perfect place.
Spend time in a traditional Danish beach summer house right on the shore
Bring a picnic on a warm summer's evening and watch the sun *not* set 
Visit the Danish Riviera. Situated on the north coast and beginning at Sejerø Bay, this will offer you jaw-dropping views. An experience to remember
Instagram on Grenen beach (and spot the sea lions)
Visit the stunning cliffs at Møns Klint
Denmark beaches accommodation 
We would seriously recommend getting an Airbnb in one of Denmark's traditional beach holiday homes. Imagine lazy days at the beach followed by a few beers around the firepit. 
Perhaps you'll rustle up a nice fish dish from the local fishmonger's Children and big kids can run barefoot through the dunes whilst you enjoy a glass of wine on the terrace. Painting a good picture? We want to go right now.  
One of the most popular areas for a good beach holiday is the Jutland peninsula. A simple cabin near the beach is around 100€ per night, whilst a  luxury holiday home with sea views can start from as much as €300 per night. 
In fact, the most popular beach for a perfect Denmark holiday is the Lokken beach in the Jutland peninsula. This is truly a tourist drawer and each year, visitors continue to flock to this place.
Check out a list of some great Danish beach Airbnb here.
Conclusion 
Whether you want to spend your time doing water sports or taking secluded walks along the shore, Denmark has something for you. The beach scene here in the summer is wonderful. 
But, even in the winter months, there is a relaxing charm that permeates along the Danish coast. Once you've decided that a  Danish beach holiday is for you, why not head on over to one of our other Danish travel pages for more hints and tips. 
Denmark may be a small country but it takes pride in its beautiful beaches which are some of the cleanest you can ever find in Europe. So whether you want to swim, engage in water sports activities or just simply relax, the beach is a perfect place.
Frequently Asked Questions about Denmark Beaches
What sea is Denmark on?
Denmark has 8750 kilometres of stunning coastline. This is the country where 2 seas meet. The Baltic and the North Sea are the 2 main seas of Denmark, and the country is nearly completely surrounded on all sides by water. Don't forget the North Atlantic where you will find the Faroe Islands, and the Arctic where autonomous Greenland is located.
What kind of beaches does Denmark have?
In short – amazing ones. Denmark has a  whopping 250 gorgeous blue flag beaches. The majority of the beaches in  Denmark are made of fine white sand. You can get some really wild and unexplored beaches or busy city ones. It doesn't matter however which one you choose. All offer a great day out. 
Does Copenhagen have beaches?
Don't discount the city beaches of Copenhagen. They are the perfect place for those on a short break to still experience a little Danish beach culture. Bellevue Beach and Amager Beach are two of the most famous Copenhagen beaches. 
Where can you swim in Copenhagen?
You don't have to be on a beach to swim in Copenhagen. There are also designated outdoor swimming areas. Harbour Bath and Kastrup Sea Bath are  2 such options.  
Where is Bellevue beach Denmark?
Bellevue Beach is located a few steps from the Klampenborg trainstation at Strandvejen 340, Klampenborg.
What is beach weather in Denmark?
The swimming season is  short – usually you get about  6 weeks  in the summer of swimming "weather". In the summer, the average  temperature is about 21 degrees. The water temperature will be around 17 degrees. If you want to spend a lot of time in the water, bring a wetsuit! 
Is nudism illegal in Denmark?
It's not. The majority of beaches are clothes-optional beaches. So just make sure there is no sign prohibiting nudism before removing your clothes.
Are there any private beaches for nudism in Denmark?
There are some officials nude beaches where you can enjoy space naked such as beaches in Falster, Lolland, and Rømø. If you want a space only dedicated to nudism, I recommend you to go to Naturist Resorts and Camps (Aalborg: Naturistcamping Nordjylland ; near Copenhagen: Solbakken Camping)

Related Articles