Skive is a a coastal tourist resort in the Midtjylland region of Denmark.
Skive's attraction include , Denmark's most well preserved medieval castle. The Castle oozes of medieval times like nowhere else in Denmark. The Castle museum offers numerous activities, such as evocations, displays and markets.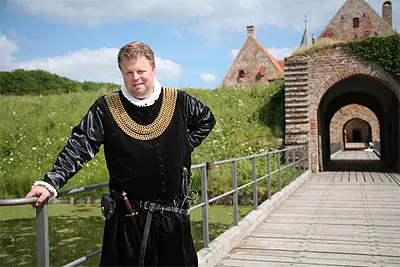 The Skive Art Museum (Skive Kunstmuseum) is housed in a building designed by Danish architect Leopold Teschl, who also designed the Skive Historical Museum. The Art Museum houses a broad collection of modern Danish art, and has a special interest in expressive landscapes and New Realism painting. The collection also has works by local artists, including Christen Dalsgaard, a national romantic painter associated with the Golden Age of Danish Painting.
The Mønsted Limestone Caves south-west of Skive are run by Denmark's nature-preservation group, Skov- og Naturstyrelse. As well as being a tourist attraction, the caves are used as a place to age cheese, which is then exported to Germany as "cavecheese". In winter, the caves are home to 10,000 bats.
Did you know this about Skive, Denmark?
In Skive, all the roundabouts have been decorated with pieces of art known as the 11 Stars, designed by the Danish designer Jacob Jensen.