Check out all the best places to stay in Frederiksberg, Copenhagen!
Introduction
Beautiful Frederiksberg is one of Copenhagen's greenest areas, and a popular place for families. Stylish and urban with a side of park life; Frederiksberg will welcome you with wide open arms!
Whether you fancy a bit of café culture, lounging in a park or exploring the shops in the area, Frederiksberg is one place that should not be missed when visiting Copenhagen! Read on for more information, including how to find the best hotels in Frederiksberg.
Frederiksberg Copenhagen District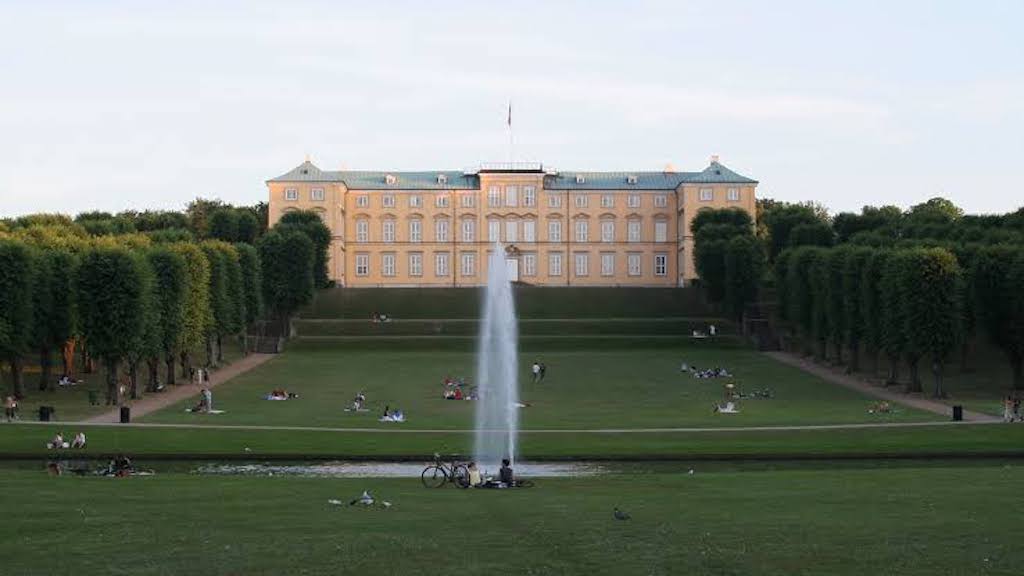 Frederiksberg is a municipality in itself, but is formally a part of Copenhagen. Located on the island of Zealand, the area is surrounded by the capital.
For visitors, Frederiksberg Denmark offers fresh air, some interesting outdoor and cultural attractions, and beautiful architecture. Home to just over one hundred thousand people you can be sure of plenty to do in the area should you decide to visit.
Who will like Frederiksberg, Copenhagen.
Those travelling with young families will enjoy the wide open spaces that Frederiksberg offers. The area is an upmarket part of town, so expect to find boutiques, trendy cafes and excellent restaurants as well.
Not traditionally touristy, Frederiksberg will appeal to those looking for the authentic Copenhagen. Check out some of the attractions on offer in Frederiksberg, Denmark below!
Top Best Things to Do in Frederiksberg Copenhagen, Denmark
There is a lot to do in Frederiksberg, Denmark! No matter whether you are travelling with kids, are on a romantic break or are visiting with friends, there is something for everyone here!
1.     Frederiksberg Palace and Gardens
One for a nice spring walk or lazy summer picnic. The gardens of Frederiksberg Palace are simply beautiful, and in nice weather you can take a little boat trip on the canals. Guided tours of the stunning Baroque palace are available at limited times – after 4pm on weekdays or on the last Saturday of each month.
2.     Stroll along Frederiksberg Allé
This beautiful boulevard was created specifically for the king in the 18th century. Nowadays, it is a great place for a walk, a spot of shopping and a decent meal out.
3. Make Music in the Music Museum
For those who have a passion for music, the Danish Music Museum is well worth a visit. This interesting museum tells the history of music in Denmark, but also has a special section  for international instruments from around the world. 
xFor the kids, there is also an interactive music section. This is a great place to which to take the little ones on a cold day in Frederiksberg.
4. Stroll the Landbohøjskolens Have
If you have the weather on your side then head for the Landbohøjskolens Have. This beautiful park ranks high on the list of attractions in Frederiksberg. Boasting a pretty selection of plants and flowers, including a stunning rose garden, the park is a pleasant place at which to spend an hour or too. There is also a nice café on site if you need to take some refreshments too. 
5.     Underwater Cisterns
An interesting attraction, the underwater cisterns at Sondermarken are worth a look. For more information see the website. The area hosts exhibitions under the ground and is definitely a must see if you are visiting Frederiksberg, Copenhagen.
Hotels in Frederiksberg Copenhagen– Top Budget Hotel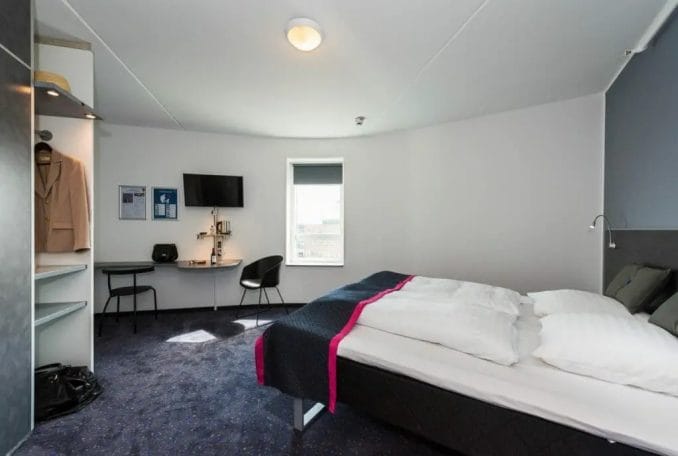 The Cabinn Hotel Copenhagen Frederiksberg is located just under a mile from the Tivoli Gardens in Frederiksberg. Boasting comfortable, affordable accommodation, visitors can benefit from parking and free Wi-Fi. Rooms are furnished in a basic but modern style, and the location is second to none. You can book for the Cabinn Hotel just here.
A standard double starts at just €100 in peak season and included a decent continental breakfast.
Hotels in Frederiksberg – Top Mid Range Hotels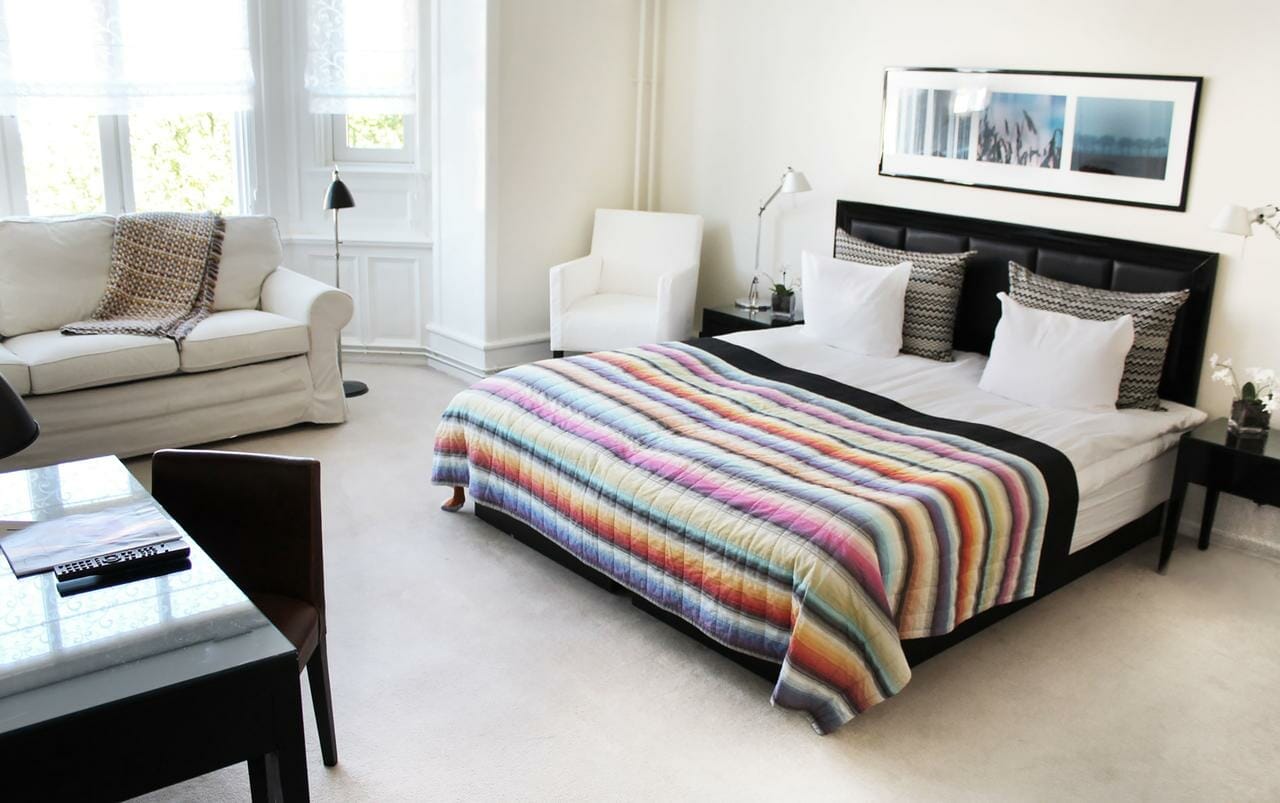 There are many good, mid range hotels in Frederiksberg, so we have given you a few options!
1. The 3* Avenue Hotel Copenhagen Frederiksberg is a decent mid-range hotel in Copenhagen that offers you everything you need for a comfortable stay. This boutique hotel is situated in the heart of Frederiksberg and boasts a pleasant courtyard that makes for a great place to enjoy a drink or a book.
Double rooms start here from €150 in the off season, and include a great breakfast. Prices in the summer months are not that much higher if you book ahead and get a good deal. You can book the Avenue Hotel Copenhagen just here.
2. Elsewhere, check out the Hotel Sct Thomas Frederiksberg. With double rooms starting at just €160 in peak season and a pretty building, you will be sure of a comfortable stay here. Breakfast can be added for just €13.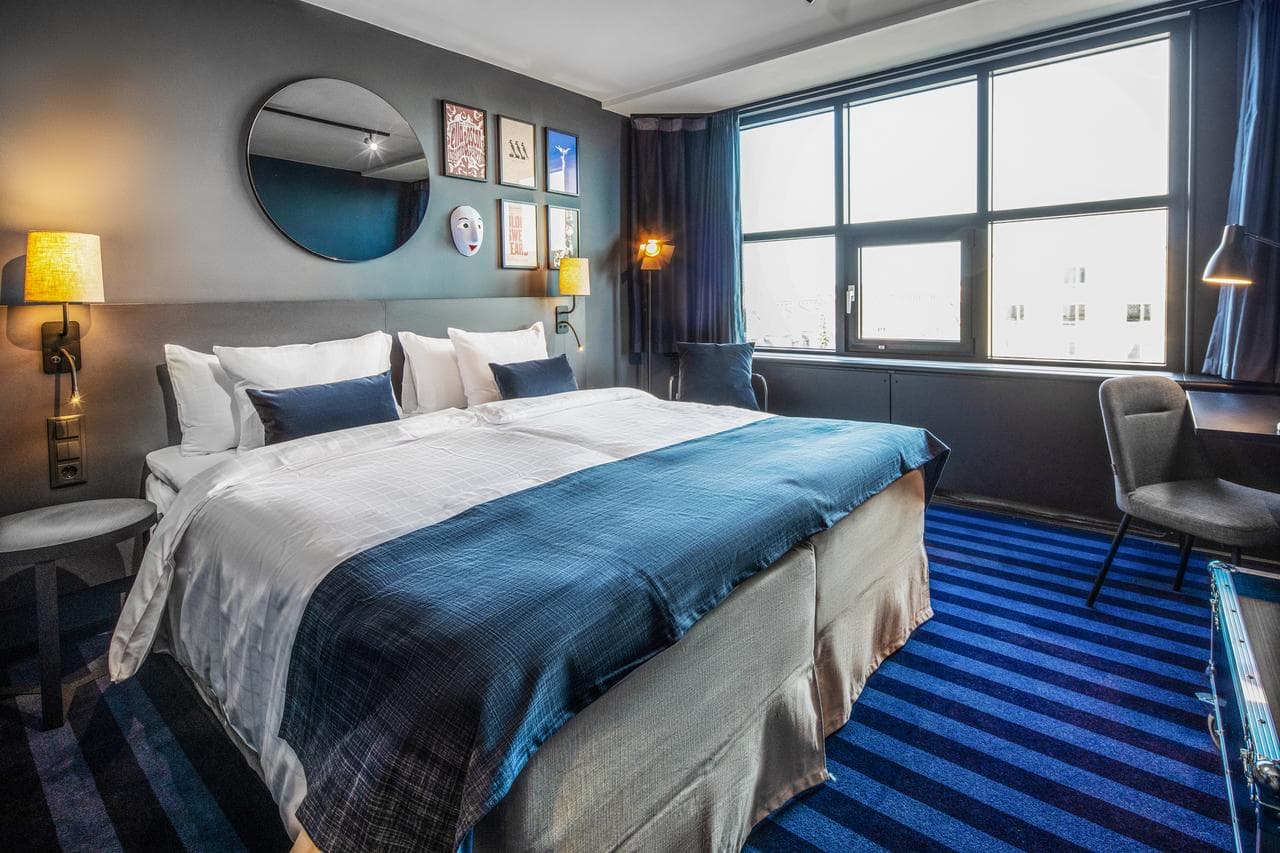 3. Or, consider the Scandic Falconer. Here, you can check into a stylish room, some of which boast stunning views. Doubles start here from just €158 for a standard room in the peak season. You can book for the Scandic Falconer just here.
Hotels in Frederiksberg Copenhagen– Top Luxury Hotel
There are several fabulous 5* hotels near Frederiksberg. We featured the stunning Nimb Hotel over on our Latin Quarter [RC1] page – check that out for something truly special.
But there are plenty of other options too. Why not check out the amazing Manon Les Suites Guldsmeden. ? Here, suites may set you back €300 a night, but surely the gorgeous suites, pool and stunning views from the rooftop bar make it all worth it! Book this one for a special occasion. 
Hostels in Frederiksberg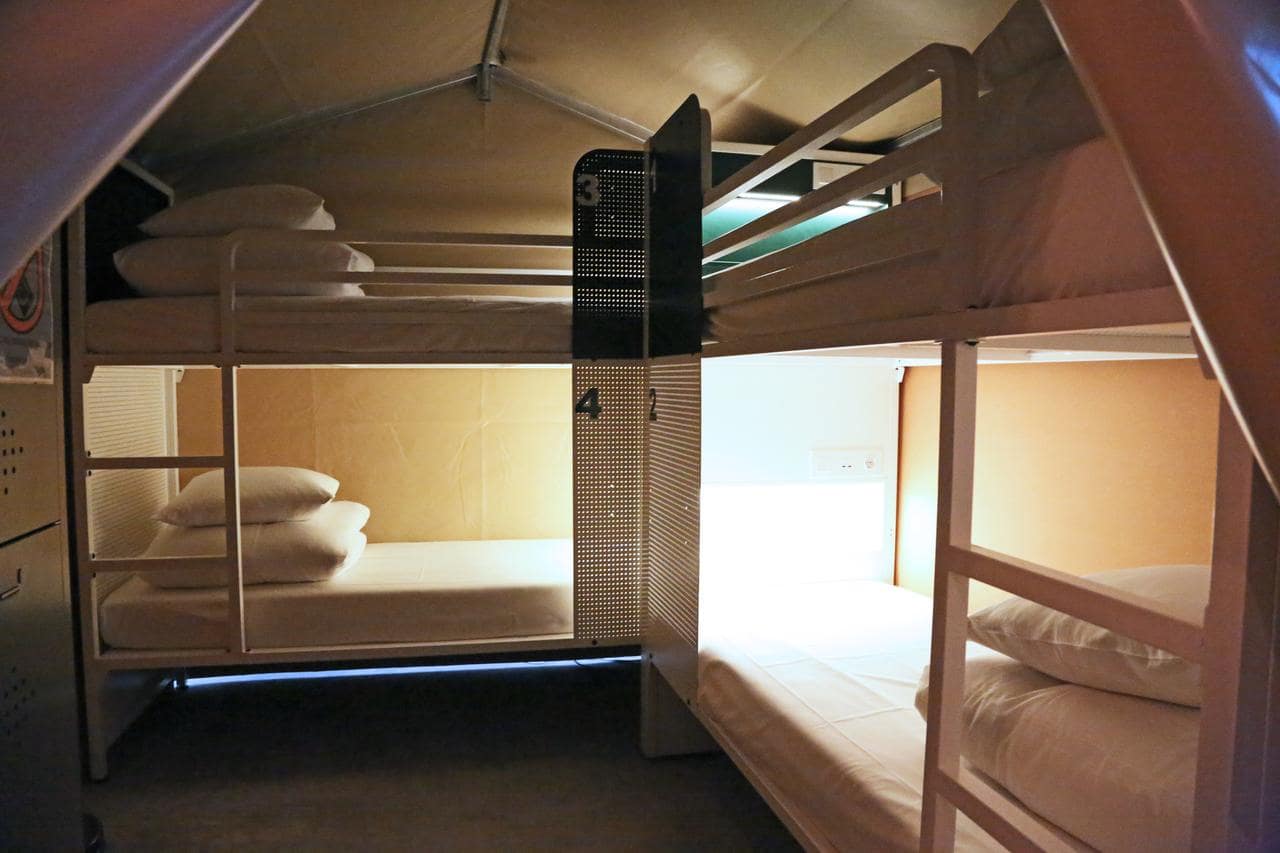 There are not that many hostels in Frederiksberg, but there are plenty to be found within 1.5 miles. We have featured a number on our other pages – especially those near Norrebro[RC2]  and the Latin Quarter[RC3] .
Our favourite hostels near Frederiksberg? Well, these include the cool Urban Camper Hostel, where you can stay in a tent themed bed from as little as €30 per night. There is also the option of a private room. Prices include a pretty decent continental breakfast too.
Elsewhere, check out the Copenhagen Backpackers Hostel. Located in Vesterbro and conveniently located near the train station, you can get a room in a 6-bed dorm here for only €22.
Air Bnb Frederiksberg Copenhagen
Air Bnb offers a great alternative to standard hotel accommodation. A great option for those travelling with kids or large groups, Air Bnb lets you have your own space and really experience your destination.
Go shopping in a local market or supermarket and cook up a local dish in your private kitchen. Put the kids to bed and then enjoy a glass of wine on the balcony, or curl up and watch a movie.
For those travelling with friends, Air Bnb offers space for enough people in your group. Those meeting up for family reunions can be together without having to navigate hotel corridors or squeeze into one room to watch TV.
Why not check out Air Bnb for properties in and around Frederiksberg. You can get a 2 bed for as little as €100 a night right in the heart of the action! Or, if you wish to learn even more about an area, why not opt for a room in someone's house to really get to experience the vibe.
Conclusion for Frederiksberg Copenhagen
information to decide on where you will stay! Whether you go for a hostel, plush 5* hotel or a private apartment, we are interested to hear how you got on.
As you plan your trip, why not check out our other resources here
Related Articles :