Christianshavn Copenhagen, a part of Indre By, is sited on many artificial islands between Zealand and Amager Islands. This metropolitan area is set apart from the city center by Inner Harbor.
Christianshavn is now one of Copenhagen's most charming districts. It won't take long to realize why when you go through the length and breadth of the peaceful area one day.
On a bright day, the wharf is crowded with people, and on rainy days many cafes and restaurants receive visitors from the neighborhood. Christianshavn has always been home to Christiania, one most visited places of Copenhagen.
A Bit in History
According to Wikipedia, Christanshavn "is an artificial neighborhood in Copenhagen". The creation of the island came out of Christian IV's ambition to fortify the city during the 17th century. He decided to have five bastions made in the marshy areas between Copenhagen and Amager. Land filling work and waterways were made to put in the soil where the city stands.
Initially, he built the area to protect the fleet of the Royal Danish Navy which was docked in Holmen. Its other purpose was to increase trading with merchants abroad and be able to levy additional tolls from their ships which go through the strait between Sealand and Amager. The area has evolved through the years and developed its own personality.
Once a poor working-class neighborhood, Christianshavn Copenhagen has over the years faced demolition threats. Nevertheless, since the 1970s, efforts to redevelop the community have ensured the conservation of historic buildings.
It has become one of the most popular residential areas in Copenhagen over the past three decades. Here you'll understand why you should consider staying in this Copenhagen area.
Christianshavn Architecture
Christian IV decided to adopt a style influenced by Amsterdam architecture. This is evident particularly in the canals and the numerous old warehouses.
Christanshavn was originally a merchant's town which is quartered by canals. Years after it became a working class neighborhood until more artists and bohemians came in the 20th century. Nowadays, the brightly painted houses, canals and the feel of small town exclusivity make the quarters charming and popular among the country's affluent. It is now one of the wealthiest places where celebrities, supermodels and politicians live.
Christianshavn Green and Free District Copenhagen
Christianshavn is a quiet nice place to be for holidays. With its cozy narrow streets and colorful old houses, it is no doubt one lovely location any tourist will savor every moment spent. Christianshavn Copenhagen is also home to the popular Christiania family.
The lower side of Christianshavn, known as Christiansbro is the high end area of this small city. There are modern residential buildings, several headquarters and historical buildings and institutions. Four bridges connect Amager to Sealand. These are Knippelsbro, Langebro, Kalvebrobroerne and Oresundsbro.
Christania's Own Legislation
Freetown Christiania's special self-governing culture is a must-see for open-minded visitors. The 80 hectares houses about 1,000 permanent residents ruled by the 1989 Christiania Act.
This makes it to vary in some ways from the Danish law. It is most notable for the legalization of marijuana and other substances. Its strict environmental policy, handmade houses, car-free roads, an abundance of indie music venues, galleries and cafes are interesting sites to catch a glimpse of the area.
If the sun shines most tourists rent a boat from Christianshavn Bådudlejning & Cafe to spend an unforgettable afternoon exploring the canals.
A look back in history gives more insight about this area.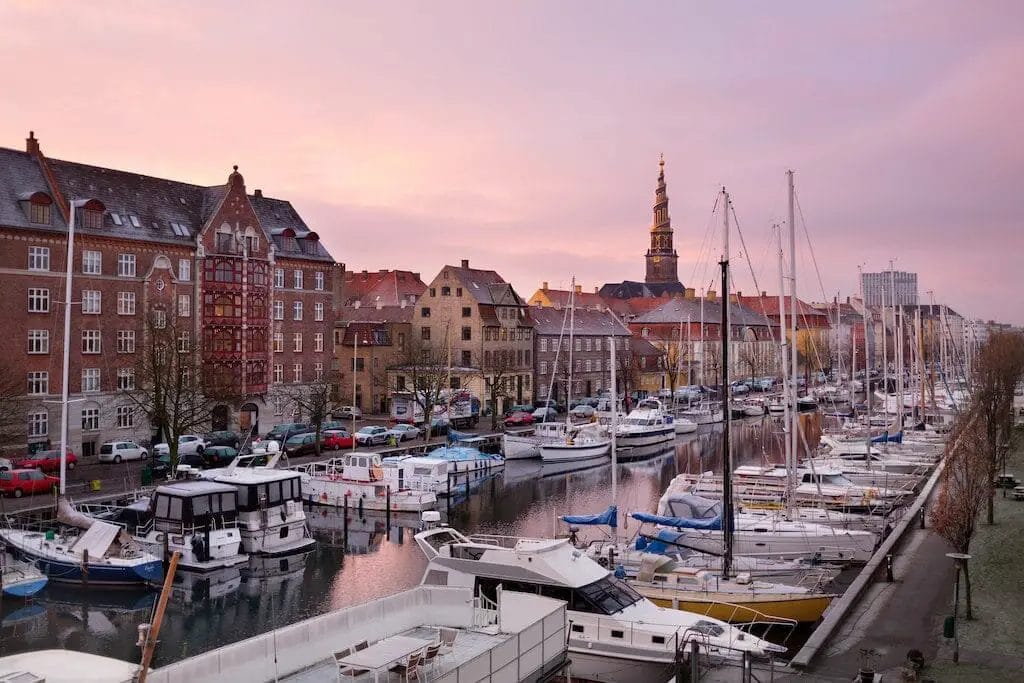 A Step Back for the District of Copenhagen
Initially, Christiana Copenhagen was used as a military barrack. A band of squatters cuts a hole through the fence in 1971 and occupied the area not used for years. Since then, the people of Christiania have had difficulties with the government of Denmark over the right to use the region, which later led to the creation of a Christiania Fund in the year 2012.
The association now owns much of Freetown Christiana Copenhagen. In Christiania, you can find lots of fun and imaginative homes, natural environments, galleries, and eateries.
Despite the efforts of politicians to stop marijuana on Pusher Street, Christiania however grew famous for its cannabis trade. By 2004, the marijuana trade was accepted by authorities. The situation has normalized since the beginning of 2010 and Danish law has now been enforced in Christiana Copenhagen.
Christianshavn District: For What Type of Travelers?
Christianshaven's doors are wide open to all manner of visitors. Social travelers, active travelers, and city slickers are seen in the city one time or the other. Families, sightseers, art lovers, big and small budget travelers including students come around to this place every year to have first-hand information about the land.
We recommend the 2,5-hours tour to discover the Alternative Copenhagen. The guide will take you to Vesterbro and the Freetown Christiana as well.
Christianshavn atmosphere which makes it a must see
Christianshavn is an eastern neighborhood of Copenhagen city center. It is endowed with cool cafés, lush green vegetation as well as charming buildings from the 19th century. This pleasant area also has elegant restaurants which serve Danish and international cuisines where you can enjoy your meals with a view of the canal. To the north, the old naval city of Holmen has undergone a dramatic change over the past couple of years, with the renovation of old buildings and some stunning architecture.
 The colorful houses and the tranquil canals make Christianshavn distinctive and one of the most picturesque districts of Copenhagen.
Composed of several small islands, the area is a real charm perfect for biking, walking down the quays or even on the watersides. This group of small islands is perhaps mainly linked with Freetown Christiania, but it is worth a stopover when you visit.
Wander around and see the sights. Check out the spiral tower of of Vor Frelsers Kirke (Church of Our Saviour), which was designed the famous architect Laurids de Thurah in 1750. The Danish Architecture Center on Strandgade is also worth a visit.
Top Attractions to Do and See in Christianshavn
1.     Dansk Arkitektur Center
The Danish Architecture Center is one attractive location. Every year there are 5 to 10 exhibitions on Danish as well as foreign architecture. Conferences and guided tours  relating to exhibitions are held at the center.
2.     Nordatlantens brygge
Nordatlantens Brygge has always been a cultural house in which you can read about North Atlantic culture and crafts. There are three exhibition halls located in an old port building that hosts exhibitions, events and lectures.
3.     The Royal Danish Naval Museum
It has a prototype of ship collection. It was launched in 1670. Also within are naval battles information, cannon, handguns, and uniforms.
It opens from 2 p.m. to 4 p.m. It is closed on Mondays.
4. The Ships at Holmen
Three vessels that played a significant part in the cold War are seen here. The Danish submarine, Sælen, became famous in 2003 for intervening in the Cold War in Iraq, and as well as defending the Norwegian seas.
5. Christianshavn Café and Boat Rental
It has an interesting mix of spots: a coffee shop on the canal's floating dock, which also rents boats to navigate the Christianshavn canals.
6.     The Operahouse
Opened by world-famous architect Henning Larsen in 2005, the Opera house is a nice building not far away from the harbor. Opera is mostly hosted here, but occasionally displays concerts and plays of contemporary music.
Opera always has 25 tickets available for sale on the day. Prices vary. Enjoy the Copenhagen Canal Cruise to get to the Royal Opera House (book here).
If you are into operas, you might be interested in the Aalborg Opera Festival that take place every year in Jutland Denmark.
7.     Church of our Savior
This building reminds one of the spiritual inclinations of Christianshaven. Climb its 400 steps up to the pinnacle of the church for a view of Copenhagen. The final steps are outside the spiral.
Rumor has it that the designer killed himself after he realized the stair rotation was the wrong way up the building. This will make fighters to use their left hand during sword battles, but the spiraling steps were meant to symbolize the ascent into heaven.
8.     Kajak ole
This equipment conducts guided kayaking cruises [Office3] around the Christianshavn and Holmen canals. The founder has been touring for over 10 years. Three regular tours take place ranging from one and half hour to three hours, but special tours can also be requested. Funny kayak polo games are also arranged.
Find the Best Christianshavn Hotels
You can browse a range of lodging options at different prices or see great deals in Christianshavn hotels available. You can search by cost per night or by favorite facilities, including free parking and a pool.
If you're looking for options nearby specific places; for example, Our Savior's Church, try narrow your search by location.
Top Budget Hotel
This waterfront hotel is located in a historic 1780s building. It is next to the Copenhagen Opera House and Royal Palace in Amalienborg.
It provides a gourmet restaurant, an organic breakfast buffet, plus tea and coffee facilities in the room. Many rooms are built with exposed wooden beams. Each room comes with a sitting area, a minibar and a TV.
This hotel is available from $126.
Top comfy hotel
Sankt Annæ 10 is located in Copenhagen's Christianshavn neighborhood, 500 m from Our Savior Church. It is 2.1 kilometers away from the Round Tower.
Delightfully clean, peaceful and comfortable with such a charming, old fashioned atmosphere.
Top luxury hotel
Those who are looking for a memorable Copenhagen experience must reserve a stay at the 71 Nyhavn Hotel. It is flanked by multi-style buildings and scenic restaurants on the famous Nyhavn canal.
Inside, visitors can catch a glimpse of the beautiful collection of Danish works, including masterworks by Asger Jorn & Karel Appel from the Cobra movement.
There're 130 rooms and suites with the best views of the canal. All the rooms have a luxurious bed, a flat-screen TV, a pillow, and free Wi-Fi internet access.
This hotel gives more than the current per night deal at $220.
Christianshavn Best Youth Hostels
For those on budget or students who love the hostel environment more, Christianshaven has some hostels for travelers as well.
This hostel has a bar/lounge, lavatories, and a 24-hour reception desk. Free WiFi and safes are installed in the halls. It cost $49 per night in low seasons and may go up as much as $81 for high seasons.
Amalienborg Palace and Copenhagen Opera House are 8 min walk away from this hostel. It takes only 10 minutes to drive from CPH-Kastrup airport. If on the metro, Konens Nytory Station is just 7 minutes away and Norreport Station is 19 mins walk apart.
Copenhagen Downtown Hostel is perhaps the best place to stay for numerous Hoscar prizes; whether you want to enjoy a party atmosphere or simply to sleep on a quiet night.
The strategic location in the historic center of the city, near Tivoli Gardens and all of the city's sights and sounds, is a great base for international visitors to enjoy the vibrant urban hostel.
Check the hostel equipments and prices per night here
Airbnb Christianshavn Copenhagen or B&B in Christianshavn
There are a couple of airbnb christianshavn Copenhagen facilities for tourists and visitors who are not looking for the conventional hotel accommodation around.
Best Stay Copenhagen B&B quickly comes to mind when discussing airbnb Christianshavn Copenhagen. It is located in Frederiksberg, one of Copenhagen's most beautiful areas. In a 15 minutes' walk you will get to the city center from the Frederiksberg Gardens, the Zoo, the Bus or the Metro from here.
This service is best described by the owners as Green Luxury' Best Stay Copenhagen B&B. It is home to seven spacious bedrooms, including 6-two and 1 single room.
At $104 per night travelers should have a pleasurable time in the location. You can place your reservation when you book a night before you travel.
There is a wide range of Christianshavn hotels including Airbnb Christianshavn Copenhagen tochoose from. It's not difficult to find one around to spend the night.
Conclusion
Prospective tourists planning a trip to Christianshavn Copenhagen should consider good preparation as what is needed for a successful trip. The preparation starts from when you start thinking about the journey which this resource hopes to deliver. If you're almost done, don't forget to book a night before travelling.
---
Related Articles: