You must have been told to try cycling in Denmark and oftentimes, the thought of it has left you wondering why. In truth, most tourists would wonder why they would want to go around Denmark cycling when they could take tourists bus to various destinations. The answer is pretty easy. There are many reasons why you should try cycling and why Denmark is the best place for it. Here are some of them to get you started.
Cycling is great in Denmark because you are never too far nor too near in places where you can sleep, eat or shop. From beautiful natural sceneries to amazing top brand shops, all of these are downright accessible even to those who are cycling around.
There are about 12,000km of cycling routes all over Denmark that you can use. These routes come with proper navigation signs to help you move from one part of the country to another without getting lost.
Denmark come with cycle paths and a lot of places where you can park your bike and lock it in while you go around and enjoy the view. From sightseeing to getting from destination A to B, you can do all these and still be safe.
Are you doing to get exhausted moving around Denmark? No you will not because even the highest peak in the country isn't that high at all. It is only up to 170 meters high and you can get there on your bike. Isn't it amazing?
When the bike breaks down while you are on a trip, you don't have to feel helpless. There are about a handful of bike shops around the country. They can provide you with spare parts or repair service or even both, whichever suits your needs.
Why would you go cycling in Denmark? Because it is totally hassle-free, environment-friendly and a lot of fun!
A Quick Guide to Cycling Around Denmark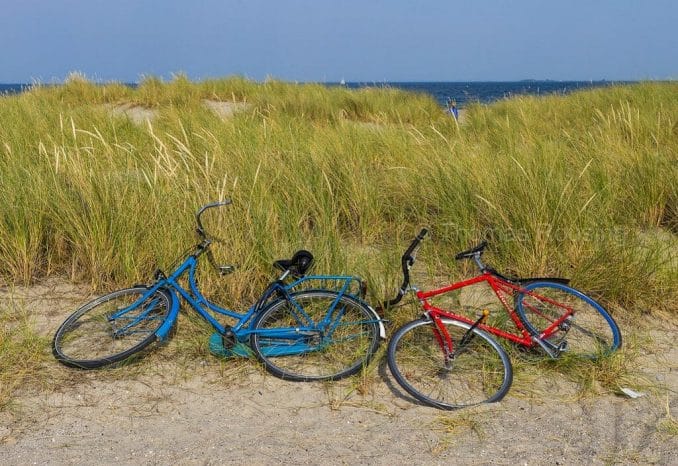 Denmark is one of the most bike-friendly nations in the world with over 12,000km of cycles routes that are super easy to follow thanks to easy-to-follow signs doting the entire nation. All a cyclist has to do to enjoy Copenhagen and even Denmark's countryside on two wheels is to pick a bike route and follow the signs. 
You can book a complete Copenhagen tour by bike for 50$ juste here !
Nature trippers who do not have the stamina of regular cyclists and athletes can still enjoy the sights on a bike cross-country by riding the train in between routes since bikes are allowed to be carried into trains. In fact, it's a pretty common sight. This means that in Denmark, you have the option of going as fast or as slow as you want by combining train commutes and cycling.
If you're thinking of cycling through Denmark, you must be aware of equipment regulation, especially if you're bringing your own bike. All bicycles are required to have a bell. Reflectors are also required with the following color codes for the different bike parts:
White – Front of the bike
Red – Back of the bike
Yellow – Pedals and Wheels
You might be surprised to hear, however, that bike helmets are not required by the law. Still, it is a good safety equipment to always wear. 
As for families who wish to travel on bike with kids, you need to get cycle seats or bike trailers to do so.
You can also just visit any Copenhagen bike rental shop to get the necessary equipment if you can't bring your bike with you.
How to Tour Denmark by Bike
Living in Denmark or even just visiting Denmark can be an enriching experience. But perhaps, one important part of this country that makes for a wonderful experience is its bicycle lifestyle.
Denmark is a unique country in Europe owing to the fact that it encourages people to ride their bikes in going to their destinations. It's an eco friendly form of transportation and one which promotes a healthy lifestyle as well as biking is a great form of exercise that benefits the body.
You can book a Tickets for Copenhagen Bicycles right here !
What makes Denmark an ideal place to bike is its flat terrain. Since no mountain exists and the highest hill in place is just 560 feet high, biking around is easy. Another great reason is that the country has more paths meant especially for bikes with 11 national bike routes that total 4,800 miles in all. By dedicated bike paths, this means riders are able to bike without fear of being sideswiped by cars or trucks.
Experienced riders recommend doing a bike tour of Denmark for a change. You just need to have maps and you're ready to go wherever you want. You don't even have to be in a biker's outfit because wearing comfortable clothes and sneakers is already enough. And unless the weather is good, always bring a cap and raincoat to protect yourself.
Taking a tour of Denmark by bike is like no other. You get a taste of the awesome beauty of nature from the colorful flowers and amazing landscape to the virgin forests and beaches where you can stop by and marvel at the great view of the sun and the sea. Who knows, you just might even be tempted to take a dip in the water.
If you're fond of biking, Denmark is surely one country worth pedaling around for a tour of its wonderful attractions and natural environment.
Bike through Denmark's Marguerite Route
Bikers in Denmark should have good reason to rejoice as a new bicycle route is about to open in the greater Copenhagen area. This 50 kilometer long route boasts of beautiful scenery allowing bike loving tourists and local residents to enjoy a healthy outdoor activity and nature at its very best.
Known as the Marguerite Route, this path exclusively meant for bicycles passes through Gentofte Lake as well as the main shopping streets of Hellerup and Osterbro which are popular for their cafes. It also goes through the areas of Western Amager and the Commons at Kalvebod in the southern part of the Danish capital.
Nature lovers will surely have an unforgettable experience while biking through this new tourist route. While nature areas are abundant along the way, there are also amazing man-made landscapes about two kilometers from the City Hall Square. They're not as high, though, to block people's view of the fantastic Copenhagen skyline.
Water lovers will also get the chance to experience marvelous views of the sea especially at the coastal road along the airport's eastern section. Other than the sea, the Oresund Bridge and Sweden can be also be seen at a distance. While near the airport, one photo opportunity is the landing and taking off of aircrafts. For a unique photographic effect, you can have yourself photographed with the aircraft in action at a far distance as your background.
As you move further south around the airport, you will pass by the Dragor harbor village known for its narrow lanes and boats. From there, the next stop will be Kongelunden which literally means King's Grove. This is the place to enjoy horseback riding and be able to view different kinds of birds as well as hear their own sound of music.
The final destinations along the Marguerite Route are the modern structures in Copenhagen's western suburbs, the Damhus Lake, the western forest of Vestskoven and the Herstedhoje.
Cycling Holiday In Denmark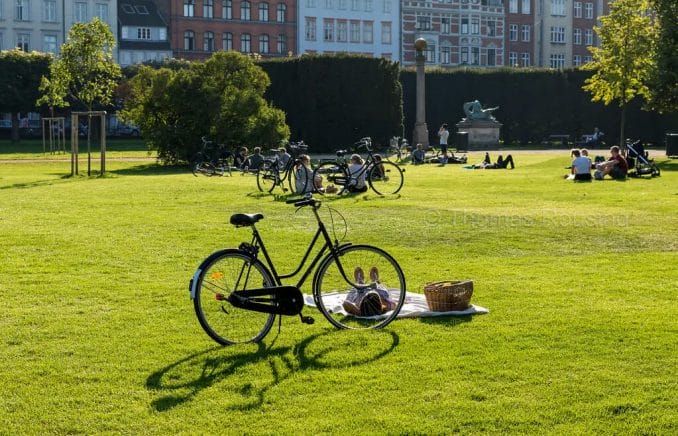 If you have the heart for cycling, then Denmark is the best place for you. Did you know that cycling is a very big thing in Denmark that they have several holidays intended only to celebrate cycling? With more than 12,000km of cycle routes with sign posts around the country, Denmark surely is a haven for those cycling enthusiasts.
Have you ever dreamed of going on a vacation and not spending thousands of car rental alone? Then Denmark is definitely the country you should set out for. It is a small country with inclines and a long line of wonderful sceneries and natural attractions to offer. There are about 25 perfect cycle routes around Denmark and there are two starting points you can choose from. The first one is in the West Coast of Denmark and the other one is in East Cost of Denmark.
Here are the top reasons why you should take a cycling holiday in Denmark:
Shopping spots, eating places and small-scale lodging in Denmark are never too far. You can cycle the day away and never have to worry about not finding a room to stay for the night. These places are always a short ride away.
There are clear sign-posted cycling zones all around the country. You can be confident that you will be safety cycling alongside vehicles even on main roads.
You won't have to get too exhausted cycling up Denmark Mountains. The highest point in the whole country is only 170m above sea level; thus the hills of Denmark are very gentle for cyclists like you. You can surely get on top without catching your breathe!
Whether it is a gentle terrain that you want or an adventure terrain in the great outdoors, long or short distances, you can find all of these in Denmark. Saddle up and cycle around Denmark!