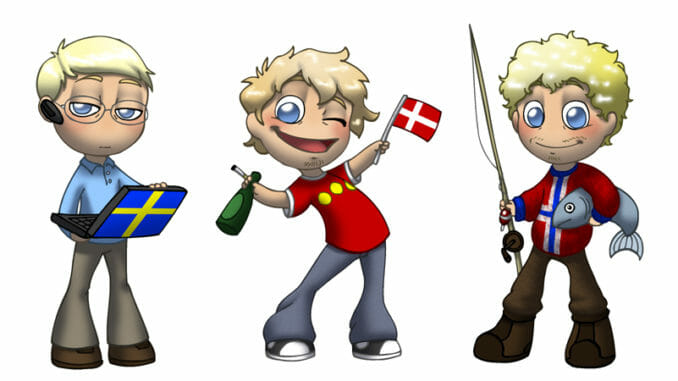 A person's work will often tell you a lot about the person behind it. The mastery and artistry of a story may betray the vast intellect and depth of understanding of a person, the long hours spent poring over dusty books and tapping away at a keyboard. The gravity and grandeur of their work to be reckoned with, their opus is nothing to be even giggled at.
And then, you have humon.
humon is a Danish comics strip artist who is the driving force behind a number of titles that have gathered avid fans the world over. Her art often leans on the adorable side, which is brilliantly juxtaposed by her quirky and candid wit and keen knowledge of world cultures, history, and social issues. Her strips are often accompanied with short stories and educational snippets to give her readers a better understanding of the humor or images.
Scandinavia and the World, one of humon's most popular and well-loved works, focuses on the crazy antics and relationships of the Scandinavian nations and the other countries that surround them, all in abbreviated human form. Amiable, nature-loving Norway, easy-going, comfort-loving Denmark, and no-nonsense, orderly Sweden have a very quirky and off-the-wall love-hate-friendship triangle that is a reference to their histories, alliances, and even the social quirks of its citizens. Other European countries like France, Italy, Greece, Germany, and many more join the fray, and the USA and Japan are not to be outdone, either! Denmark's other neighbors — stern, silent, and slightly twisted Finland, and comely, sparkly, and offbeat Iceland — have their own unique charm. Colonies such as the Faroe Islands and Åland also pop in every now and then.
humon paints her characters in Scandinavia and the World in a kindly light, yet is not afraid to poke fun in all the right places, and in the quirkiest, wittiest ways. Her brand of humor and application of knowledge is easily what makes Scandinavia and the World a definite fan favorite.