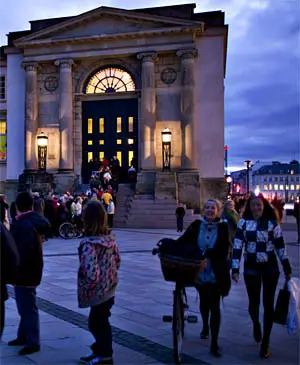 The Night of Culture takes place today in Denmark's capital and largest city of Copenhagen as well as in the second largest city Aarhus. This event aims to raise awareness on the various facets of Danish culture not only to local residents but to foreign tourists visiting the country as well.
In Copenhagen, hundreds of cultural and political institutions including churches, libraries, exhibition halls, museums and galleries will be open to the public. These places are closed to the general public during normal days but they will accommodate visitors for this special day. Each year, more than 75,000 people attend this event and those lucky to get a Night of Culture pass called the Kulturpasset will have free access to several events and even to public transportation around the Danish capital. More than 700 events will take place such as light shows, exhibitions, interactive workshops, theater performances and live music concerts.
In Aarhus, the event known as Kulturnatten will carry the theme "Lights in the Night." This is to provide light during the autumn season and to show to people the energy and dedication that is constantly burning in the city's cultural community. Officials of the city hope to showcase all aspects of culture during this day from pop culture, church culture, business culture and youth culture to ethnic culture, sports culture and senior culture. In this city, the pass that provides access to some 60 venues and transportation is called the Keyhanger. Children enjoy free access as long as accompanied by an adult but they're allowed on the streets only until 6 p.m.
This Night of Culture, the biggest cultural festival of Denmark, is now on its 17th year. This is not limited to only Copenhagen and Aarhus but in other major cities of the country as well such as Aalborg, Horsens, Esbjerg and Frederiksvaerk. In the capital, this event is organized by the Copenhagen Night of Culture Association in cooperation with Wonderful Copenhagen.