Denmark is made up of several major cities, each with its own unique attractions for tourists young and old alike. If you've already been to the capital, then Odense is a city you should not miss as well. This is Denmark's third largest city in the main island of Funen.
Tourists visiting Odense can check out several museums to learn more about the city's rich culture and history. In this article, you will find the best things to do in Odense Denmark.
Things to do in Odense Denmark
Odense is home to different football clubs and it also has many different attractions that you will want to take in when you visit. One of the first places that you will want to go is the Odense Zoo, which has over 400,000 visitors a year. If you have ever been to a zoo before you know how much fun they are and this is one you will not want to miss. Funen Village is another area that you will want to go see as it has the theatre as well as the symphony orchestra to see.
One site that you do not want to miss is H.C. Andersen's House. It gets over 80,000 visitors a year and is a good place to stop and see where the famous author lived.
Find bellow all the detailed informations to visit Odense top attractions!

Odense Zoo A Must-Visit in Denmark
If you think Denmark has only the Copenhagen Zoo to offer its animal loving visitors, you have to think again. There's actually another zoo in the country specifically in the city of Odense. Being often described as as medium-sized zoo, other zoos may prove more attractive at first glance. However, Odenzo Zoo has many times been called the best zoo in Europe and there is good reason why this is so.
The Odense Zoo situated on Sondre Boulevard is Denmark's second biggest zoo. It lies on a 4-hectare area near the Odense River which features a savannah and marsh areas similar to a nature reserve in Africa.  There are also trails and wooden bridges for visitors wanting to explore the zoo.
For many years now, it has become a popular family attraction. Unlike the other zoos, this one is open the whole year round so it is not all difficult to gain entry on any scheduled visit to the country.
Animals environment
It is a zoological garden that features at least 2,000 animals from all over the world. From Africa, Asia to South America, the animals that can be seen here are not as common as the ones that could be seen in other similar attractions.
Animals that can be found there include chimps, giraffes, lions, ostriches, storks, large African birds, tigers, zebras and numerous other exotic creatures. There are also the common dwarf mongooses in there, those social animals known in ancient Egypt for being fearless.
Odenzo Zoo boasts of the special attention it gives to provide the animals an environment nearest to the conditions of their natural habitat. This is not only for the purpose of allowing visitors a feel of how these animals actually live but also to increase the quality of the animals' lives even while in "captivity".
Activities suitable for everyone
There are other activities offered to visitors such as viewing exhibits, feeding animals, and a number of enjoyable activities for children. Exhibits are clearly labeled in Danish, German, and English so visitors need not worry about language misunderstanding.
There's a specific area called Siberia where birch and pine trees abound. In this place is where the Siberian tigers are kept captive.
Odense Zoo's top attraction: the Oceanium
One of the main attractions inside the Odense Zoo is its Oceanium. Here you will take an exciting trip to little South America complete with a river and rain forests and exotic animals such as the tapirs, myriad birds, apes and capybaras. From land, visitors will proceed with a tour underwater first in the freshwater and then to the coral reef where colorful fish species live. The last part of the trip will take you to the coldest part of the world where visitors will see a giant squid, killer whale and flocks of penguins.
Now that you know about Odense Zoo's great features, be sure to bring your family there next time.
How to get there
This modern zoo in Odense is estimated to be two kilometers from the city center and is accessible by bus and boat. One of the most delightful ways of coming to the zoo is taking the boat from the city center. Zoo tickets can be bought before riding the boat. For more convenience, online purchase of tickets is likewise available. The zoo is located near the city and is very close to the main roads. Eating and parking facilities are available.
7 best Museums in Odense Denmark
Odense, one of the oldest as town Denmark, has tons of attractions that make it a go to place for tourists passing by the country. Most visitors, however, do not really make the most of their visit to Odense, opting to check out its most popular attractions like the Odense Zoo, the majestic Egeskov Castle, and of course, famous poet and author Hans Christian Andersen's house. And while seeing just any one of these three places will make your trip worth it, you'll have an even more memorable time if you do visit the many unique museums that Odense has to offer.
To help you choose which Denmark museums to visit, here's a quick description of some of three of the best and very different museums in Odense:
1. Funen Village
Funen Village is an open air museum that will give you a glimpse of how the Danes lived back 1700 to 1900s. Activities you may participate in include riding a horse-drawn carriage, beer making, and bread and soup tasting. Bringing your own packed lunch for a fun picnic is advised.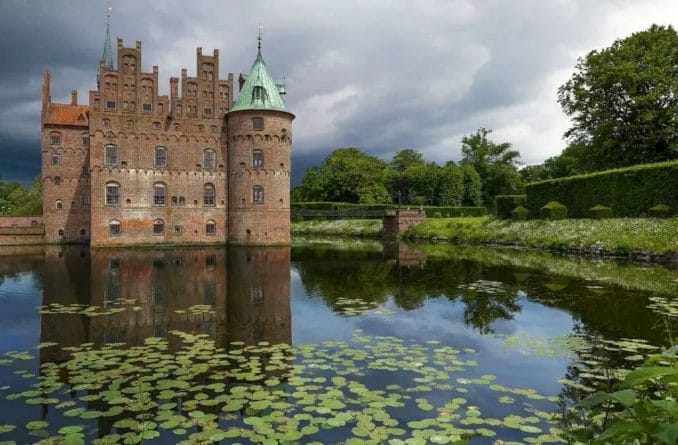 2. Railway Museum
Obviously a museum dedicated to trains, this one is the place to go if you wish to see the evolution of trains and get to walk inside real steam engines. You can take the tour around the village in vintage bus and even take a short ride on one of the old trains. And yes, this museum is right next door to the train station (Odense Central Station)!
3. Museum of Photographic Art
The only museum in Denmark dedicated to photographic art, the museum features a permanent collection of about 9000 artworks. It also has a special collection section on the building's first level that changes throughout the year ensuring that even return visitors wouldn't be bored.
4. Hans Christian Andersen Museum
The Hans Christian Andersen Museum, believed to be the former home of the renowned author, is a popular one. Founded in 1905, the place displays Andersen's photos, furniture and books. In it is a huge library featuring the Danish and foreign versions of the author's works and collection of illustrations.
5. Museum of Local and Cultural History
The Museum of Local and Cultural History, Moentergaarden showcases the city's artifacts that include collections of coins, furniture, glass, porcelain, pottery, fabrics and costumes, gold and silver, clocks, toys and metal workings. It is situated in a complex that also features old houses dating from the 16th and 17th century.
6. Museum of Art

The Museum of Art (Fyns Kunstmuseum) is the place to go if you want to see early and recent Danish paintings made by Funen painters. A collection of Danish concrete and constructive art forms is also available.
7. European Automobile Museum
For those who love cars, the European Automobile Museum is it. The place features some 100 cars as well as tools and manuals that led to the development of motor cars. Other than cars, also displayed are motorbikes and toy cars.
About Odense Denmark
Odense's name was taken from the Norse god known as Odin. It is one of Denmark's oldest city having celebrated its 1,000th founding anniversary back in 1988.
Odense is the third largest city in Denmark and the name comes from the Norse God of Odin. The city has a population of about 158,000 people and the main city of the Fyn island. Let us lean more about this city in Denmark and what it really is all about.
Odense is one of the oldest cities in Denmark and celebrated its 1000th anniversary in 1988. To celebrate this great accomplishment a forest was named the Thousand Year Forest in recognition of this big achievement.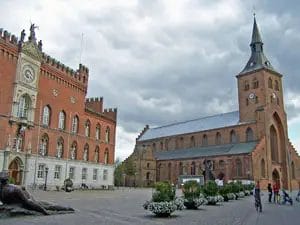 Odense used to be the second largest city in Denmark, but has recently been overtaken by Aarhus.
Well-known Personalities from Odense Denmark
There are many famous residents that have come from this area and many of them you probably have heard of. Among the world famous personalities who come from this Danish city are the late author Hans Christian Andersen, classical composer Carl Nielsen, musician Kim Larsen and the current top ranking female tennis player Caroline Wozniacki.
Inventor and industrialist Thomas B. Thrige and handball player Anja Andersen is also from Odense as well. Pete Eastgate who won the 2008 World Series of Poker that is usually seen on ESPN television is also from this area as well. As you can see many famous people either grew up in this area or still live here today.
Odense Industry
Industry is something that Odense has a lot of and the biggest by far is shipping. The Odense Steel Shipyard is one of the biggest in the country. Sales of fruits, vegetables and flowers happen in this area as well. In the southeastern part of Odense you will find Rosengardscentret, which is where the shopping mall is located and many people go there to buy whatever they need. It is a good size mall and has almost anything you really would ever need.
Conclusion to Odense Denmark things to do
As you can see Odense is a place that has many different things to offer anyone who maybe visiting. From a young child to older adults you will find this city fun and enjoyable with plenty to see and do. It is not to big where you will get lost all the time and it has some great places for you to have a bite to eat and talk to the locals as well. Odense is definitely a place in Denmark that you will want to mark down on your map as a place to go.
Related articles