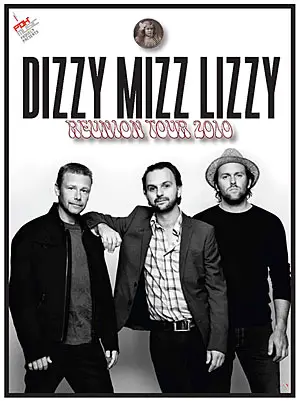 Many of you music lovers out there know the Dizzy Mizz Lizzy alternative rock band. This group from Denmark started out back in 1988 and performed their music for 10 years after which the members disbanded.
This Danish rock band Dizzy Mizz Lizzy is composed of Tim Christensen on the vocals and guitar, Martin Nielsen on the bass guitar and Soren Friis on the drums. For the 10 years that the band performed their own kind of music, they achieved huge success in Denmark land. The group also made it to Japan where they were able to sell some 100,000 copies of their two albums. Unfortunately, the Dizzy Mizz Lizzy failed to make it international.
The three young men behind the band were good friends at the Hanssted School in a suburb of Copenhagen called Valby. It was there that they formed the band using the name taken from the Beatles version of the song by Larry Williams entitled "Dizzy Miss Lizzy."

Initially, Dizzy Mizz Lizzy joined the Danish rock music competition DM i Rock in 1991 and 1992 and reached the finals. They finally won in their third year which earned them a recording session for a four-track EP. This recording produced the hit song "Waterline" which paved the way for a recording deal with EMI.
The Dizzy Mizz Lizzy band made it big in the music scene when they released their debut album in 1994. The album sold 220,000 copies and produced four hit singles. From there, the band went on tour with all their concerts sold out, including one during the 1994 Roskilde Festival.
After 10 years, though, the members quit the band as the frontman decided to go solo. But they still released a Greatest Hits Collection album four years after in 2002.
Now the good news is that the band will have a reunion tour in the Spring of 2010. Watch out then for their series of concerts in Copenhagen, Odense, Aarhus, Aalborg and Esbierg.