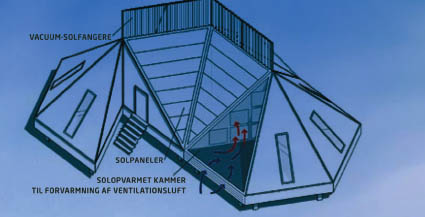 Tourists vary in their preference for destinations to visit and explore. Some go for the tropical countries where the weather is warm while the others prefer the colder regions. But when visiting areas with very cold climate with lots of ice, accommodation can be a major problem.
For those planning to visit the icy Arctic region such as Greenland, here's one good news that you need to know. Students taking architectural engineering at the Technical University of Denmark have just invented a fold-up cottage meant especially for tourists. The four students behind this invention collaborated with the Arctic Technology Center Artek in coming up with this mobile ice cottages.
The unique cottages are aimed at promoting an eco friendly type of accommodation for visitors in the Arctic regions. They're made from lightweight fiberglass or galvanized aluminum sheets and are constructed similar to a tent. They're very portable as well as they can be moved from one place to another just using a dog sled. Each can accommodate from 15 to 20 people.
Additionally, the triangular cottages can then be supplemented with power and water supply as well as a waste disposal system. Natural ventilation is used through a preheated air sourced from a solar-heated chamber. So far, these triangular fiberglass cottages have received positive feedback. Local residents in Greenland's Sisimiut have given it the thumbs up.
A top official of Artek said the development of these mobile cottages was in response to the need to come up with alternative accommodations that won't harm the environment. The goal was to create accommodation that cannot only be easily transported but can provide comfort to tourists as well.
Currently, these green tourist cottages are being presented at the Danish Design Fair CODE at the Bella Center until Monday, August 31. This fair is considered the biggest design fair in Scandinavia that features the works of architects and designers.