Today marks the 100th day before the United Nations' Climate Change Conference takes place in Copenhagen this December. Many people and organizations advocating for a green environment are keeping an eye for this international event. China and India are some of the countries eagerly awaiting this first ever summit on climate change.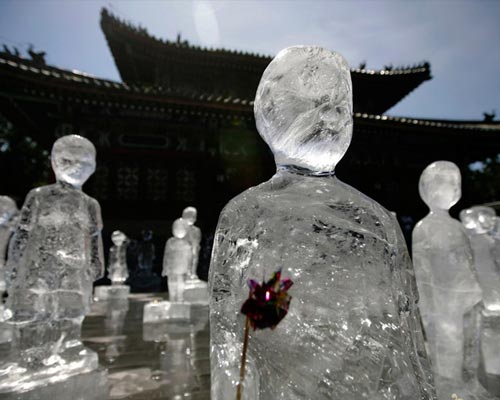 To commemorate this important day, some 100 ice sculptures of children were created in Beijing as part of the Greenpeace exhibition. The art works made of ice are situated at the Temple of Earth and are a representation of the one billion lives expected to be lost in Asia resulting from water shortage due to climate change. The goal is of the exhibition is to make people more aware of the issue on global warming in the lead up to the climate summit in Copenhagen. Beijing's ice sculptures are made from Himalayan glacier water sourced from the Yangtse, Yellow and Ganges rivers.
For its part, India launched its own 100-day countdown by installing a gigantic 100 ice sculpture on a world map. The art installation in New Delhi was to symbolize the world being washed away by glacial melts. Global warming is attributed as the main cause of the rapid melting of the Himalayan glaciers compared to other parts in the world making 1.3 billion Asians at risk of water shortage.
The exhibition of the ice sculptures is also part of the launching of the TckTckTck Campaign that calls for a fair agreement during the Copenhagen Climate Summit. This particular alliance wants to empower people to help educate others to ask for an objective agreement during the U.N. summit. It will also hold a weeklong campaign in New York City from September 20 to 26.
The United Nations conference will happen from December 7 to 18 in the Denmark capital and will gather world leaders who will come up with a concrete plan to protect the people of the world from climate change.