Aalborg in Denmark may not be that famous as the country's capital Copenhagen but this city certainly has its great attractions to be proud of. Originally named as Alabu, Aalborg is Denmark's fourth largest city. From being an important harbor in the Middle Ages due to its location on the Limfjord, it later transformed into an industrial center.
As a major Danish city, Aalborg boasts of wonderful tourist spots. If you'd like to take a peek of the beautiful houses that date back from the 17th century, they can be found in the city center.
5. Aalborghus Castle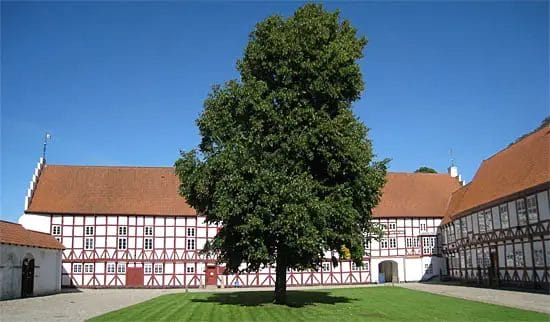 Near the harbor of Aalborg stands the Aalborghus Castle, constructed in 1550 by Christian III. And here's a trivia – half of this castle is actually made up of wood. The castle courtyard and parts of the ramparts are open to visitors in summer (from 8am to sunset).
4. North Jutland Museum of Art
A top rated and not to be missed sight is the North Jutland Museum of Art put up in 1968 to 1972. The Nordyllands Kunstmueseum consists of a complex of various shapes and includes an amphitheater, a sculpture park and function rooms, including a concert hall.  This place displays Danish paintings after the 1890s and foreign art pieces. A major part of the exhibits here are those made by the COBRA or the Copenhagen, Brussels and Amsterdam group formed in 1948.
3. Jens Bangs Stenhus
The Jens Bangs Stenhus is also a standout from Aalborg's many buildings. This is a mansion constructed way back in 1624 by a highly successful and rich merchant named Jens Bang. The structure with five levels is considered Northern Europe's largest mansion featuring the Renaissance architectural style. Aalborg's oldest pharmacy is also housed in this mansion – and in the basement, you can spend great evenings in the winebar of Duus Vinkjælder (The Wine Cellar of Duus).
2. St. Botolph's Church

Another great structure worth visiting is the St. Botolph's Church (Sankt Budolfi Kirke) which features a Gothic architectural design. The brick church built in 1430 is in honor of a British seafaring saint. Some frescoes can also be seen in the old chapel of the building.
1. Jomfru Ane Gade
Finally if you'd like to taste the city's local exotic food, head off to the Jomfru Ane Gade street where you will find lots of cafes and restaurants. This is also the place to go to at night where clubs, discos and bars come alive until early morning.