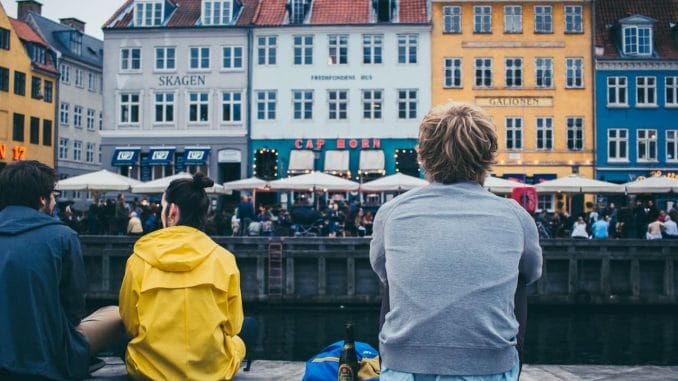 What is the country of green islands, fantastic nature, and picturesque towns? It is undoubtedly Denmark! When people hear about Denmark, they usually think about villages and farms. However, Denmark has much more to offer.
Here you'll find everything from old buildings to high-tech houses, historical sights, and exotic islands. 
For instance, you can admire stunning nature on the Faroe Islands, aesthetic cities like Odense and Skagen, colorful Nyhavn in Copenhagen, and ports of Aarhus. Keep reading the article to get to know eight unique places in Denmark.
Aarhus and Around
Aarhus is a tiny city with fewer crowds but many unique sights and attractions within walking distance from each other.
The city has an iconic harbor with a beautiful Dokk 1 Cultural Centre and unqiue buildings like the Iceberg at the new Aarhus district. 
source: Unsplash
You can rent a GreenKayak for free. Just collect the trash from the water, put it in the attached bucket, weigh it when you get back, and post a picture on social media. You will not only help the environment but also keep the planet clean.
Also, make sure to visit stunning Marselisborg Castles with beautiful rose gardens.
A quick tip: Aarhus is pronounced 'Or-hoose,' not 'Are-hoose.'
Nyhavn, Copenhagen
The star of social media posts and postcards in Copenhagen is Nyhavn. Located near Amalienborg Palace, Nyhavn is a part of an old dockland that was given a new life with colorful houses, cafes, and tall boats.
Nyhavn is a well-known attraction, that's why it's so charming for all tourists that come to Denmark. Besides, you can take a hydrofoil to Sweden and enjoy a lovely harbor cruise.
Faroe Islands
Rocky coasts, green grass, and deep-blue water are all about the Faroe Islands. They lie 600 kilometers west of the Norwegian coast; the Faroe islands count 18 remote islands. 
Sea and land temperature is moderated by Gulf Stream and attracts different marine creatures, such as seals, whales, puffins, and guillemots. 
source: Unsplash
Many music festivals are held here in summer. Besides, this place is well-known for its history museum and the Christian Church (Christians-kirkjan). To get to the Faroe Islands, you need to fly to the airport on the island of Vågar year-round from Copenhagen.
Odense
Odense is a well-known place in Denmark as here was born the greatest fairy tale teller Hans Cristian Andersen. However, this town has much more to see, such as genius sculptures and honorable exhibitions.
Odense is all about tiny Scandinavian houses, beautiful turrets and moats of Egeskov Castle, the sepulcher of King Canute, and looming Knuds Kirke. 
In between long walks around the city, ensure to try famous danish Smørrebrød, a star of local cuisine. It's a sandwich with a slice of rye bread with different toppings, for example, roast beef, pickled herring, and eggs topped with mayo and shrimps.
Bornholm
You will enjoy visiting Bornholm, a small Baltic island if you love northern nature. Here you can walk along the eye-catching coastline, taste the unique local cuisine, and enjoy laid-back island life.
source: Unsplash
Breathtaking nature may inspire you to document your vacation and share some videos on Youtube. Make sure to create an eye-catching cover for your videos using a free youtube thumbnail template. Beautiful creative Youtube thumbnails make people click your video and help you to increase the number of views. 
Skagen, Frederikshavn
Stunning Skagen with brown roofs and painted wooden houses glow against the deep-blue North Sea. Over the years, it has attracted painters and poets with its fresh air and beautiful dunes near Jutland beaches.
source: Unsplash
You can spend a day on white-sand beaches watching rare birds or visit Scandinavia's only teddy bear museum. 
The northernmost point of Denmark is Grenen sandbar should be on your bucket list. The Kattegat sea and the Skagerrak Straight meet at this location, creating eye-catching white waves.
Frederiksborg Castle, Hillerød
Frederiksborg Castle is a must-visit place for Copenhagen day-trippers. This gorgeous 17th-century castle is located on three islands surrounded by a lake and spectacular gardens.
source: Unsplash
You can get to the castle by car. It's a 40-minute drive from the Danish capital. Frederiksborg Castle was built during the Renaissance period, and it includes some fantastic features like the Marble Gallery of the King's Wing and the Neptune Fountain. These sights were designed to showcase the wealth and status of King Christian IV.
If you like fancy living and luxury hotels, you need to check Denmark's castle hotels to feel like a real king or queen.
LEGO House, Billund
The birthplace of the iconic LEGO brick, the LEGO House in Billund, is worth visiting by the whole family as it will impress both kids and adults. 
Especially for people with a limited budget, free zones have been developed, including nine themed playgrounds. 
Inside the building, there is everything that you were even afraid to dream about. For example, the "Tree of Creativity" is 15 meters high and comprises 6.3 million designer parts. And enormous T-Rex dinosaurs, also made from LEGO.
The Experience Zones are open for tourists who choose to buy admission. Each zone represents the classic brick's colors:
Show creativity with Red
Enjoy role-playing with Green
Make cognitive challenges with Blue
Express your emotions with Yellow
The history of LEGO and its founders is also available for visitors. The exact address is Ole Kirks Plads 1, 7190 Billund.
Lyngby Open-Air Museum (Frilandsmuseet), Copenhagen
Lyngby Open-Air Museum should be on your list when looking for the best places to visit in Denmark. It is a part of the Danish National Museum, just 15 kilometers from Copenhagen.
source: Unsplash
Lyngby Open-Air Museum features magnificent historic gardens, authentic farmhouses, agricultural buildings, and beautiful picnic sides. 
Make sure to take a horse-drawn carriage around the museum. The exact address is Kongevejen 100, 2800 Kongens Lyngby.