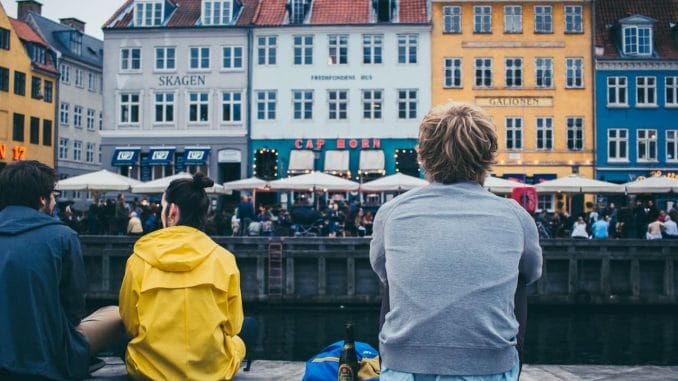 The iconic area of Nyhavn near Indre By is what many think of when imagining Copenhagen. This port area was formally more industrial (and a little bit seedy) than anything else. Now it is a thriving leisure hotspot. With restaurants and bars galore spilling out of the 17th century houses, Nyhavn is a must visit when in Copenhagen.
Nyhavn Copenhagen district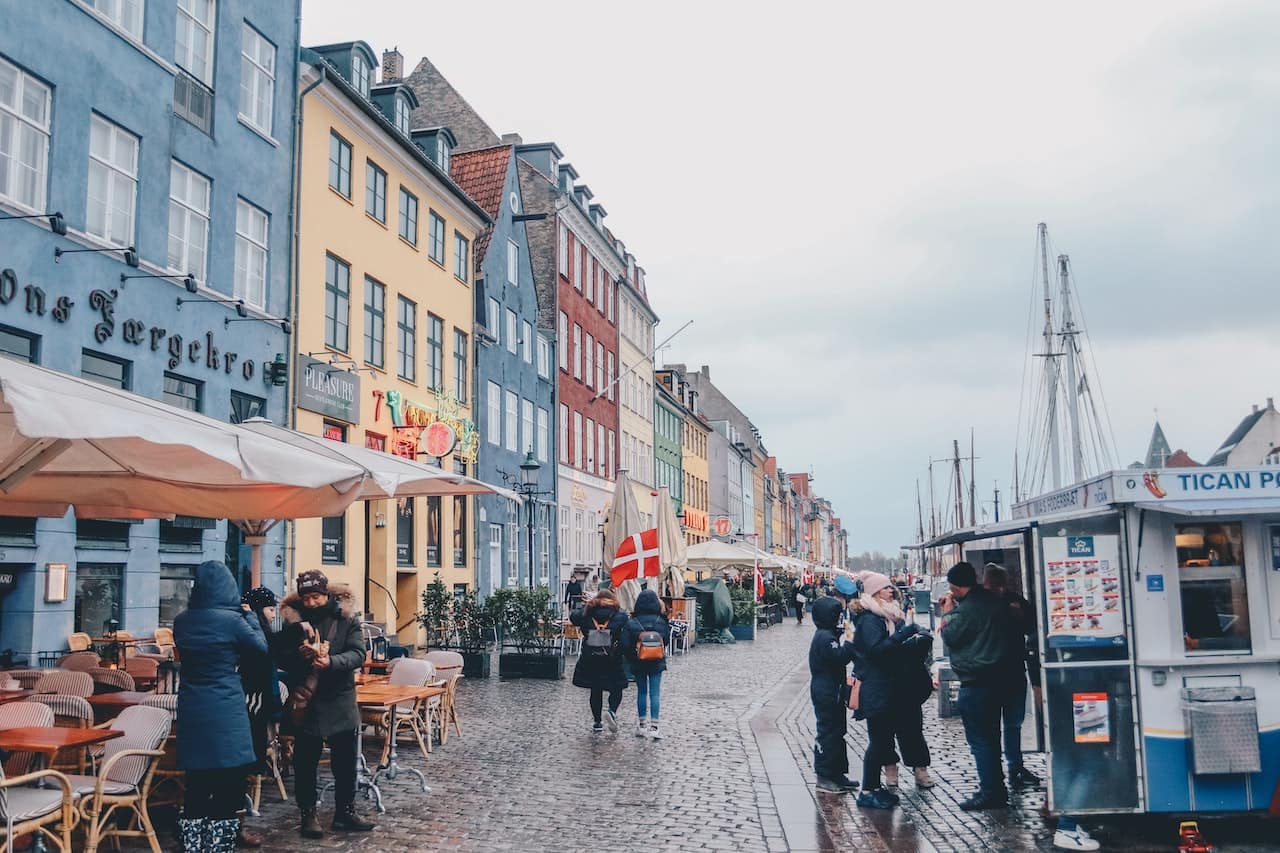 Prior to its gentrification in the 1960s, Nyhavn was a hub of trade and shipping. Of course, with many sailors in the area from the 17th century onward, it became a popular area for prostitution, becoming a de facto red light district. As shipping along the canal lost its importance in the 20th century, Nyhavens banks became a rather unappealing carpark.
But because it was a center of commercial activities, many residents started building their houses around Nyhavn and the quayside became a fashionable place to live in.
Nowadays, tourists and locals alike enjoy a relaxing drink in one of the many local and international restaurants on the north side. You will find anything you want here, although the popularity of the area is also reflected in the prices! Make sure you make some time to enjoy local Danish specialities at local restaurants such as Hyttefadet or Færgekro
Aside from grabbing a bite to eat or a quick drink in the many establishments on the north side, Nyhavn is also of interest to naval history enthusiasts. There are many boats docked in the area, some of which are open to visitors. You will also be able to find the world-famous children's story writer Hans Christian Andersen's former home at number 67 if you look closely enough.
Nyhavn Copenhagen: who will enjoy this area?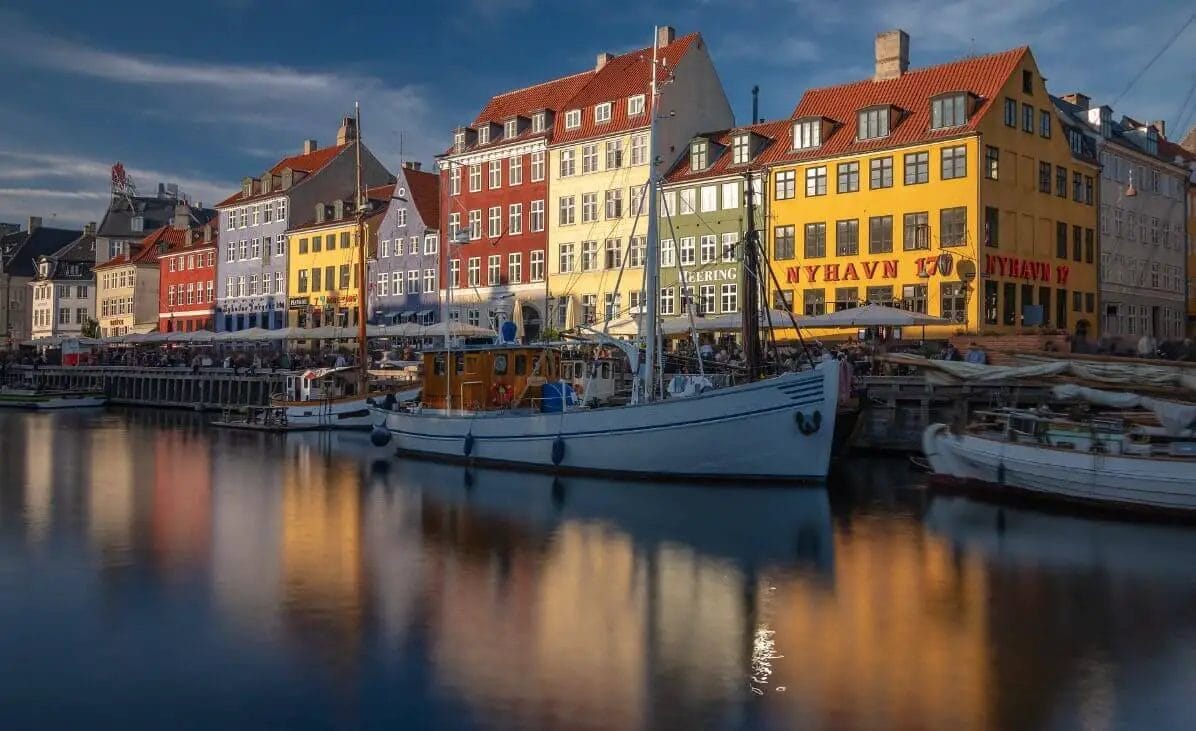 We are struggling to think of who WOULDN'T enjoy Nyhavn, Copenhagen. Its picturesque waterfront attracts instagrammers – check Copenhagen Instagram spots here -, budding photographers and travel vloggers year round. It is the perfect place for a romantic stroll- or a proposal. For a city break for friends, the area makes for a great night out.
Young and old alike will find food for their taste here with some of the best places to eat in Nyhavn Copenhagen. Even budget travellers can get a good hour out of exploring the area, even if the prices of the lunch and dinner menus are a little on the pricy side for those trying to watch the pennies. Easily accessible from Indre By, Copenhagen, you can quickly fit in a visit to Nyhavn, even if you are short on time.
Nyhavn Veteran Ships
Nyhavn is also known for the Veteran Ship and Museum Harbour where restored ships can be found on display on the canal.
Some of the ships that can be found include:
1920s smuggling ship,
two-masted schooner from the 19th century
and a barge that served as a theatre boat in the 1970s
There is also a Memorial Anchor monument erected to commemorate the Danish naval soldiers who fought during World War II.
Top things to do and see in Nyhavn Copenhagen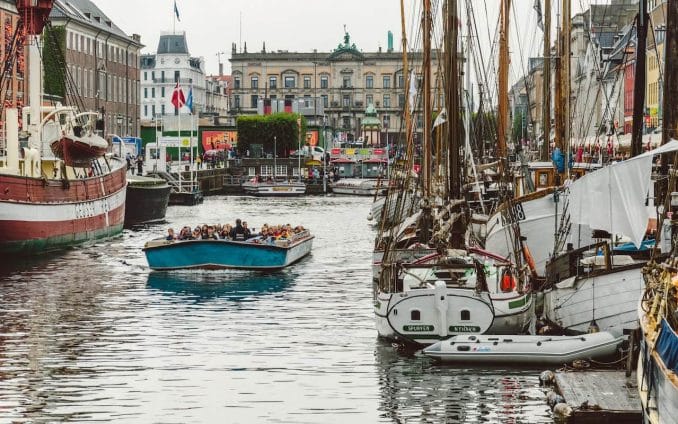 During the summer, Nyhavn is a favorite place for the locals to hang out – bars and restaurants that line the harbor set up tables outdoors, making it possible for the people to enjoy their drinks and meals amid the picturesque views. Nyhavn boat tours Copenhagen are also part of the popular activities in the area.
Eat! Try Danish specialities such as fish, or order one of the best Smörgåsbord Denmark – kind of like Danish buffet.
Visit Number 9. Number 9 along Nyhavn is the oldest house on the street. Built in 1691  it has been largely unaltered since then
Number 18, 20 and 67 – these houses were ALL lived in by Hans Christen Andersen
Take a canal cruise to enjoy the sights from a different angle (1-hour boat tour ticket here)
Hotels in Nyhavn, Copenhagen
The Nyhavn area is pretty small, so you can also look around Indre By, Copenhagen for example. There are plenty of hotels just around Nyhavn that are all really accessible to the area.
Top budget hotel
Despite what we said above, there is actually a hostel located on Nyhavn! The Bedwood is located at 63c. This gorgeous period property boasts exposed beams, quirky corners and a cool bar. Bike hire is also available, and you are a stone's throw from the action on Nyhavn.
Price  – A private double room in July will cost around $160 including a private bathroom.
In the low season, expect to pay around $100. There are also shared dorms available, starting at just $20 in the low season for a mixed dorm.
How to get there? From central station, you can take the bus number 26 for about €2. Metro too is a similar price – get off at Kongens Nytorv
Top comfortable hotel
Mid-range hotels can be found in nearby Indre By, Copenhagen. Indre By is only a ten-minute walk away and has loads of hotel options.
Check out the Hotel Christian IV for example. This mid-range hotel includes a decent breakfast, and there is free tea and coffee in the reception too. Some of the rooms overlook a pleasant courtyard garden.
Price – A double room in the high season will start at around $175, including breakfast. In the low season, you can get the same room for as little as $135.
How to get there?  Kongens Nytorv is just an 8 minute walk.
Top luxury hotel
For 5 star luxury right in the centre of Nyhavn check out the 71 Nyhavn Hotel Copenhagen. Many of the rooms retain the period features of this converted warehouse. Free Wi-Fi, views over the canal and a tasty breakfast make this a hot choice in Nyhavn.
Price – Double from $280 in both high and low season
How to get there? From central station, you can take the bus number 26 for about €2. Metro too is a similar price – get off at Kongens Nytorv
Discovering Indre By
The "inner city" of Copenhagen offers the best attractions for any visitor. Combining medieval charm and modern comforts, historic wonders and green areas, Indre By is the "true" heart of Copenhagen.
It is where the capital city actually started and the neighboring districts have expanded from, right during King Christian IV's reign over Denmark from the 16th to the 17th centuries.
To this day, vestiges of the king's efforts to develop end enhance the fortified city can still be seen – from the surrounding artificial lakes (Sortedams So, Peblinge So, Skt Jorgensens So), the ring of parks and even some of the houses and buildings in the squares.
The gates to the city did not survive the ravages of time but memorial markers are erected on the spots where they used to stand.
Indre By has two major thoroughfares
Both known far and wide as major shopping and commercial hubs – Stroget, said to be the longest pedestrian-street in Europe" and Kobmagergade.
From these two areas alone, visitors can have their fill of shopping, sightseeing and eating. But what makes it better is the maze and network of tiny streets and public squares adjacent to the district where you can find more interesting discoveries.
Aside from local wares and artisanal shops, the list of attractions seem endless – from the impressive Rundetaarn, Kongens Have, Amalienborg Palace, Ostre Anlaeg Park, Copenhagen Botanical Garden, Gefion Fountain, Christianshavn, City Hall, the Danish Design Center just to name a few.
Also part of Indre By is the man-made island of Slotsholmen which is the seat of many political and governing bodies Denmark.
Indre By Copenhagen hostels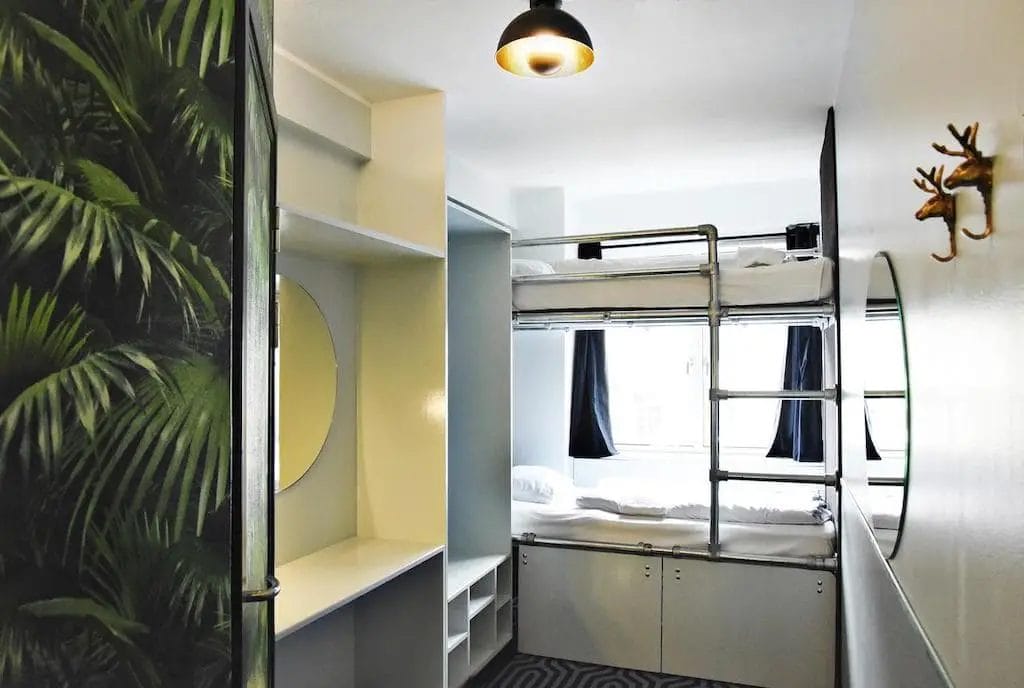 We mentioned the charming Bedwood Hostel in Nyhavn, but you can also get some much cheaper deals at hostels around Indre By, Copenhagen, too.
Check out the Copenhagen Downtown Hostel, just 500 metres from Indre By. Here, a shared dorm will set you back just $22, or you can get a private room from $67.
Or, there's also the Hostel Jørgensen , less than a kilometre from Indre By. Rooms start at around $56, there is free wifi and free breakfast
Airbnb Copenhagen Nyhavn
Copenhagen is known to not be exactly cheap. On top of paying for pricey hotels, you will also need to pay to eat lunch and dinner (and sometimes breakfast). An Airbnb is a good option to look at if you want to keep costs down. Here are some of the advantages of booking an Airbnb near Nyhaven, Copenhagen
Keep eating out costs low by cooking your own meals
After a hard days sightseeing, a sofa, fridge, living room all offer home comforts
Much more space than a standard hotel room
Live like a local and experience markets, supermarkets and delis instead of pricy restaurants
Airbnb's in Copenhagen centre start from as little as €30 per night and offer a wide range of facilities depending on the host.
You can also decide if you want to rent the entire place or just a room in someone's apartment. Whilst both have different advantages, staying with a local can really enhance your understanding of the area.
Frequently Asked Questions about Nyhavn Copenhagen
Where is Nyhavn in Copenhagen?
Nyhavn is located just a 10 minute walk from the centre of Indre By, Copenhagen's main city centre
What does Nyhavn mean?
In Danish, Nyhavn literally means "new harbour"
How do you get from Copenhagen to Nyhavn?
Nyhavn is located in central Copenhagen. From the city centre, it is a 10-minute walk. The nearest metro is Kongens Nytorv
How do you pronounce Nyhavn?
Nyhavn is pronounced  Nu-Hawn. But don't take our word for it. Check out this handy Copenhagen Tourist Language guide from Mic's Languages. (Skip to about 8 minutes in for Nyhavn)
Conclusion
We hope the selection of hotels we mentioned here are enough for you to get a taste for the accommodation available in Nyhavn. However, we are interested to know where you decide to stay! You cannot do Copenhagen without a stop off at Nyhavn. If you are short for time, a stroll through the area will be enough for you to soak up the atmosphere. Plan your trip to Copenhagen here today!
Related articles: