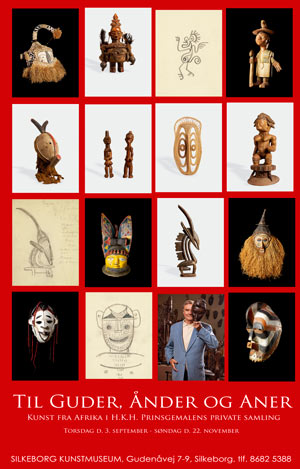 Want to see up close and personal authentic African art works? Now is your chance because they are currently going around Denmark.
You have to check out the exhibition entitled "To Gods, Spirits and Ancestors," a private collection of The Prince Consort of Denmark better known as Prince Henrik, at the Silkeborg Museum of Art. At this exhibit, you will get to see some 200 selected masks and sculptures genuinely made in Africa.
This is the very first time that a comprehensive collection of African art is presented to the general public in Denmark. These unique art pieces used to be kept in private at the apartments of the royal couple specifically at the Fredensborg Palace.
Presenting this rare collection of African art is not without any reason. This is being done in honor of the 75th birthday of HRH The Prince Consort, husband of Queen Margrethe II, who has been fascinated with African art since he was a child. The collection has been touring various parts of Denmark since May this year.
The idea to show this rare African art collection to the general public was thought of by Queen Margrethe II herself. Knowing her husband's love for art works from Africa, the Queen decided to share the collection notably Prince Henrik's favorite pieces with people who know how to appreciate art.
The collection features masks such as those made by the Igbo people and sculptures created in the late 19th century and early 20th century. Prince Henrik's first ever acquisition which is a Baoule sculpture bought in Paris, France in the 1950s is also among those being displayed. An African tribe living on the Ivory Coast is responsible for creating these Baoule figurines which have tribal marks on the face and body. These sculptures are considered treasures by African art connoisseurs.