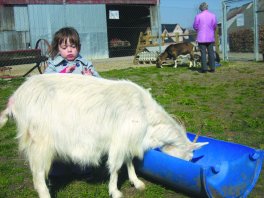 When visiting a new place, oftentimes people prefer to go the most popular and frequently visited spots. But sometimes, what makes for an enriching experience is visiting places that have not been discovered by many people. They're the so-called gems that only a few have explored.
In Denmark, there's a new attraction that families with children can go to. And visiting the place won't cost you anything because entrance is absolutely free. It's the City Farm near the Ishoj station which is only 23 minutes from the Copenhagen center.
Established in 1989 with the Ishoj municipality providing the funding, the Bredekaergard city farm features lovable animals numbering around 60. These include the pigs, cows, horses, chickens, geese, ducks, sheeps, rabbits and goats and visitors can get very close to them. For children who love farm animals, they can even go inside the enclosure of the goats' area and play with the rabbits in their pens.
Kids who can't let go with the animal they love can ask their parents' permission to serve as sponsor. In this way, they can learn to become surrogates and visit the animal as often as they can especially if they just live within Denmark.
What's great about this city farm is that the animals and machinery come from the past. This means that visitors here will get the chance to experience a traditional Danish farm from the equipment used to plough and seed the fields to the animals that include draught horses and spotted pigs.
Another area worth checking out is the museum if you'd like to learn about the farm's history. For a unique experience, you can try riding on the horse cart which can accommodate 24 people.
The Bredekaergard city farm in Denmark's capital of Copenhagen is easy to find. It takes only 20 minutes to walk from the Ishoj station and since it's near the motorway, getting there by car will be a breeze.