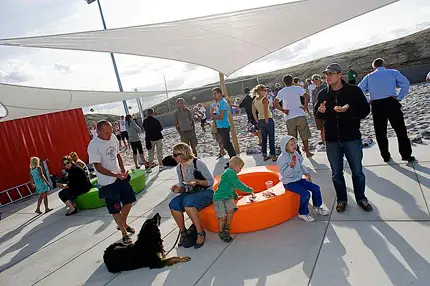 In Denmark, the capital of Copehagen is where most tourist sites and events take place. Being the center of everything, it is no surprise why the place is well known to people visiting the Denmark from the other parts of the world.
In fact, there's a new part of the city that is also worth exploring today and the name is Orestad, just 10 minutes away from Copenhagen. You've got to check out this side of town this weekend for its ØX09. This ØX09 event offers various enjoyable activities for the young and old alike such as a kite day, jazz for children, city walks, theater and hip hop among others. Other than providing entertainment, the goal of this event held for the first time is to establish a strong network of Orestad through international promotion. Going forward, the major players in this activity hope to make this a yearly event.
Situated on the island of Amager and created onl in 1992, Orestad has not much history to boast of for now. The truth is, not all people in Copenhagen have actually visited the area. But it's a rapidly developing area with more than 3 million square meters of adventures awaiting local and foreign visitors.
One of the popular tourist spots worth exploring in the Orestad city is the Mountain Dwellings. The 10-storey building looks like terraces with all apartments having roof gardens while the parking lot is on the 10th floor. Some 80 apartments are in place here featuring a sloping elevator.
Also in the city you will find Field's, the biggest shopping center in Scandinavia. There's also the new park called Gronningen, the Orestad Gymnasium and the Copenhagen Concert Hall. As development continues in this city, more major structures are currently underway such as the Bella Center Hotel and convention center and the Copenhagen Towers.