Copenhagen is one of the most charming cities in the world. Its vibe and lit-up markets make it an ideal place to spend a few days.
If you're looking for a more active holiday, consider getting on your bike and cycling through the city. It's a great way to see some of the more interesting parts of the city and get a real feel for Danish culture.
1. Copenhagen Casino
Copenhagen Casino is a modern casino situated inside the Radisson Blu Scandinavia Hotel in the heart of Copenhagen. The casino is open daily from 2 pm to 4 am. There is a dress code, no athletic clothing allowed and outerwear must be left at coat check for a fee.
It offers a wide range of casino games including American Roulette, Black Jack, Poker, Punto Banco and 140 slot machines in floodlit arcades. It is in a good location and has a nice staff, although it is quite expensive to enter.
The casino is one of the best places to play poker in Copenhagen. It has several poker tables and offers regular cash games and tournaments throughout the week. After visiting the land-based casino, you can have fun playing Ignition Poker games. It is a great way to spend your evening.
2. National Aquarium
Discover a whole world beneath the sea's surface at Denmark's new National Aquarium.
Den Bla Planet (The Blue Planet), which opened in March 2013, is the largest of its kind in Northern Europe.
The whirlpool-inspired building houses 53 aquariums and displays animals from three different types of bodies of water:
tropical lakes and rivers
northern lakes and seas
and the ocean
The building's organic form, inspired by the shape of water in endless motion, is characterised by diamond-shaped aluminium plates, known as shingles, that adapt to light and color changes. Its expression also changes depending on the view angle and distance.
3. Roskilde Cathedral
One of the top things to do in Copenhagen is to visit Roskilde Cathedral, a UNESCO World Heritage Site since 1995.
This massive building is the necropolis for the Danish royal family and is a mix of 850 years of European architecture, from Scandinavian Gothic right through to Romanesque and Renaissance styles.
Aside from its historical importance, Roskilde Cathedral is also home to the Roskilde Cathedral Boys' Choir, which is a major resource for parish youth work. The choir rehearses twice a week and travels to many different countries every year.
4. Botanical Gardens
Located just a stone's throw away from Norreport Station, Copenhagen Botanical Garden is the biggest of its kind in Denmark. It has more than 13,000 species of plants growing in its outdoor areas, and a range of greenhouses including the historic Palm House.
The garden is arranged in several sections, including:
Danish plants (600 species)
perennial and annual plants
and rock gardens with plants from mountainous areas of Central and Southern Europe and Conifer Hill.
In addition, there is a special air-conditioned greenhouse that re-creates environments suitable for arctic plants.
The first botanical garden was founded in 1600 by Christian IV on land donated by King Frederik V, and it was relocated twice before finally ending up in its current location in 1870.
The original garden occupied 1.6 hectares in a marshy area around Charlottenborg, Nyhavn and the Mint, with a main building that housed both a botanical museum and a library as well as residences for the director and a botanist.
5. Christiania
Copenhagen is a small, yet cosmopolitan city that brims with modernist architecture and royal tradition. There's a lot to see and do here, so you'll want to spend a few days exploring the best places.
Christiania is one of the best places to visit in Copenhagen. It's known for its ingenious DIY houses, cargo bikes, weed stalls and police raids, but it's also a hippie haven for vegetarian cooking, "dream cake" and 3 AM falafel.
Despite this, the community has a rocky relationship with Danish authorities.
Christiania is regulated by a special 1989 law that transfers supervisory powers from the municipality to the state, and this can cause tensions between residents and authorities.
6. Tivoli Gardens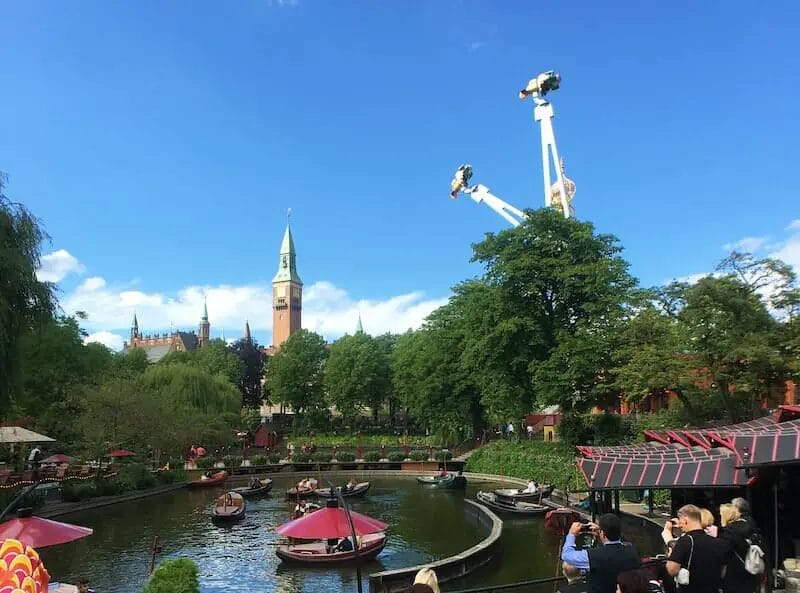 Tivoli Gardens is one of Denmark's most famous amusement parks and a popular spot to spend a day. It is a must-see for visitors to Copenhagen, especially during the Christmas season when the park transforms with more than a million lights and a covering of "snow" – with plenty of stalls selling treats.
A visit to Tivoli will have you laughing and smiling your way around a wide range of rides for all ages. You'll find traditional wooden roller coasters on one end of the spectrum, and new virtual reality experiences on the other.
As well as its thrilling rides, Tivoli Gardens also offers a vibrant mix of entertainment, including concerts and shows. With global celebrities performing in its 1,660-seat Tivoli Concert Hall, you'll find something for everyone at this historic venue.