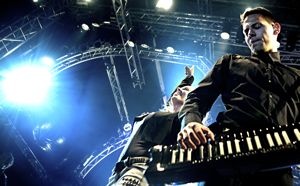 Music is a way of life. Life won't be complete without it. Most people love music and this is what makes them feel good about life.
Denmark land takes pride in the musical artists it has produced through the years. The dance and pop duo known as Infernal is just one of them. This male and female tandem has been performing since 1997. They first met through common friends back in 1991 and debuted six years later with their "Sorti de L'enfer" single. Originally, there were three of them but the other member left the band in 2000 leaving Paw Lagermand and Lina Rafn the reason why they're now called a duo. Paw and Lina are both from Copenhagen, Denmark.
The Infernal duo has released three studio albums already plus a remix album. However, it was only in recent years that they have gained international attention courtesy of their third album titled "From Paris to Berlin" which was a certified double platinum in Denmark selling more than 60,000 copies. The album title comes from the duo's popular dance hit which actually carries the same title.
In August 2008, Infernal released "Electric Cabaret" featuring 14 pop songs. The album took the number two spot on the Top 40 album sales list just one week after it was released. For several weeks, it reached the top spot on the sales lists of download portals including iTunes and TDCmusik.dk. And that's not all there is to it because the album has already gone gold with more than 15,000 copies released. Plans are in the offing to release it to other countries.
Infernal's music has already conquered 35 countries which made the pop duo the greatest musical export of Denmark in 2007. The duo has made a record in its entire career selling 1.7 million units worldwide.
If you'd like to personally watch the duo perform, they'll be at the popular concert venue Tivoli, Plaenen in the Danish capital of Copenhagen today so make sure to grab a ticket and enjoy their music.