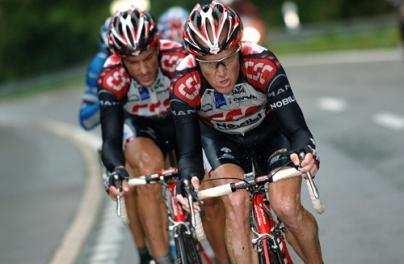 The Danmark Rundt, the cycler's Tour of Denmark, is going to its third phase today. Today's sprint is called The King's Stage, a long 185 km from Århus to Vejle.
The Post Danmark Rundt as it is currently sponsored by the Danish National Postal Agency features 15 teams this year, each of them represented by 8 riders, participating in 6 stages long races.
The history of the Danmark Rundt started in 1985 and had been run yearly to 1988. After a 7 years break, the race started again in 1995 and lasts till now. There are half a million spectators on the road following the Danmark Rundt;  half of the Danish population is following the race via media. This makes the Denmark Rundt the most popular sport event in Denmark.
The Danish race team won the Danmark Rundt six times already and is almost every year among the top three.
It seems that it will not be different in this year tour. The Danish team consisting of Danish cycling sports biggest profiles is already shownig a high level of professionalism. The tip for this year is Jacob Fuglsang, but currently Nicki Sorensen is wearing the yellow jersey.