Found within the Sjaelland Region, the municipality of Roskilde is mentioned as one of the richest cultural centers in Denmark. Roskilde is found to the west of Copenhagen, and is a major railroad stop for many trains entering the Danish capital. To date, there are about 50,000 inhabitants in this municipality. The modes of transport which tourists can use while in Roskilde include trains and buses.
Perhaps one of the most notable events in Roskilde is the annual music festival, said to be among the biggest and grandest in Northern Europe. The Roskilde Festival happens between the months of June and July, and since 1971, hundreds of music artists have performed on stage in front of millions of fans. Some of the international artists who participated in previous music festivals include: Jay-Z, Kanye West, the Chemical Brothers, Radiohead, Guns N Roses, Metallica, and More.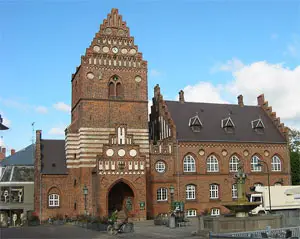 If you want to know what it's like to be a Viking, then take the family for a tour of the Viking Ship Museum, featuring life-size replicas of water vessels from the Middle Ages. Visitors can also watch craftsmen build and restore old boats, and the guests in the museum can also try their hand at rowing the boats and setting the sails on the ships. Nearly 40 Viking vessels are on exhibit at this museum, and it has been catering to the curiosity of Roskilde visitors for more than 40 years.
The Lejre Experimental Centre was opened in the mid 1960's, and serves as an open-air museum that has buildings created in the old Danish style of the 18th and 19th century. Visitors get a chance to experience how daily living was like in the rural area, which is also a site for archeologists and historians to conduct their research. The Ledreborg Palace and Park has been around for more than 250 years, and is a beautiful work of architecture with a sprawling estate. Visitors are invited to stroll along the grounds, which includes a golf course as well.
Among the main attractions in this colorful city is the Roskilde Domkirke, or Roskilde Cathedral, whose construction began in the 12th century, and was completed in the 15th century. The building is made of bricks and carries a Gothic design, which influenced the design of other cathedrals in this portion of the country. Danish monarchs are entombed in the cathedral, and sources explain that hundreds of thousands of tourists check out the site every year.
Of course, your stay in Roskilde would  not be complete if you didn't get a chance to shop along its streets like Algade and Skomagergade. These store-lined avenues are filled with souvenirs you can purchase, as well as delicious native dishes for you to enjoy. Cheese products and beer are among the best selling food stuffs in Roskilde. In terms of international cuisines, there are also several restaurants in Roskilde with menu selections to tickle your palate.