While in Denmark, make it a point to visit Egeskov Castle in Southern Funen, recognized as the best preserved Renaissance water castle in all of Europe.
You'll want to be sure to add Egeskov Castle right to the top of your list of things to do and see. Whether you're traveling alone or as a family, this is one destination that will appeal to just about everyone.
Fyn, the Danish island, is connected by bridges to Jutland and Zealand. It is in this area where Odense, the birthplace of famous Danish author Hans Christian Andersen is located.
Unaware to some of you, Funen is home to Denmark's most impressive palaces or slots as they call them in Danish. There are more than 100 castles and manor houses here and around 30 of them are open to the public.
The Egeskov Castle
The Egeskov Castle is an old building in Funen's Kvaerndrup.
The name Egeskov means "Oak Forest." The estate itself occupies about 1, 130 hectares while the castle and the park is all of 20 hectares. Its original purpose as a fortified dwelling can be seen in its architecture and layout.
It features turrets, chimneys, and spires as well as museums dedicated to aircrafts and automobiles. Also found here are beautiful gardens spanning 30 acres and together with the castle, they're open daily from the months of June to September.
History of Egeskov Castle
Egeskov Castle was an island fortress, built over 600 years ago in the Southern Funen region of Denmark. It is one of the best preserved examples of a moated castle.
Built in 1554, this structure is one of the most well-preserved castles in Denmark after the civil war that took place from 1533 to 1536.
Surrounded by award-winning gardens, many of which were first planted nearly 300 years ago, you will be awed by the series of hedges, mazes, lawns, shrubs, trees, and other flora.
Egeskov Castle Opening Hours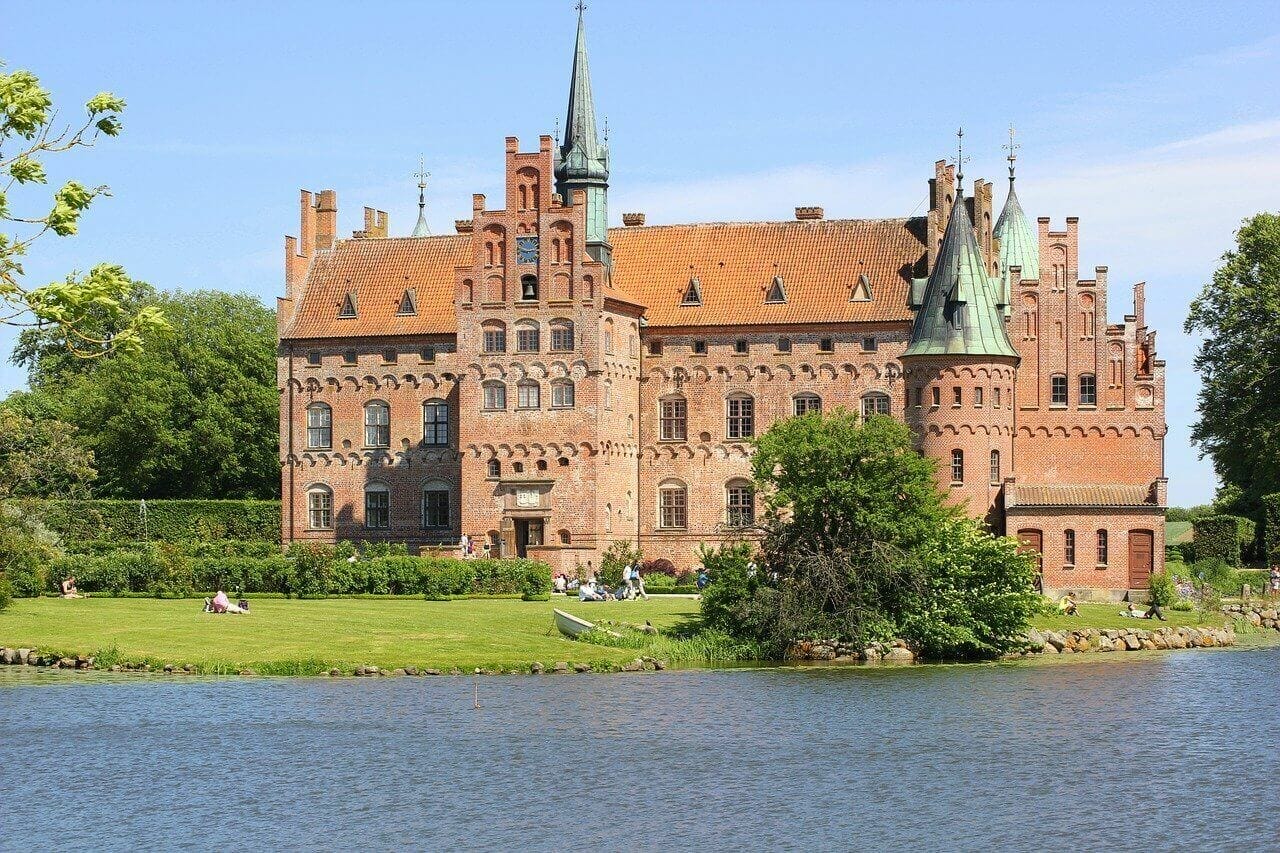 | | |
| --- | --- |
| Dates | Hours |
| 11/5 – 26/6 | 11 am – 4 pm |
| 27/6 – 9/8 | 10 am – 7 pm |
| 10/8 – 30/8 | 11 am – 6 pm |
| 31/8 – 18/10 | 11 am – 5 pm |
[Source]
Egeskov Castle Ticket Prices
Park, exhibitions & Castle
(11/5 – 19/6 and 31/8 – 18/10)
Price
Adults
26.7 Eur
Children
16 Eur
[Source]
Park, exhibitions & Castle
(20/6 – 30/8)
Price
Adults
30.7 Eur
Children
18.6 Eur
[Source]
Also there are:
Adult annual card ticket – 48.3 Eur
Children annual card ticket (4-12) – 24.1 Eur
Entrance to the Egeskov Castle & Museums
Entrance to the castle is only accessible through the drawbridge. The castle itself is made up of two long houses that are connected by a thick double wall. Inside the strong walls were built secret stairs and a well to store water during periods of fighting.
The conical towers were also designed for lookout as well as to attack enemies from a distance. The stately castle has been transformed into a showpiece, where there are several small museums that displays the following collections.
There are:
a vintage automobile collection
an exhibit on vintage motorcycles
a chronicle of agriculture in the country
a collection of flying vehicles
a collection of another on emergency vehicles such as those used by Danish rescue company Falck
Motoring enthusiasts will love the Veteran Car Museum, featuring displays of automobiles and aircraft dating from the late 1800s through the 1980s. Hosted inside are everything from a steam-powered car to the automobiles of Danish royalty.
How it feels dining at Egeskov Castle?
All of this says nothing of the castle itself.
Imagine dining in the grand banquet room where Danish nobles once supped.
Or exploring the hunting room,  the music room, and the tower room, where you can get a panoramic view of all the castle grounds.
There is much to see, and you may even want to make several trips to this fascinating landmark. Fortunately, once you have purchased your ticket, it is good for the entire year.
Your ticket even entitles you to a special deal if you purchase the local Egeskov wine. So, pack a picnic lunch and make a day of it or, better yet, make several days of it as you soak in the experience of Egeskov Castle.
What you can find at Egeskov Castle Rooms?
Each room in the castle contains valuable objects and art treasures collected from all around the world. An example is The Rigborg Room where the popular "Titania's Palace" was built.
This unique and intricately detailed dollhouse took over 15 years and several reputed craftsmen from Denmark to complete. It's creator, Sir Neville Wilkinson, originally built the Palace when his daughter Gwendolyn claimed to have seen fairies in the garden and asked her father to build a house for them.
The gardens are as impressive as the castle's interiors, with over 120 different species of fuschia, four hedge mazes and several gardens with different themes and inspirations.
The Nyborg Slot

The Nyborg Slot is Denmark's oldest castle built in 1200 during the medieval period. The Danish kings held their court in this place way back in the 1300s. This red brick structure was destroyed in the 1650s during the Sweden wars.
It was successfully restored after the First World War. The castle can be visited every day during the summer season and you can even watch concerts here featuring medieval and renaissance music.
The Holckenhavn Slot
The Holckenhavn Slot situated at Torvet 9 in Nyborg is an example of Renaissance architecture. Built in 1579, this castle was opened to the general public only recently.
Here, the interior rooms still display their original furniture while one of the best areas to visit within the complex is the Ellen Marsvins chapel. A guided tour is available and the ideals days to visit are Sundays in June, Tuesdays in July, and Sundays in August. 
Frequently Asked Questions about Egeskov Castle
How to get to Egeskov castle from Copenhagen?
There is around 160 km between Egeskov Castle and Copenhagen. If you use train your trip will last around 3 hours (Via Odense).

Also, there is no direct bus line to Egeskov castle. It goes via Nyborg station and it takes 3-4 hours.

Using a car (less than 2 hours) might be the best solution.
Related articles: