Introduction
The beautiful and charming Latin Quarter is well worth exploring when in Copenhagen. This old part of town got its name from the University, with its learned population speaking Latin on a daily basis. You will see it in guide books and signposts in the Danish "Latinerkvarteret".
The area is known for the beautiful coloured houses that adorn the streets, with architecture dating back to the 17th Century. As Copenhagen has expanded, the Latin Quarter no longer claims to be the home of knowledge, with campuses spread across the city.
However, it is still the hangout spot of choice for academics, students and those looking to soak up the vibe. The area not only boasts the expected bookshops and cafes, but also interesting boutiques, art galleries and vintage clothing stores. It is also a great place to explore a number of cool student bars in Copenhagen.
Latin Quarter Copenhagen district 
The centre point of the Latin Quarter, Copenhagen is Our Lady's Square. In the 15th Century, the University of Copenhagen was founded in the area, and the use of the Latin language in this learning centre lasted until the early 19th Century.
Famous streets in the Latin Quarter include St Peter's Street, which was destroyed and rebuilt after a fire in 1795. There is also Studiestræde, which is well worth exploring.This is a nice place at which to explore local boutiques and shops and take in the relaxed atmosphere of the area.
The southern edges of the Latin Quarter border the Vestergade, which has a number of interesting historical buildings.
Latin Quarter Copenhagen – who will enjoy staying here
This is one for those who do not want to experience Copenhagen amongst throngs of tourists. The shops in the vicinity are more authentic – little boutiques, thrift stores and artisan jewellers give this area an eclectic vibe. The shops and cafes here are less brashy than those on neighbouring Stroget , and the pace is less hectic.
Come to the Latin Quarter if you want to enjoy a relaxed atmosphere, one of a kind shopping, and beautiful architecture
Top things to see and do in Latin Quarter Copenhagen
1.     Visit the Church of Our Lady
The extravagance of this huge 19th Century Church belies its' exterior. Inside, check out beautiful sculptures and statues, as well as stunning internal architecture. Denmark's biggest bell is to be found here too!
2.     Explore Kultorvet Square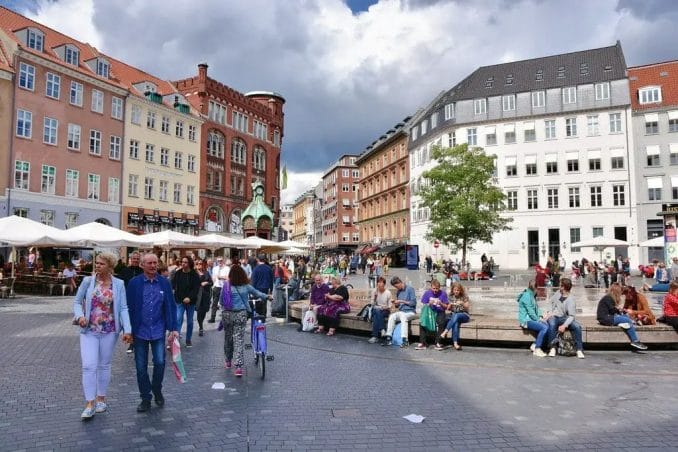 Back in the day, locals used to come here to get their coal for their houses. Nowadays, the square is a nice place to explore, with a number of boutiques and shops in the vicinity.
3.     Browse beautiful boutiques
This is an area for those who like to shop – whether for souvenirs or for your own purpose. Unlike the Stroget area, you will find many independent stores selling a mixture of items from handcrafted trinkets to second hand clothing.
4.     Grab a book and head for a café
It is no surprise that this university area has plenty of bookshops around. Bogshoppen and Spartakus Bogcaf are both good contenders, and there are smaller outfits too. Some boast coffee shops – the perfect place to curl up with a good book, especially if visiting in winter.
Find the best Latin Quarter Copenhagen hotel
Top Budget Hotel in the Latin Quarter, Copenhagen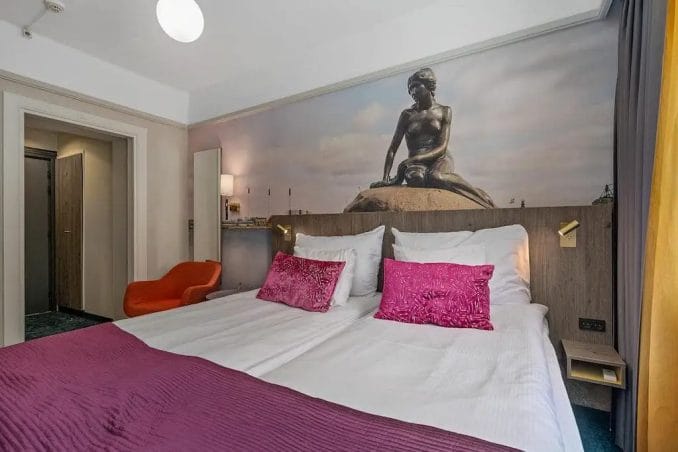 The Richmond Hotel is located right in the heart of the Latin Quarter. With quirky décor and a welcoming lobby, this is a decent digs and perfectly located for exploring. Free Wi-Fi and a decent breakfast are on offer with double rooms starting at €92 in the off season. Given the location, prices can spike to over €170 in the summer, so book early.
Top Mid-Range Hotel in the Latin Quarter, Copenhagen
Hotel SP34 is a comfortable mid-range hotel in the middle of the Latin Quarter. With an organic menu on offer in the restaurant. There is a pleasant roof top terrace, and a happy hour with free wine!
Rooms are stylishly appointed, with a double starting from just €210 in either season. The hotel boasts Denmark's largest port wine collection as well as some fun  jazz events scheduled throughout the year.
Top Luxury Hotel in the Latin Quarter, Copenhagen
For the ultimate in luxury during your stay in the Latin Quarter, Copenhagen then check out the Nimb Hotel. This truly is a location worthy of an extra special occasion or special treat. The Nimb hotel is the height of extravagance! Located in the beautiful Tivoli Gardens, this hotel is built in Middle Eastern style and truly has a wow factor.
The amazing décor, fabulous food and stunning facilities do not come cheap. Standard rooms here will set you back €400 on a standard February evening! In addition, you will have to add on breakfast. In peak season or during events, expect to pay from €700. We think, however, that it will be more than worth it! Especially when you are enjoying a cocktail by the rooftop pool! Think about it for a very special occasion or to surprise your loved one…
Best hostels near the Latin Quarter, Copenhagen
At the other end of the scale, the Latin Quarter is near several decent hostels worthy of any discerning backpacker.
Copenhagen Downtown Hostel
The Copenhagen Downtown Hostel is right smack in the middle of the area. This cool establishment boasts private rooms from just €90 per night. Those on a budget can get a bed in an 8 person mixed dorm from just €14! There is live entertainment too, making for an excellent vibe.
Woodah Hostel
Elsewhere, the Woodah Hostel in nearby Vesterbro offers a bar, and art shop and a decent organic breakfast. Get a bed in a mixed dorm here from only €23, including breakfast!
Urban Camper Hostel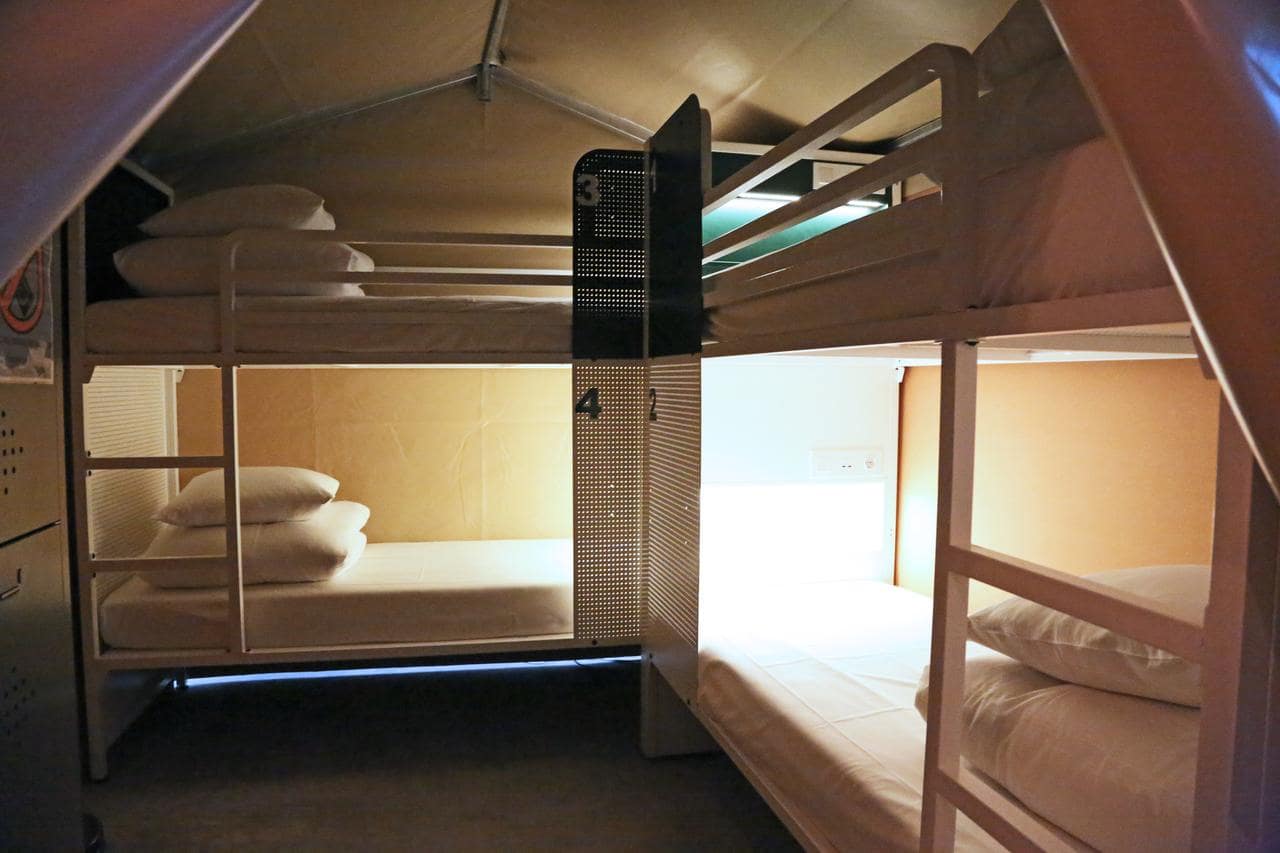 And for something a bit different, try the Urban Camper Hostel. This camping themed hostel offers beds in "tents" for just €30 a night. It is a bit further out from the Latin Quarter than the other hostels, but surely worth it for the novelty. Breakfast is included in the price too!
Airbnb in the Latin Quarter, Copenhagen
It is true that Copenhagen boasts a wide range of great hotels that suit any budget. But sometimes an Airbnb might be a better option…
Thousands of tourists are turning to Airbnb and other accommodation portals to rent their "little slice of Copenhagen" for their trip. The benefits of this are definitely worth considering. For young families, being able to put tired kids to bed and be able to enjoy the evening without sitting in a hotel room is invaluable.
Those on a budget will save money on eating out at every meal. Family groups, work parties and high school reunions will value the space on offer.
Finally, those wanting to get a better experience of the locality will be delighted to see inside a local apartment. Check out this list of available Airbnb Rentals in the Latin Quarter and see what you can get for your budget!
Conclusion
There are plenty of options to consider when deciding on where to stay in Copenhagen. Whether you decide to go for a top 5 star hotel and revel in luxury, or experience one of the city's vibrant hostels, we hope you have enough information to make your choice!
Why not check out our other pages on Copenhagen to help you plan the remainder of your trip. We are looking forward to hearing about your experiences!
Related Articles :