Introduction
At just over one kilometre long, Stroget is the place to shop in Copenhagen! Pedestrianised since the early 1960s, Stroget offers visitors and locals alike a place to stroll, people watch and pick up a gift or something for yourself. The area forms an integral part of the beautiful old town, and the lack of cars creates a special atmosphere.
 A collection of luxury brand stores, tourist shops and fast food outlets mean you can spend a good amount of time on the strip. At Christmas, and during the summer tourist season, the area can be jam packed with locals and tourists alike – so if you do not like crowds it is probably best to explore this shopping area in the off-season.
Stroget Copenhagen Shopping District 
The district of Stroget runs from the city hall to Kongens Nytorv (the pleasant Kings New Square). The area actually comprises several pedestrianised streets, including Vimmelskaftet and Frederiksberggade. It also encompasses a couple of town squares, such as Amagertorv Square.
Whilst most people head to Stroget to check out the big name luxury and high street brands, Stroget also boasts a number of attractions. It is here you will find the way to the Royal Danish Theatre, as well as the Copenhagen City Hall Tower.  You might even be lucky enough to catch the Royal Guard on their way to Rosenborg Castle.
Stroget Copenhagen – what sort of travellers will enjoy this area
It goes without saying that those who love shopping will be delighted with the Stroget area. The main street boasts the biggest brands and familiar chain stores. However, do not forget to explore the medieval side streets, which offer some independent boutiques and shops.
It is also a great area for those who like to feel like they are in a big city. The Stroget area is well located to explore all of Copenhagen's many attractions. And of course, there are plenty of hotels near Stroget Copenhagen too.
Top things to see and do in Stroget Copenhagen
1.     Shop!
The Stroget, Copenhagen stores are famous! The Stroget area spills across four main streets, and each part has a different vibe. For luxury goods, check out the area near Kongens Nytorv. Here you will find the likes of Mulberry and Louis Vuitton. Further down, you will be into the more familiar high streets brands and budget stores.
2.     Check out the street entertainment
The usual street entertainment is on display here, including musicians, mime artists and break-dancers. The area around Amagertorv Square is popular with skateboarders and the like. The area is very busy and, just like in any big city, it is important you keep an eye on your personal belongings in crowded areas if you are distracted by street artists!
3.     People watch!
Grab a takeout coffee and park up on one of the benches. Stroget is a great place for people watching – you will never be bored here as a mixture of people from all over the world stroll down the streets. It is ideal for beginner or confirmed photographers who want to capture moments of life in the neighbourhood!
4.     Visit the Lego Store
One for Lego fans, the flagship Lego Store in Stroget is worth a visit. Located on Vimmelskaftet you can take the kids (or big kids!) here on a rainy day to play in the interactive exhibits.
Find the best Stroget Copenhagen hotel
Top budget hotel near Stroget
For a decent budget hotel right in the middle of the action, check out the Cabinn Scandinavia Hotel. Located less than a mile from the main shopping streets, Cabinn Scandinavia offers comfortable double rooms starting at just €92 in the off-season. A decent breakfast is available for purchase from just €12 as well.
Located in Frederiksberg, the hotel is perfectly places for all the shopping you will need to carry back.
Top Mid-Range hotel near Stroget
Just one mile from the heart of Stroget you will find the charming Coco Hotel. Located in Vesterbro , the pleasant rooms look over an internal courtyard, which is perfect for summer drinks.
A double room starts from about €140 in the off-season, going up to €180 in the summer and books up quickly. The rooms are furnished in individual Danish style and there is free Wi-Fi too.  
Top Luxury Hotel near Stroget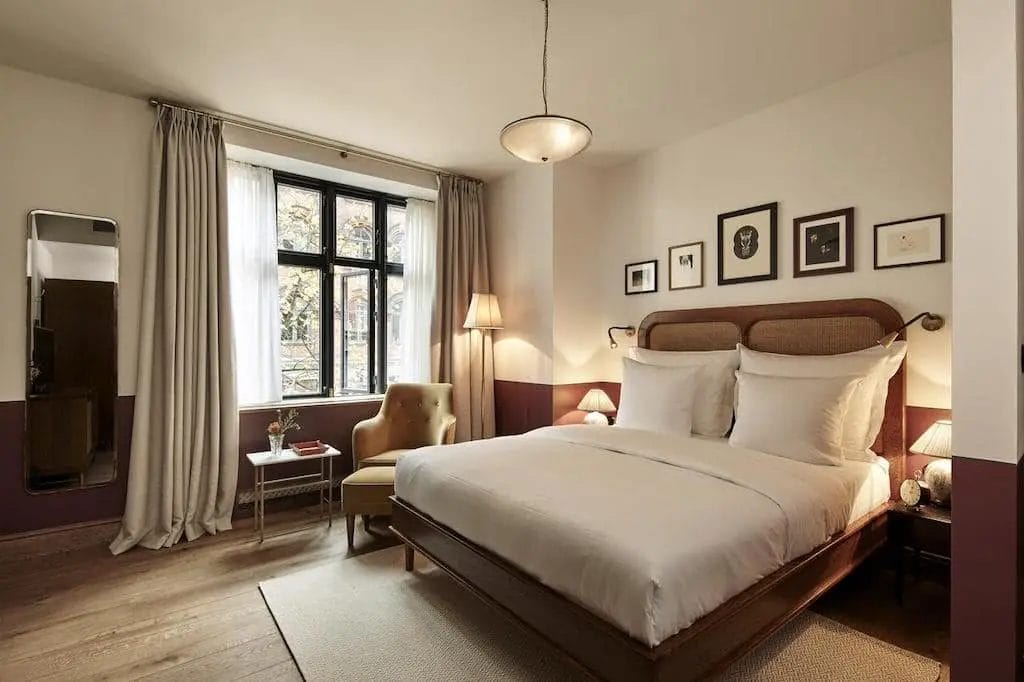 For a touch of luxury when in Copenhagen, check out the amazing Hotel Sanders. With gorgeous rooms and elegant features, this is one for a real treat. Located right in the middle of the action, Hotel Sanders should be one to book for a special occasion.
Rooms start at €450 for both high and low season with an amazing breakfast included. Make sure you check out the amazing cocktail bar too!
Hostels in Stroget, Copenhagen
If you need to keep your cash for all the shopping you will be doing in Stroget, Copenhagen, then check out these hostels.
Copenhagen Downtown Hostel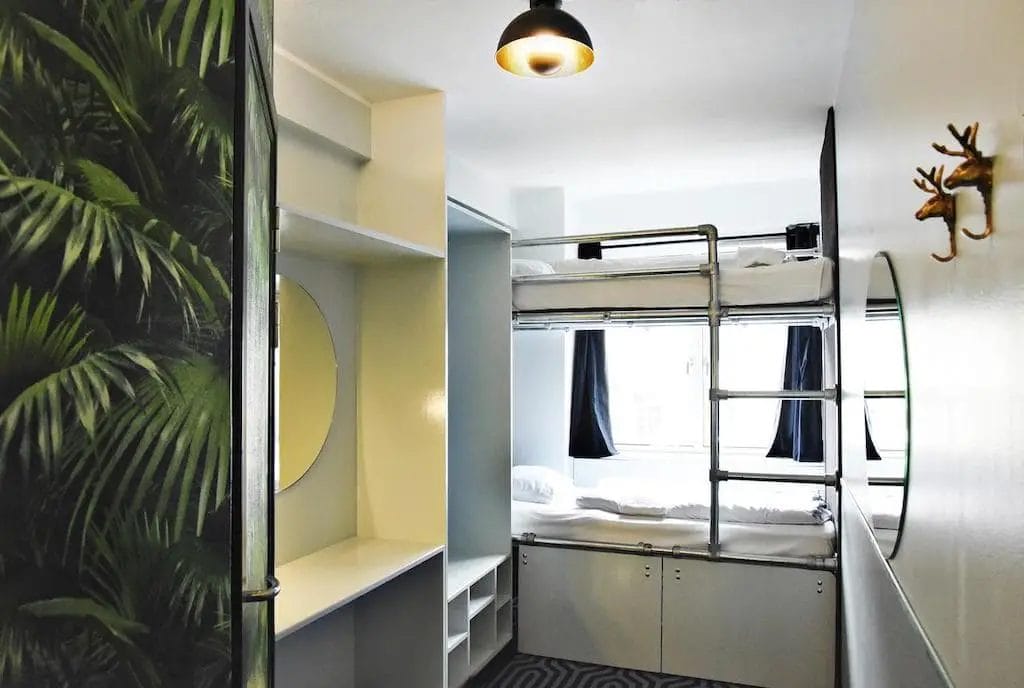 Less than half a mile from the action on Stroget, the Copenhagen Downtown Hostel offers decent rooms, a good bar and live entertainment. You can even rent a tablet to catch up on your mail if you need to.
Get a private twin here with its own bathroom from €75, or get yourself and 3 travelling buddies a 4 bed with shared bathroom for just €76.
Bedwood Hostel
Also half a mile away from Stroget is the Bedwood Hostel. Situated in a medieval building with quirky interior, the Bedwood is one for those wanting an authentic experience!
A double bed with a private bathroom starts at just €77. Alternatively, get to know your fellow travellers and take a bed in a 12-person dorm starting from just €16
Sleep in Heaven
A little further away but still accessible to the attractions of Stroget is the Sleep in Heaven hostel. We have featured it because I have stayed in it and it was decent! (We especially liked the beer garden!) Located in vibrant Norrebro  you will get free Wi-Fi and a daily happy hour!
Double rooms start from just €77 with a shared bathroom.
Airbnb in Stroget, Copenhagen
Whilst there are dozens of great hotel options near Stroget, Copenhagen, sometimes you just want your own space. Airbnb is a great option for those travelling with kids or who are on a budget. The ability to cook your own food can save you a fortune, and means you can experience shopping in a Danish market or supermarket in full.
Others prefer the space they get with an Airbnb – the ability to chill out in a living room or private garden adds an extra feeling of independence as opposed to boring old hotel rooms.
Finally, Airbnb is a brilliant option for those travelling as a group, whether it is a get together with friends or family, or a teambuilding event.
Get a private serviced apartment with luxury furnishings overlooking the shopping area like this one from about €150 a night. Or, rent this amazing home for a group of 6 adults for just €560 per night
Airbnb also offers dozens of interesting experiences in the area, so check it out here.
Conclusion
Now you know all about the area of Stroget, Copenhagen! Which accommodation option will you go for during your trip? Now is the time to decide, so get booking and let us know which option you went for!
Related Articles :