Have you ever considered Denmark for a sports getaway? Beyond fairy tales and Viking lore, Denmark boasts historic and high-tech sports arenas. These venues, rooted in community spirit, have evolved over time, reflecting Denmark's passion for sports. Ready to explore? Keep reading this piece as we dive into Denmark's unforgettable sports venues!
5 Best Sports Venues in Denmark
The Royal Arena, Copenhagen
Imagine being in a place where every echo, every cheer, every beat is amplified to perfection. Welcome to the Royal Arena. Nestled in the heart of Copenhagen, here's why this venue is a crown jewel:
Size Matters: With a massive capacity of 16,000 for concerts and 13,000 for sports events, this place can really pack a crowd.
Location Perks: It's conveniently located in the bustling Ørestad district, close to the famed Bella Center.
Versatility at its Best: Whether you're here for a concert, a basketball game, or a live performance, the Royal Arena has got you covered.
Architectural Marvel: Designed by the wizards at 3XN Architects and brought to life in 2016 by MT Højgaard, this arena is a testament to Danish construction expertise.
Weather, No Problem: Rain or shine, the retractable roof ensures the show continues!
And guess what? Mark your calendars because from August 21 to 27, 2023, this place will light up with the BWF Badminton World Championship. Furthermore, if you are planning to wager on the tournament, consider claiming the BetMGM Bonus Code to enhance your wagering experience.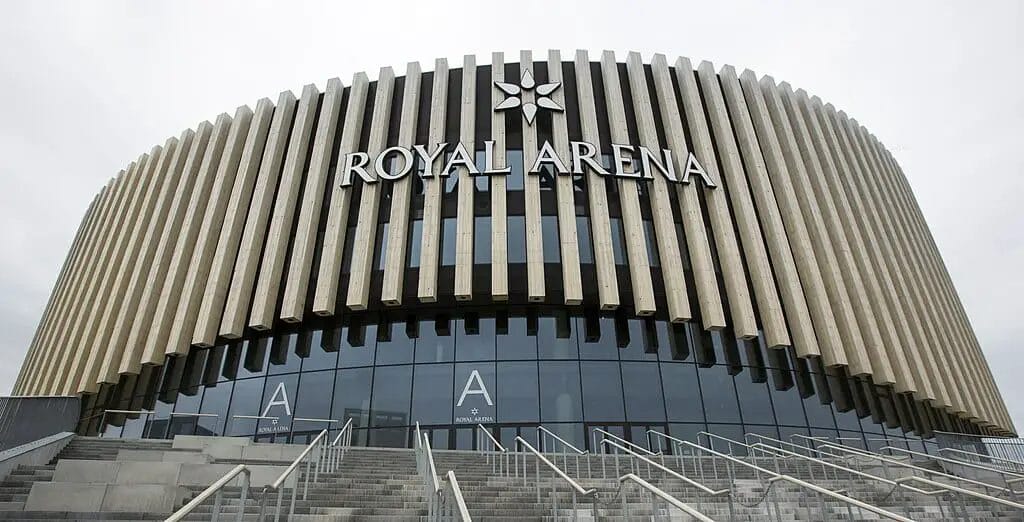 Brøndby Stadium, Brøndbyvester
Football fever? Then Brøndby Stadium is where you'd want to be. With fans that could probably rival the decibels of a jet engine, here's the scoop:
Historic Grounds: Established in 1965, it's been setting the stage for football drama since 1966.
Spacious and Cozy: It can accommodate a whopping 29,000 fans, though international matches see a slightly cozier 25,800.
Sit or Stand: Whether you prefer the thrill of standing with the crowd (5,600 spots for that) or a comfortable seat, they've got it all.
Makeover Time: In 2000, it got a sleek upgrade, upping its capacity and look.
Not Just Football: With athletic facilities added behind a goal, it's a haven for sports lovers of all kinds.
And oh, the energy in the South side ends? You've got to feel it to believe it!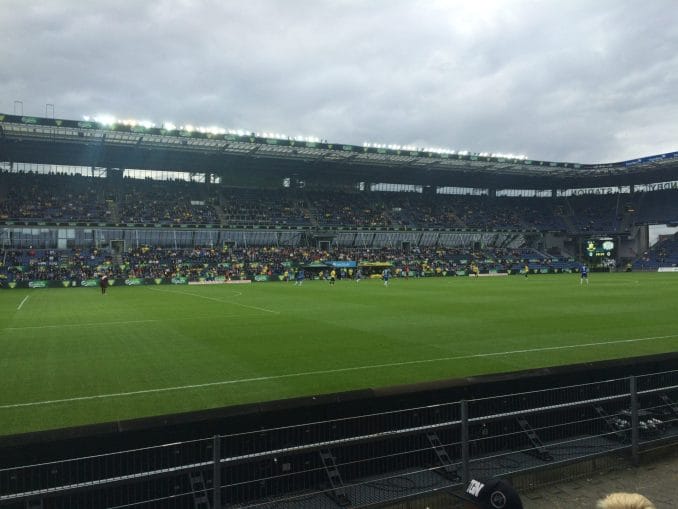 Blue Water Arena, Esbjerg
Taking a trip to the west coast of Jylland, you'll find a gem called the Blue Water Arena. If walls could talk, this stadium would narrate tales of thrilling international football games. Here's a closer look:
A Grand Stand: Offering space for 16,942 roaring fans, with 11,451 getting comfy seats.
Rain or Shine: With 6,156 covered standing places, you can cheer on regardless of the weather.
Green All Around: The lush grass playing surface is a treat for both players and spectators.
Home Sweet Home: This is where the magic happens for Esbjerg FB.
In essence, it's one of Denmark's football temples and a must-visit for anyone who thrives on the game's electrifying energy.
Jysk Park, Silkeborg
Jysk Park is a delightful blend of modern amenities and an electrifying atmosphere. Here's why it stands out:
Perfectly Sized: A capacity of 10,000 ensures it's buzzing but not overwhelming.
Future-forward: An artificial turf ensures games go on, come rain, snow, or sunshine.
A Symbol of Unity: Built as a collaboration between the Silkeborg IF ownership and the municipality, it's a stadium by the people, for the people.
Grand Opening: In 2017, it opened its doors with a match that saw Silkeborg IF clinch a win against AGF.
In short, a visit to Jysk Park is akin to stepping into Denmark's vibrant football future.
The Athletic Exploratorium, Odense
Finally, let's talk about a place that's not just about watching – it's about doing. The Athletic Exploratorium is for those who like to push their limits:
A Fresh Take on Athletics: It's not your typical track. It's a landscape filled with physical challenges that'll test your speed and agility.
For Everyone: Whether you're a pro athlete or just someone looking for a good run, it's designed for all.
Award-winning Design: Crafted by Keingart and recognized with the IOC/IAKS Award in 2015, its aesthetics meet functionality.
An Invitation to Odense: Located in this charming city, it promises a day of athletic fun amidst fairy-tale surroundings.
Simply put, the Athletic Exploratorium is where you challenge yourself, have fun, and come back for more!
Conclusion
There you have it! Denmark's love for sports is vividly evident in its state-of-the-art venues. From football frenzies to badminton championships and unique athletic parks, this Scandinavian beauty offers a platter of memorable live experiences. So, the next time you're in Denmark, make sure to catch a game or maybe even break a sweat. After all, the best memories are often made in the heat of the moment!