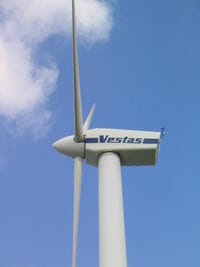 The Danish wind turbine manufacturer Vestas* announced on the 28th of April that it will ay off 1,900 employees in northern Europe.
Despite this announcement Vestas stocks jumped several points when the company declared its results in the first quarter report.
The company will continue to expand in the United States and China, but as a consequence of the expansion, Vestas said that north European markets will not be able to absorb the additional capacity, and production employees are being let go from its operations in Denmark and England.
In Denmark, 1,275 employees will receive pink slips from their company. Production units in Lem, Nakskov, Viborg, Ringkøbing and Hammel are reported to be affected.
The 2009 financial forecast has remained unchanged, with an expected EBIT margin of 11 to 13 percent on revenues of €7.2 billion, which would be an increase of 20 percent on the previous year.
According to Jacob Pedersen, head analyst with Sydbank, the unchanged forecast was 'strong and unexpected'. Shares in the turbine manufacturer initially dropped at the start of trading but by mid-morning were up seven percent.
* Vestas, or Vestas Wind Systems, is the largest wind turbine manufacturer in the world with a 28% market share. The company operates plants in Denmark, Germany, India, Italy, Britain, Spain, Sweden, Norway, Australia, China, and Windsor, Colorado, and employs more than 20,000 people globally.