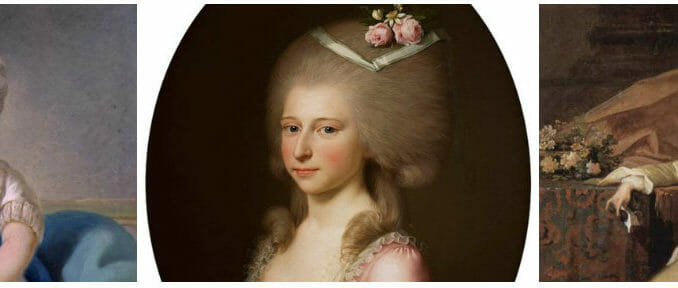 "Le Petite Struensee", the court used to call the wee princess.

Princess Louise Aguste was born on July 17, 1771. She was regarded to be the daughter of King Chrisitian VII of Denmark, but it was also widely accepted that her real biological father was Johann Friedrich Struensee, the court phyisician and "de facto" ruler of Denmark at the time. After all, had not the King avoided his Queen's bedchambers for a whole year, and the Queen Carolina Mathilde taken the good doctor as her lover? Even the King, poor of mental health as he was, knew they had a sexual affair and condoned it all the same.


After her father's eventual execution and her mother's exile, the baby Louise Auguste was only able to stay with Carolina Mathilde for a short while. She was taken away while still a baby, and was raised at Christianborb Palace in Copenhangen, under the tutelage of her paternal step-grandmother, Juliane Marie. In time, she and her half-brother Prince Frederik VI became fast and close friends, even when their grandmother threatened to separate them.


In time, Louise Auguste blossomed into a beautiful lady, and the features she inherited from her father – his pensive eyes and strong nose – became more and more apparent. However, none of the royal court seemed to mind. In fact, she was hailed the "Venus of Denmark". Princess Louise Auguste was warm, friendly, and quite gragarious, earning the admiration of many artists and poets in her time.