Princess Louise Augusta of Denmark was the daughter of the King of Denmark – King Christian VII and his wife Queen Caroline Matilda.
Or was she? It is commonly believed that her real father was the Queen's longtime companion Dr Johann Friedrich Struensee.
Let's work out just how this all came together in this guide.
Princess Louise Auguste Of Denmark Parents
Born in 1771 to Caroline Matilda, she was the younger sister of Crown Prince Frederik. Princess Louise of Denmark was born into a troubled home.
Her official father was the King of Denmark – King Christian VII – and he was known for suffering from mental illness.
So, for a large part of his reign the monarchy was controlled by those around him – firstly the King's royal physician Johann Friedrich Struensee… who was also doing a bit of a line with his wife, Queen Caroline Matilda.
And despite pretty much everyone knowing that Louise Augusta was not a legitimate King's daughter, it didn't really cause her many issues… and she grew up with the full suite of benefits afforded to a royal child.
Princess Louise Augusta Of Denmark Children
Princess Louise Auguste was married off at the tender age of 14 to Duke Frederik Christian II – a guy with some pretty strong and posh Danish lineage.
Her advisors thought this was a prudent move, given that she wasn't King Christian VII's daughter.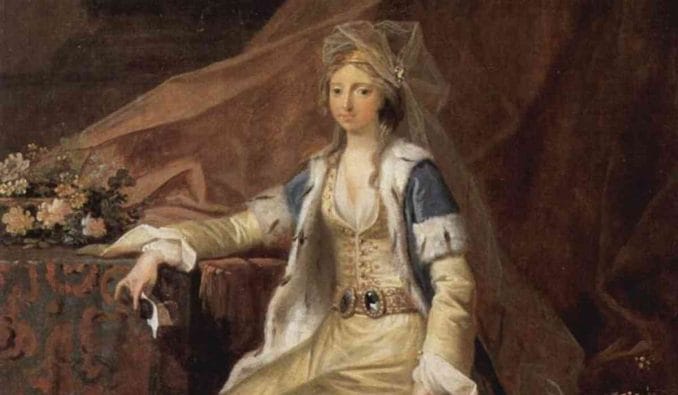 They wanted to solidify her legitimacy and ensure children could take the throne if required in future, despite rumors that the king's royal physician was actually her father.
She was treated for infertility by another physician – Carl Ferdinand Suadacini – who was also rumored to be one of her several lovers.
It is suspected that her three children:
Caroline Amelie (later Queen of Denmark)
Christian August II and Frederik the Prince of Noer – were actually fathered by the doctor
Seems like it runs in the family…
A Short Story About Louise Augusta
Princess Louise Augusta, princess of Denmark and second child to Carolina Mathilde, was nicknamed "La Petite Struensee" for a number of reasons.
Could it have been how her profile, keen wit, and personable appeal reminded the Danish court so much of the deposed former court physician? Or was it because of the whispers of gossip about who her true father was?
Either way, the court fell in love with this charming princess and took to giving her the moniker "The Venus of Copenhagen".
The lords and ladies loved her, even though her grandmother, Dowager Empress Juliane Marie, held her and her brother Prince Frederik VI in constant ire and contempt.
This did not mean, of course, that our little princess did not brew her own special kind of mischief! She would set out to stir the older establishment in court, as you will read in this next story.
Some time in Louise Augusta's early teens, Marie Antoinette's influence on fashion spread far and wide. The Chemise a la Reine became wildly popular in Europe, and soon reached Danish shores.
The mode of dress was softer, lighter, and less formal than court dresses at the time, and was worn without panniers to hold the dress up, thus revealing a bit more of the wearer's figure.
Empress Juliane Marie deemed this unfit for the Danish court, but Princess Louise Auguste?
Oh no, Louise Auguste of Denmark went straight to their favorite painter Jens Juel, and had him paint her wearing this dress!
You can imagine how, when the painting had been unveiled, the Empress and all her other cohorts must have nearly fainted.
The princess' legs were almost visible through the translucent material! It was either the painter was to paint the dress more opaque, or the painting would be destroyed.
Despite having bowed to her grandmother's will, Louise Augusta's proud and victorious expression very much says it all.
Danish Royal Court Life Louise Auguste Of Denmark
Married as a teenager, Louise Augusta was separated from her mother Queen Caroline Matilda (who had been banished), and spent most of her time in the Danish Royal Court, residing in Augustenburg in the summer months and at the Christiansborg Palace during the rest of the year.
She enjoyed entertaining immensely and would host poets, painters and musicians at court. This was a stark contrast to her husband Duke Frederik who was, quite frankly, a bit of a bore…
Her Lover, Doctor Carl Ferdinand Suadacini
Dr. Suadacini was a famous doctor of the time, specializing in both infertility and asylums for the insane.
He would have been a useful guy to have around to treat Princess Louise Augusta's "father" King Christian VII… Anyway, he was asked to treat her for infertility instead… And treat her he did. She miraculously gave birth to 3 children… and they are rumored to have been his.
Life and Marriage
Her husband was 6 years her senior and enjoyed extremely interesting and long winded chats about philosophy and politics.
Since Louise was much more dynamic and loved entertaining, the 2 of them didn't really gel. She is rumored to have had multiple lovers apart from Dr. Suadacini.
Eventually, the marriage began to disintegrate, and there was a brief custody battle. However, the Duke died in 1814, after which she had full control over the children's destinies.
When Princess Louise Augusta of Denmark Died
Princess Louise August died in Augustenborg in 1843, having spent her final years in Augustenborg castle and overseeing numerous Augustenborg estates, including the newly acquired Nør and Grønwald estate.
She had been born Princess Louise Auguste of Denmark 1771 – 1843
About Danish Author Maria Helleberg
If we have piqued your interest about the Princess then perhaps you would be interested in this novel by Maria Helleberg.
Entitled Kærlighedsbarn" or "Love Child" it addresses the story of Louise Augusta's childhood, interesting background, and life.
FAQs about Princess Louise Auguste of Denmark
How long did Princess Louise Augusta of Denmark live?
She lived 71 years (from 1771 to 1843).
Where did Princess Louise Augusta die?
She died at her home in the Augustenborg palace, in Augustenborg, Denmark.
Are there any portraits of Princess Louise Augusta of Denmark?
There are a few, including one of her wearing a Turkish style dress painted by Jens Juel and a beautiful portrait of her as a baby by Sturz.
Conclusion
The fascinating tales of the Danish Royal Family come to life when you visit Copenhagen – so start to plan your trip around that if you are interested! There are palaces galore to visit, as well as museums. You may even be lucky enough to sport one of the Royals out and about on their bikes! Head over to some of our other resources in order to plan your trip!