What kid or adult does not like to play with Lego blocks? I have never really seen one and now many theme parks have branched up around the world on this theme and are called Legoland. The best part about these places is there is so much to see and do and you most definitely will leave with a smile on your face. Let us look at what these theme parks are all about and what can you do in the one original Legoland located in Billund, on the mainland of Denmark.
One of the new attractions in 2008 was Pirate Land where you sail with a pirate ship in the water and you and your family can have water cannon fights. Bring your swimsuit, as this one will get you very wet, but loads of fun. One place you will want to head to is Atlantis by Sea Life. This underwater adventure lets you interact with real sharks and see shipwrecks and many other things associated with underwater life. This is a must see when you go to Legoland in Denmark. It does not stop there though as there are many other places you will want to see as well.
If you have some little kids along for the trip you must stop at Duploland that is specially designed for young kids. With soft paths even a fall will not hurt here. With many things to do, kids will be entertained for hours and will be a place that you will find it hard to get them to leave.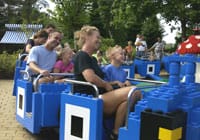 Of course you do not want to leave Legoland without stopping at Lego City. This is where the Power Builder is located. You will be able to custom the kind of ride you want. Get crazy in your design, but remember you will have to ride whatever you design. Head to the wild side if you are brave enough to handle the Power Builder.
As you can see Legoland is for kids and even adults who are still kids at heart. That will not change anytime so I am afraid. If you are looking for a place to have some fun time with the family than you need to check out Legoland in Denmark where fun can be had for everyone involved.