Here is how to spend the perfect 3 days in Copenhagen!
Copenhagen is a city breaker's dream – especially if you only have the weekend to explore. Not only is the airport a mere 7 kilometers from the city center – meaning you reach your hotel in around 10-15 minutes – but the attractions are close together.
You can easily fit in the main sights without feeling rushed, and still have time to spare to shop and enjoy a couple of leisurely meals. Let's get stuck into the guide to all you need in order to spend 3 perfect days in Copenhagen!
The Best Time to Visit Copenhagen
This one may shock you – because we usually love a warm summer break – but we recommend winter as one of the best times to visit!
If you spend a weekend in Copenhagen during the Christmas season it is particularly spectacular. With a festive atmosphere and Christmas decorations on display, you'll be buzzing.
During this time the crowds are lighter too, so you can enjoy the city at your leisure – and perhaps pick up a few Christmas gifts as you go.
3 Days in Copenhagen Budget
Here we consider an average budget for 2 people – not crazy splurge, but not on a shoestring.
Just enough to enjoy a few decent meals, enter some attractions, and pick up a few souvenirs.
We also recommend getting a hotel that has breakfast included – that will really reduce your overall spending money needs!
3 Day Copenhagen Card for 2 adults– €204 – access over 80 attractions
Public transport – Free with the Copenhagen Card
3x sit down lunch menu (not fast food), €100
3 x sit down dinner menu (not fast food) €200
Random extras €100
Total for 2 people for 3 days: around €600!
For your accommodation, factor in anything from €100-200 per night depending on your preferences. Try to book with breakfast for your three days in Copenhagen.
Getting There & Around – How to Use Public Transport
If you decide to purchase a Copenhagen Card you don't need to worry about additional transportation costs. It is all included in the pass.
This includes access from the airport! It is great not having to worry about having change or a ticket as you go around town.
If a Copenhagen Card is not for you during your three days in Copenhagen you can buy tickets per journey. A one way, 2 zone ticket on the Copenhagen Metro is around €3 euros.
So it can quickly mount up if you use it frequently to execute your Copenhagen 3 days itinerary.
Get the Most of the Copenhagen Card for 3 Days
We've mentioned the Copenhagen Card for one of its main benefits – the free, unlimited access to the public transport system.
But to get the most of the card you would also need to make sure you visit some key attractions too!
A €102 per person for a 72hour ticket isn't bad – if you make up the cost by visiting several sights you usually break even or slightly better than cost.
The average saving is around €20, which isn't HUGE, but if you factor in the hassle free travel around the city and skip the line access, it becomes much more attractive.
We recommend making a wishlist of things to do in Copenhagen in 3 days in advance – the Kronborg Castle alone costs €20 entry alone for example in the summer months, so it can quickly add up.
Then, add in the cost of a transport card (3 days is around €26) and you will soon know if it is worth it for you or not.
Copenhagen – What to See in 3 Days
3 Days in Copenhagen – What to Do? Day 1 – Get a Feeling for the City
First, start at the City Hall Square to get a feel for the architecture before making your way down the Strøget.
At over 3 kilometers long it is the lengthiest shopping street in Europe, and offers endless opportunities for soaking up the local vibe. It is very atmospheric, with pretty buildings and interesting boutique stores and cafes.
Once you are done, head to Nyhavn for lunch, and make sure to get a photo of this iconic waterfront location, with the colorful buildings being instantly recognisable.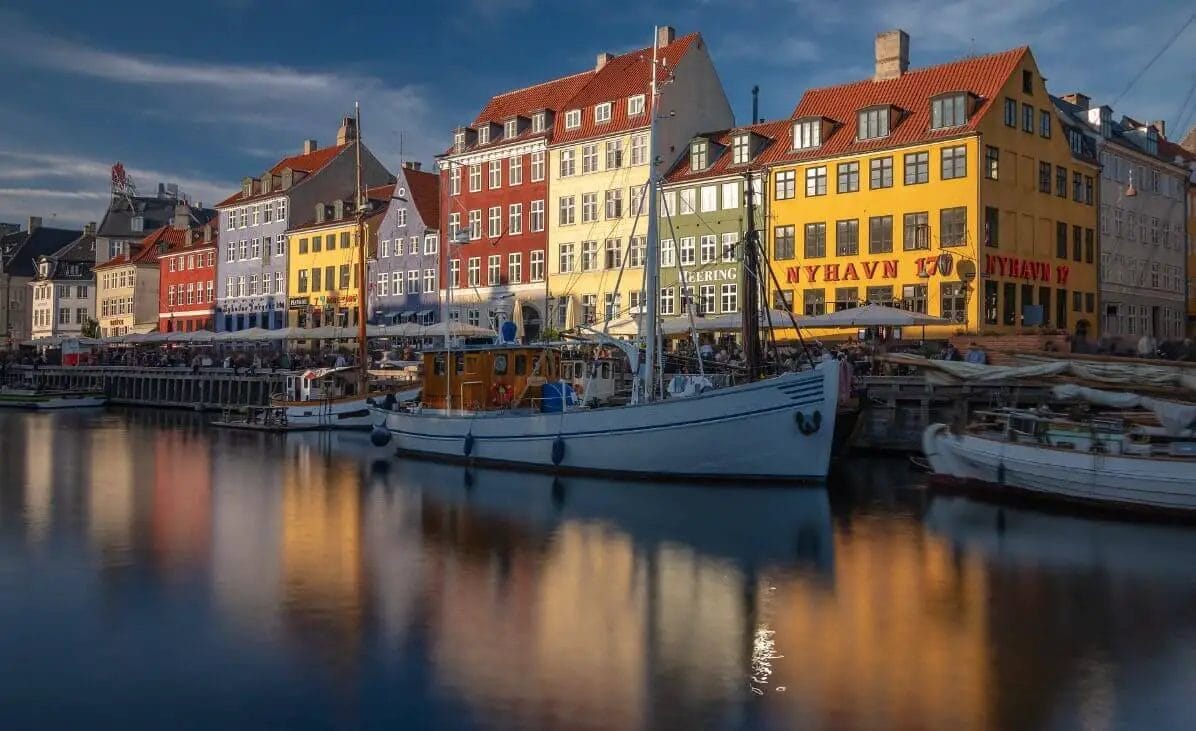 In fact, Nyhavn made it to the top of our Top Ten Instagram Spots in Denmark for its gorgeous architecture.
As the afternoon stretches on, visit the Amalienborg Palace Square and afterward the Little Mermaid statue.
Then it's evening, so head to the world's oldest theme park! The Tivoli Gardens Amusement Park offers fun for all ages, and you can also pick up dinner around here.
3 Days in Copenhagen – What to Do? Day 2 – Get Inside Some Attractions
On day 2 you want to spread your wings a bit.
You're down with the architecture of the city, and have your transport card in hand. It's time to check out a palace – Christiansborg Palace or the Rosenborg Castle are the most famous options.
Grab lunch around town someplace quick before making a stop at the Statens Art Gallery. As the evening comes in it's time for dinner with a local twist.
Head to the fabulous food market of Torvehallerne Copenhagen (it shuts at 7pm usually, or 6pm at weekends).
It is here that you can take in a wide range of local foods, famous Danish beers and traditional delicacies.
3 Days in Copenhagen – What to Do? Day 3 – Leisurely Wind Down and Souvenirs
It's time for the unusual – take a trip to the independent town of Christiania.
If you're into vegetarian or alternative foods, live music and an edgy vibe, then this is surely an interesting place to spend a few hours.
Finally, it's time for lunch in a cozy cafe and another stroll down Strøget to pick up a few gifts and souvenirs.
You've just enough time to hop back on the train to the airport to catch your flight home!
Itinerary Map
Here is a map of the itinerary we have suggested. But don't hesitate to add your own stop offs!
There is a lot more to see and do in Copenhagen!
Copenhagen 3 Days Itinerary -Tips for 3 Perfect days in Copenhagen
Here are our top tips for making sure you have the best trip in Copenhagen:
Don't rush. Whilst we have given you a flavor of things to do on each day, don't feel pressured to stick to it. If you see something that catches your eye, or want to sit longer in a cafe people watching – then do it! It's your vacation, and sometimes the best things can happen without planning
Don't be afraid to spend time outside of the city. Copenhagen is small enough that you can hit off some key attractions on 2 days, and go a little further afield on 1 day. The Kronborg Castle or Helsingør port town are some of the most popular day trips from Copenhagen.
Learn a few Danish words! Please, thank you and hello go a long way in little shops and restaurants in the city.
Where to Stay in Copenhagen
Best Budget Hotel: Copenhagen Go Hotel. Located close to the airport and with modern rooms and a pleasant lobby, this is a great budget option. Double rooms can be snapped up here for only €60 a night, €70 with breakfast. Its easy access to the airport makes this especially appealing for city breakers arriving on later flights or with a very early departure time.
Our best quality/price ratio choice: Central, with a pool, and a 4 star rating. What's not to love at the Tivoli Hotel Copenhagen? Well, there's more. The price is also great – with double rooms starting at just €160. You can sightsee knowing a refreshing dip in the indoor pool awaits you at the end of the day.
Top range – splurge: There are a couple of great "treat yourself" hotel options in Copenhagen. One of our go to favorites is Nobis, which offers a combination of amazing architecture, excellent food and top service. Rooms start at €750 per night, so make sure you bring your wallet…
Tips on Planning 3 Days in Copenhagen with Kids
Copenhagen's central location makes it an excellent option for exploring with kids.
If you have a central hotel, you are never far from "home" should there be a meltdown or if someone needs a nap.
The long Stroget pedestrianized area means your little ones can have some time out of the pushchair without having to worry about traffic.
And of course there are plenty of things to do in Copenhagen with kids. The Tivoli Garden amusements will surely be top of mind, but the Copenhagen Zoo also packs a punch…
Fun Things to Do in Copenhagen in 3 Days
Apart from the world famous Tivoli amusement park, why not mix up the fun in Copenhagen with a bike or segway tour?
Foodies will love a local food tour, and there are countless things to see that we haven't mentioned here, including the Planetarium, canal tours, and a lot more art and history!
And of course one of our favourite things to do in Copenhagen is to go where the wind takes us!
In summer that could mean meeting a fun group of people and jumping into the water, in winter you might end up at a night long party in the trendy Vesterbro district. This city has endless possibilities for fun!
Frequently Asked Questions – Copenhagen in 3 Days
Is 3 days in Copenhagen Enough or Not?
You can be comfortable that three days in Copenhagen is enough. The city is compact and accessible.
Should I spend 3 or 4 days in Copenhagen?
3 days is enough to see the main sights. If you want to explore at a leisurely pace or perhaps want to take a day outside the city perimeter, then 4 days will suit better.
How much cash to carry in Copenhagen for 3 days?
Most places take cards. So carry around €50 for incidentals or emergencies at all times.
How many days in Copenhagen are perfect for a Vacation?
You don't need a week to explore Copenhagen – 3 days is adequate.
What places I absolutely must not miss during my 3 days in Copenhagen?
Amalienborg, one of the palaces, one of the museums and the Little Mermaid statue are some of the must sees in Copenhagen.
Is 3 full days in Copenhagen enough?
Yes, you can see more than enough in 3 days in Copenhagen.
Conclusion
Now it's time to work out where to stay, itinerary and if you want to purchase the Copenhagen Card. Let us know if you are able to get savings of over €20!
We are particularly interested to hear feedback on whether the Copenhagen Card was worth it for you, or if you were able to get enough of the city covered by a number of free tours and attractions in Copenhagen such as this one.
Related Articles