Legoland Denmark, not many people may be aware that Lego is a Danish brand. This brand which is primarily associated with the very popular colorful interlocking bricks has spawned many entertainment ideas aside from the toy itself. Movies, video games, board games, and books and magazines, are just some of the many products which have made use and continue to use the Lego brand with much success. The Lego themeparks however have proven to be the most interactive and entertaining result of this brand's marketing. 
Presently, there are six Legoland amusement parks operating all over the world. They can be found at Windsor, England; Günzburg, Germany; Carlsbad, California; Winter Haven, Florida; Nusajaya, Malaysia, and the very first which is the one located at Billund, Denmark. It opened in 1968 and is located next to the original Lego factory. It is very accessible being also near Billund Airport.
Among Denmark's attractions outside Copenhagen, Legoland Billund tops the list as the most visited. It was opened by the son of the founder of Lego to promote their toy business. The original 14-acre Legoland Park is now a 45-acre park divided into 9 themed lands.
These theme lands consist of the Mini Land, Duplo Land, Imagination Zone, Legorado Town, Pirate Land, Adventure Land, Lego City, Knight's Kingdom, and Polar Land. The Mini Land is the main attraction since this is where the various Lego brick models of famous landscapes, buldings, and landmarks are found. The other themed lands feature rides, a playhouse, and a theater. Special events befitting the season are also regularly featured in Legoland Billund.
Legoland is one of the famous attractions in Denmark. It opened in 1968, making it the oldest among all the Lego parks around the globe. It is located 150 miles west of Copenhagen. The park is subdivided into nine areas Duplo Land, Imagination Zone, LEGOREDO Town, Adventure Land, Miniland, Pirate Land, Lego City, Knights Kingdom and Viking land.  
Through the years it has added more attractions such as family rides and exciting ones for the more adventurous crowd. There are pirate themed boat rides, a mining themed rollercoaster, flying carpet rides and many more. Kids can even go to Lego driving school where they can get a Legoland driver's license.
Legoland has anticipated the unpredictable weather so there are many indoor activities to choose from. There is a toy museum, interactive mechanical toys, a Lego playroom where kids can be creative and even win prizes. The best part is that you can let your kids roam around and never worry about them. Legoland has a "kidspotter". It is a wi-fi tracking network that allows you to know where they are in the park. Simply send and SMS and their location will be displayed.
A trip to this fun place is meant to be stress free so they have all the amenities you may need. They have a baby care center, drying machines for wet clothes, luggage lockers, wheelchairs, handicap facilities, a first aid station and an information center. There are also ATM machines spread throughout the park. It is also a dog friendly zone, so you may bring your pets as long as they are on a leash. As for dining, you may choose to bring your own food or eat in the many food stands and cafes.
The Original Legoland in Denmark
Who would have thought that the original Legoland of the world is found in Billund in Denmark? Apart from the fact that it houses one of the biggest Lego model, it also offers a lot of Lego formations and structures that you have never seen before. If you can only count all the Lego blocks that you can find, don't be too surprised if they turn out to be uncountable. There are about 5 million pieces in the whole of Legoland. That's amazingly many!
The Haunted House
Inside Legoland is the haunted house so you better prepare yourself to be scared and amazed at the same time. Vampires, monsters and ghosts are just a few of the many elements of the dark that make this place even more haunted. You'll have all those crawlies everywhere too. You can go chasing ghosts, but if you get all too excited, you might just end up laughing your way out. If you're looking at something exciting for the entire family, then a visit to the Haunted House might just be what it is.
Great Concerts at Legoland
Take note of this in your travel diary. You shouldn't miss all the great concerts that they have in Legoland. It is indeed a place to visit for the entire family. The kids and the parents alike will surely enjoy what they've got to offer. From new talents to popular stars, you can enjoy all their performances all year long. We've got fun competitions too that can be challenging and fun at the same time.
Experience Legoland and fall in love with Denmark all over again.
LEGO CHIMA: Newest Legoland Denmark Attraction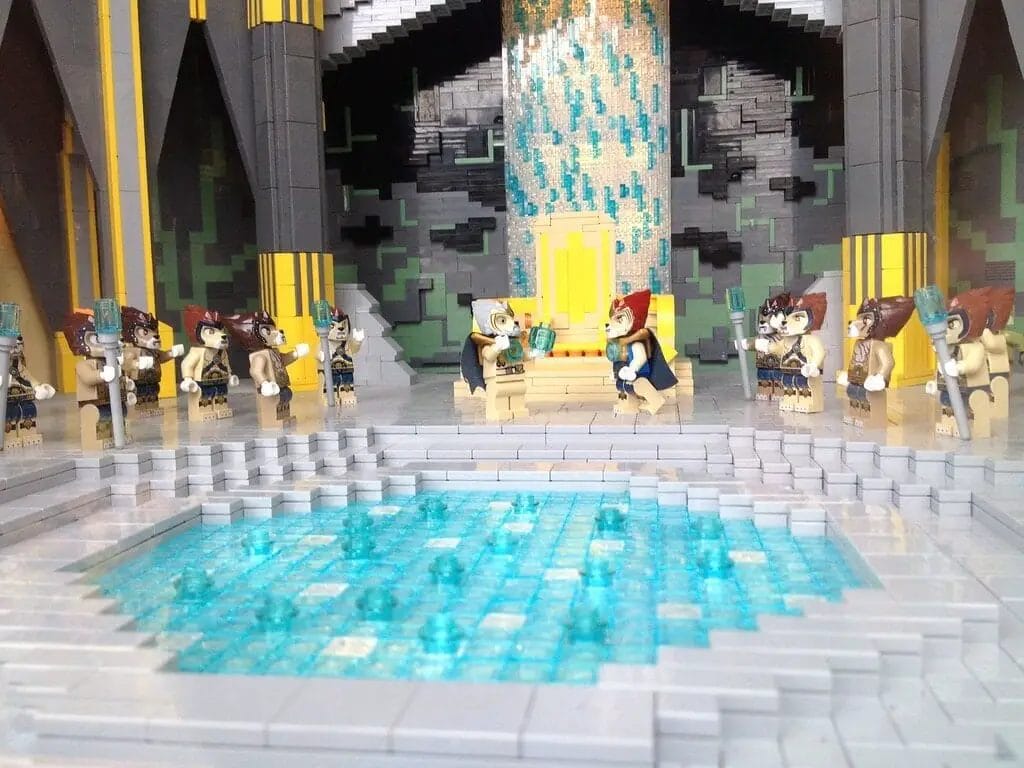 Denmark may be best known for its numerous picturesque attractions, with famous historic museums and unparalleled destinations for nature trippers but anyone who loves toys know that the one place really worth visiting in this country is LEGOLAND Billund.
An amazing amusement park housing tons of attractions like the world famous Miniland world, Polar X-plorer roller coaster and Toyota Traffic School. A visit to LEGOLAND will surely leave Lego enthusiasts inspired to keep on creating fun figures with their Lego once they get home. As though their tried and tested attractions isn't enough though, LEGOLAND continues to add to their offerings every year, ensuring that even return visitors will be excited to see new stuff each time they come.
This year, LEGOLAND has added an interactive exhibit in the Miniland area called LEGO Chima. The Chima exhibit presents a fun way to learn more about their animal warrior tribes (lions, crocodiles, eagles and wolves). Even more impressive is the 4D movie, Legends of Chima, which will let you experience the battles between the warring tribes as you explore the different habitats in Chima.
Of course, with the many attractions LEGOLAND has to offer, the addition of Chima will make it even harder to squeeze in all the stuff you want to see in a day. So if you have time to visit the place for more than a day, make sure you do just that. And if you live close enough to Denmark, you might want to even go back and forth for a few months and get the Season Pass instead. Believe me, it'll save you much on entrance fees.
What to Explore in Legoland
Families visiting Denmark will not be frustrated at all. With several wonderful tourist spots for kids around, letting your children experience an unforgettable holiday is the right decision. And if there's one great attraction that you and your kids should not miss when in Denmark, it's the Legoland in Billund.
Lego is synonymous to Denmark. This popular international toy was born in this country and even has a special place built to attract kids and adults alike.
This 10-hectare Legoland park that opened in 1968 is about three hours by train from Copenhagen, the capital of Denmark. Here, kids will have a grand time with the rides and entertainment. Popular landmarks made of hundreds of thousands of Lego bricks are here so you don't need to go far away. Some rides worth trying out are the Lego Safari which will let you hop on a zebra-striped jeep and go past life-size Lego animals. For some adrenalin rush, the Power Builder is great to try.
Right after a whole day of touring the park, you can rest at the hotel within the complex and enjoy some more Legoland sculptures. There's also a Legoland Village that offers cheaper accommodation for the budget travelers.
The place is actually a mini city what with its own hotel, bank, post office, tourist office and an airport.  Each year, more than 1.6 million people come to this place which makes it the biggest tourist attraction outside of Denmark's capital of Copenhagen. Entry ticket to this unique park is 259 DKK for adults and 229 DKK for kids and senior people while children two years old and below are free of charge. The park is open daily until October 25 and then on weekends in November for the Christmas in Miniland.
Currently, there are four Legolands around the world in England, Germany, the U.S. and Denmark with this one in the Scandinavian city the biggest and oldest of them all.
Celebrate Halloween in Legoland
 Halloween is a yearly celebration in a number of countries all over the world on October 31.  It is on the eve of the Western Christian Feast of All Hallow's Day.  Most children are looking forward to this occasion for this is the time when they can dress up as vampires, ghouls, or goblins and go trick or treating.  In most countries, children often gather together with their friends and knock on doors to get their treats.  Some adults on the other hand, hold Halloween costume parties, programs and events.  It is a holiday that many people enjoy.
In Denmark, you can celebrate Halloween in Legoland.  It is an amusement and theme park.   You have the chance to ride the attractions together with your kids, like the lego boat or train or some of the big rides.  The lego constructions are amazing. It is a great place to have fun with your entire family.  Your little ones can have eerily fun for the entire autumn week.  When ghosts, bats, spiders and lots of pumpkins turn the park into a creepy Halloween universe, it is a marvel to behold.  There are also several programs and events that you can enjoy when TV stars Monster and Joakim take center stage.   They perform from Monday to Friday.   
Age doesn't matter so this visit is recommended for everyone.  The best option, however, is a two-day ticket and not on the weekend because of the crowd.  You and your family will surely be on the edge of your seats as you enjoy the hair-raising entertainment.  So, you can just take a deep breath and get ready for the chills and thrills for the whole family.