The City Center Copenhagen is evidently the first point of call for any visitor to Copenhagen who is seeking a place to stay for the night.
There are different categories of hotels in Copenhagen city center. Find out the one that suit best your budget in our article. The neighborhood of the City Center has everything a first-timer in Denmark could desire. Its versatility sets it apart from the rest of the district.
As travelers walk the streets, workers keep cycling. All of this area is photogenic, most travelers just enjoy walking along the streets, going for some cup coffee or taking pictures of the beautiful places as they go.
The narrow streets are along the historic canal of Nyhavn. Naturally, one of the nicest ways to explore the beautiful canals is by boat. Many tour operators start their outings from Nyhavn.
City Center Copenhagen District
The municipalities of Copenhagen have 10 designated administrative districts:
Indre By,
Valby,
Vesterbro / Kongens Enghave,
Nørrebro,
Amager Vest,
Østerbro,
Amager Øst,
Brønshøj-Husum,
Bispebjerg.
You can find hotels in Copenhagen near city center to lodge in any of these districts. They serve administrative and fiscal purposes but are not municipalities, as they are not autonomous, legislative subdivisions.
Historical Indre By Copenhagen (city center)
Wonderful architecture and the best shopping place in Denmark for first time visitors. A good place to spend a short holiday in Copenhagen, Indre By is the old center of the city, full of cafes, bars, and restaurants.
It is small enough to visit many of the most popular tourist destinations on foot, but you will lose yourself many times through crooked roads, and winding channels.
Wandering around the lakeside, The Botanical Garden, which houses Denmark's most significant collection of Scandinavian plants, is a world-famous sight that tourists will come across. And the Danish Design Center holds exhibits that show innovative new designs and classics for all to see.
The best time to tour this amazing location could be in the afternoon since no traffic is on sight.
Hotels in Copenhagen city center: for what type of travelers?
Culture Vultures,
Social Travelers,
Visitors,
Parents,
Whistle Stop Travelers,
Big Budget Travelers,
City Slickers,
Active travelers,
Sightseers,
 Families,
Art lovers,
Budding Historians,
Couples
Top Attractions to Do and See in Indre By Copenhagen
After settling down in one of the beautiful hotels in Copenhagen city center or hotels in Copenhagen near city center, the next thing in the mind of every tourist and traveler should be sights and sounds of the city.
A walking distance will get you to some while others may require a boat tour or other transportation means.
1. Tivoli Gardens
Founded in 1843, Tivoli Gardens Copenhagen has become the city's national icon and a global attraction. 
Part of the secret of Tivoli Gardens is that it holds something for everyone. The landscape is stunning with tropical architecture, historical buildings, and flourishing gardens.
At night, hundreds of colorful lights create a unique fairytale atmosphere. You should book your skip the line ticket ahead (here) to save time there.
2. Amalienborg Palace
Amalienborg Palace, is a must for anybody who is fond of royal history and also the life of the royal family of Denmark. 
Amalienborg is made up of four similar buildings. It is the Palace of Christian VII, often referred to as "Moltke" Palace. It was used as the Guest Palace for the Prince Joachim & Princess Benedikte.
Entry to the Palace is included with the Copenhagen Card (book here). If you plan to enjoy many of Copenhagen's attraction, this could be a good option!
If you better want to know more about the monument, join a guided tour started from $33 with a professional.
3. Amalienborg Museum
You can find the Amalienborg Museum in this building.
Learn the royal tradition at the museum and feel the presence of any of the oldest monarchies in the world from the beautiful square of the palace from which you can watch the guards change. 
The Amalienborg Museum displays the personal materials of its most contemporary Kings and queens as well as the exhibit on monarchy with its many different traditions in the past and present.
The museum extends over 150 years down to Christian IX and as well Queen Louise who had been on the thrones of Greece, England, Russia, and Denmark. They are fondly referred to as the In-laws of Europe.
4. The National Museum
Denmark National Museum located in Copenhagen has displays from the Stone Age, the Middle Ages, the Renaissance, the Viking Age, and Danish Modern History.
The Prince's Palace, built-in 1743-44, houses the National Museum. The royal family no longer uses it, but the Grand Hall still seems as majestic to suit princes and princesses.
The Gallery consists of a large corridor linking rooms and bedrooms with lots of spaces. The furnishings and stoves date back to the beginning of the 18th century.
Book your ticket here to access the Museum and the permanent exhibitions.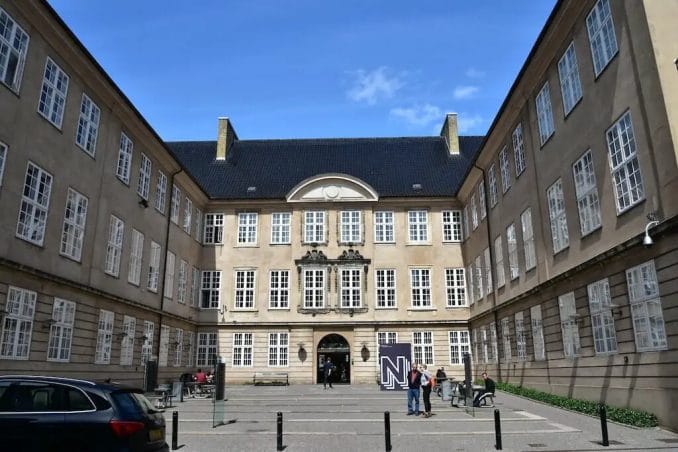 5. The Round Tower
The Round Tower, or Rundetaarn, tower built as an observatory in the 17th century, is Europe's oldest observatory.
It is one of the historic architectural projects of the king, Christian IV of Denmark. The uniqueness of the design can be seen in the staircase patterns.
The observatory is surrounded by an outdoor platform that gives a wonderful view of Copenhagen.
6. The Little Mermaid
Revealed on August 23, 1913, the Little Mermaid was a gift from the Danish brewer called Carl Jacobsen. The bronze and granite sculpture was influenced by the fairy tale of Hans Christian Andersen.
The statue is a bronze design showing a mermaid sitting on a rock by the sea. It is about 1.25 m tall and weighs 175 kg.
Board a canal cruise to observe the statue from the water and live a one-hour great experience (book here).
Find the best hotels in Copenhagen City Center
Top budget Hotel Copenhagen City center
For individuals on budget, there are top budget hotels in Copenhagen city center to choose from. That said, the hotels cannot accommodate everybody in the city center, there are other hotels in Copenhagen near city center.
This hotel in Copenhagen City Center is situated just 250 meters from Kongens Nytorv. You get free Wi-Fi and luxurious suites. Both Strøget & Nyhavn are a 5-minute walk away.
This budget option may just be a two-star choice but it is moderately- equipped and in a prime location (less than a 10-minute walk from Kongens Nytorv's metro station), with a dedicated staff.
It is sleek and streamlined inside. Visitors can use laptops and lease bicycles.
In the summer there is a garden, ironing room, and a baggage storage room.
The starting price for this hotel is $94 at low seasons. Expect is to cost over $100 at high seasons.
Top comfy hotel in Indre By Copenhagen
Situated right there close to the city lakes, hotel Kong Arthur is an eco-friendly hotel in Copenhagen City Center that gives its customers the best treat in Nordic-style breakfast buffet spiced with organic foods.
There is free Wifi installation. The spa has hot tub and sauna for good relaxation.
Going back in history, the hotel now provides modern rooms and cable TV. They uphold the standard in their coffee and tea provisions including minibars.
The in-house dinning comprises both Spanish and Italian cuisines. The bar opens 24/7 for all visitors.
A 10 minutes' walk will lead you to Norreport Station, and a 15minute ride from the Copenhagen airport. It is also not too long distance away to Trivoli gardens and the shopping street in Indre By Copenhagen. You have the comfort of a double bed that conveniently sleeps two adults at the cost of $157 per night if decide for this hotel.
Top luxury hotels Copenhagen city center
Travelers and tourists who seek to find luxurious hotels in Copenhagen city center will find lots of them to choose from. They are available in various prices based on amenities.
This is a waterfront hotel that stands adjacent the Tycho Brahe Planetarium. It is located half kilometer from the Copenhagen Central Station and Tivoli Gardens.
The rooms are well furnished with free Wifi, and a gym that opens all day long. Other facilities include the bathtub, cable TV, air cooling system and other notable amenities.
The eco-friendly hotel in Copenhagen City Center leaves its visitors comfortable in the morning with a free breakfast service. Other general amenities include playing ground for children, sauna, a snack shop and two bars. Price varies depending on the room type. For a small double room accommodation, an affordable cost of about $144 is the rate while the standard twin room costs about $197.
Downtown hostels Copenhagen
This hostel provides a popular bar, with live music. It is just 5 minutes from the Tivoli Gardens and the City Hall.
Copenhagen Downtown Hostel is new with clear rooms and have shared or private bathroom facilities.  ⠀
There is a small charge for luggage space in the hostel. Guests can unwind in the lounge or relax in open spaces available.
Copenhagen city center is just 500 meters from Strøget, the major shopping street. The central station of Copenhagen is a 10-minute walk away. The cost per night comes in different price range based on the accommodation type. A twin room with private bathroom costs about $90 while a quadruple room with shared bathroom costs much less with only about $74 per night.
Steel House Copenhagen is a new, contemporary hostel located 5-minute walk away from Tivoli Gardens and the Copenhagen Central Station. It has a café, restaurant and indoor swimming pool. Wireless internet access is available and it's free.
Steel House provides private rooms and sleeping accommodations. The bedrooms come with lockers and comfortable power sockets per bed and have access to shared facilities. There is a private bathroom with a shower in the private rooms.
A 24-hour reception desk is provided. Occupants have a shared kitchen and a bike rental service to explore Copenhagen.
Brygge Islands is 3.3 kilometers from Steel House. The property is 8 km from Copenhagen Kastrup Airport. The twin room with two bunk beds costs $84 per night while the double room with private bathroom goes for $88 per night.
Airbnb or B&B in City Center Copenhagen
Visitors to the city center can find Airbnb facilities to stay for the night when on tour of Indre By Copenhagen.
Private rooms with some shared facilities are available for the night at very affordable rates ranging from as low as $20 to less than $100 for the night.
Travelers who chose this option over a full-fledge hotel facility can head on to the official website of Airbnb for reservations or book a night.
Conclusion on the best Hotels in Copenhagen City Centre
Tourists and visitors to Copenhagen city center can be sure to have a good time during their visitation as they tour the city center. If anything can be guaranteed, the hospitality industry I the city is one.
A good trip is one that is adequately prepared for with a place already available to pass the night, book a night today.
Related articles