Vesterbro is a calm, peaceful and well-planned Copenhagen neighborhood. A firm favorite haven for local young people and backpackers, the neighborhood puts on a beautiful look. 
It is one of Copenhagen's most popular neighborhoods with a wide selection of cafes, bistros and concert venues and hotels. Many tourists who search for Vesterbro hotel Copenhagen on their arrival get one in no time for the night. Several great hostels and private apartment rentals are open here. Here is the good reason many choose this area over other Copenhagen districts.
Vesterbro Going through the Thick and Thin
Vesterbro is a city center that was once known as a working-class neighborhood and a red light district. It has seen both the low and high times but has currently recovered to be a stable district in demark where the young hearted find home.
The place has metamorphosed into a place for families, trendy shops and restaurants. Never miss visiting Vesterbro when you visit Copenhagen. 
Vesterbro Copenhagen district
The district sits west of the beautiful city center, which has historically been seedy but has been restored recently. The official city museum, the Copenhagen Museum, provides interesting insights into the region's history and buildings.
You can also take the Copenhagen Card for save more money !
Vesterbro's Meatpacking cultural district consists of a cluster of buildings & roads. It's packed with museums, bars, and excellent restaurants as well as night out spots.
Vesterbro spans the lively atmosphere of the Central Station of Copenhagen from the serene Vestre Cemetery to the flourishing Sydhavnen district.
Vesterbro Copenhagen: For What Type of Travelers?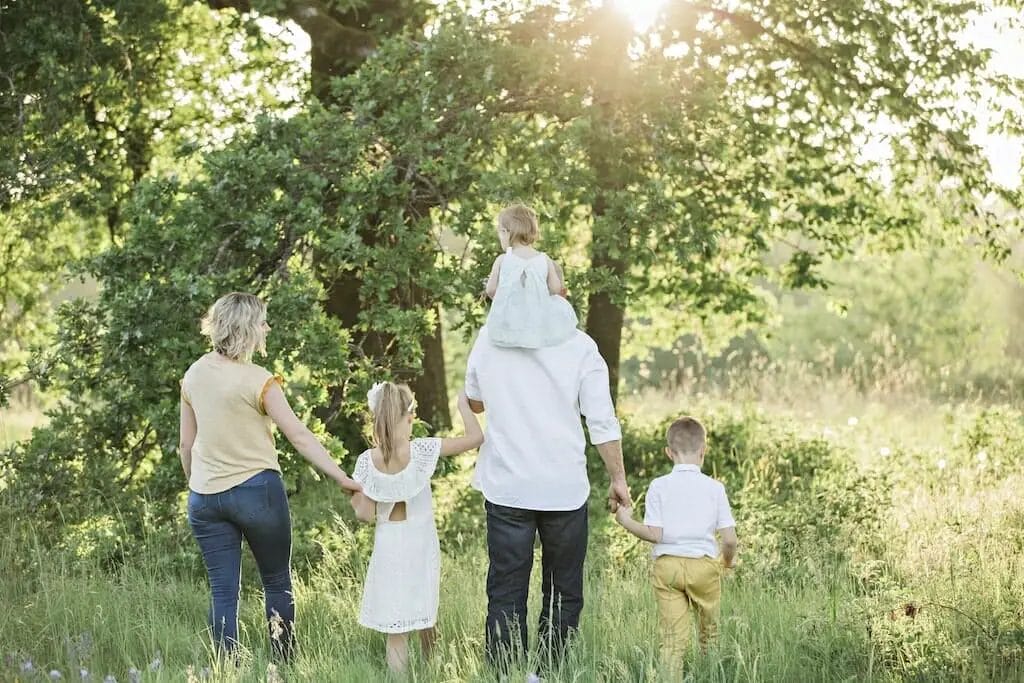 Families with children and older people have lived around here since this part of the city was a working-class neighborhood. The area is dominated by the young making the district one of the busiest in entertainment and fun activities.
The city is visited by different groups of travelers every year including active travelers, budget travelers, art lovers, City slickers, couples, local travelers, music lovers and other casual visitors who are just passing by.
Top Attractions to Do and See in Vesterbro Copenhagen
There is no separation between the streets in Vesterbro when talking about the attractions on what to find and see around the area. Every street has its own uniqueness.
Beside the major attractions, it boasts of a large number of spots for individuals and groups.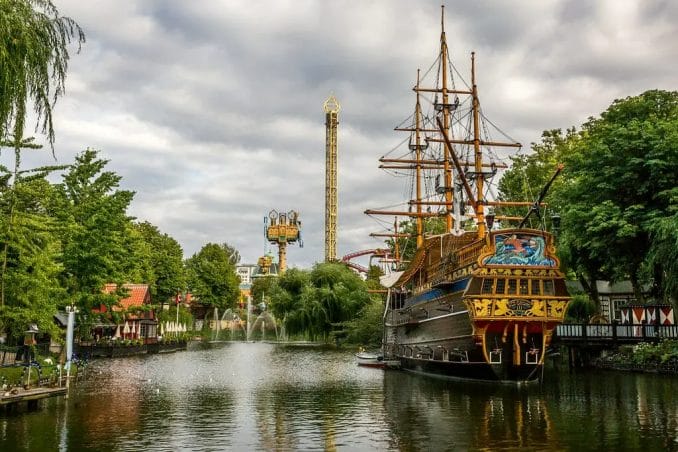 Tivoli Garden has become a popular Copenhagen amusement park. It is near the district of Vesterbro. The Tivoli Gardens, one of the oldest parks in the world, opened in 1843 and it has been an exciting place since then.
In addition to being a fun park, Tivoli also has a relaxing spot in its lovely Japanese-styled gardens.
You can book the big tour of Tivoli Garden just here !
You can book the "skip the line" for Tivoli Gardens just here !
2. Det Ny Teater
Det Ny Teater was opened in 1908 and has been a popular theater for over a hundred years. This spectacular house, spread across crossroads from the city's main street, Vesterbrogade, to Gammel Kongevej.
It is one of Northern Europe's most beautiful theaters and one of the biggest in Denmark, covering about 12,000 square meters. It was revived in 1994 after years of restoration and won the coveted Europa Nostra Prize.
The arts, in particular, performed popular musicals and theatres, including The Phantom of the Opera, Billy Elliot, Les Misérables, and Evita.
3. Sønder Boulevard
Sønder Boulevard in the center of Vesterbro Copenhagen is a large, green area. The area has a bike path, numerous playgrounds, and pitches for ball games and gardens. Make sure to enjoy a nice picnic with the family in its lots of green areas for.
4. Istedgade
As the main shopping street of Vesterbro, Istedgade is full of a variety of shops, and restaurants. The road crosses Vesterbro and connects the central station of Copenhagen to Enghave Park.
You can make a stopover at Donn Ya Doll for trendy jewelry and Girlie Hurly for every interior design needs. Check out RUDE for vintage clothing or Asfalt for women's wears.
There is just something for everyone to pick up in this street.
5. Skydebanehaven
Skydebanehaven is a small public park that got its name from the sports outfit: Royal Copenhagen Shooting Society. Located in the center of Vesterbro, the site is renowned for its wall that was built-in 1887 to protect passengers from the neighboring Istedgade.
6. Værnedamsvej
Located between Frederiksberg and Vesterbro, this charming, chintzy street is a place where local people gather and enjoy good cuisines under a warm climate.
This is a shopping street that is often called the Copenhagen's Little Paris, a road reflecting a vibrant French atmosphere. Enjoy a cup of coffee in Granola, taste Danish cheeses in Helge's Ost, and try homemade organic chocolate bars at Summerbird. There is plenty of tasty food and drinks here.
7. Halmtorvet at Vesterbro
What used to be a gritty and seedy area in Vesterbro is today one of the district's attractive showpieces and a popular hang-out place for the locals. Halmtorvet ("Hay Market") is a public square located beside the Copenhagen Central Station and a walk away from Istedgade, another popular meeting point in the area. It was originally built right in the present-day location of the City Hall Square and was for a long time the place a meat market and where numerous bales of hay and straw used for the cattle and horse stables around the city were traded.
The haymarket was closed during the early 20th century and the area quickly fell into degradation – it remained busy but has acquired a certain ill repute. Fortunately it was rehabilitated from the 1990s to early 2000 and with the re-zoning and architectural make-over Halmtorvet began to attract better crowds. The first thing visitors will notice at Halmtorvet is the bright, lively and easy going atmosphere of the square.
Cafes, bistros and restaurants line both sides of Halmtorvet and in the center is a fountain and an open square where people would hang around. A notable attraction in the area is Oksnehallen which is a venue used for cultural exhibitions all year round. There is also Husets Theatre which is a small theater with mostly Danish shows. Halmtorvet is also one of the concert venues during the "Copenhagen Jazzfestival." And from April to October, there is a big outdoor flea market that opens during the weekend.
Find the Best Vesterbro Hotel Copenhagen
Top Budget Hotel
Travelers who are on a budget and still want to enjoy their tour of the beautiful Vesterbro community can do so in an accommodation that meets their budget. There is one budget Vesterbro hotel Copenhagen around that provide moderately good facilities for travelers. It is indeed one of the locations where youths mostly converge in the city center.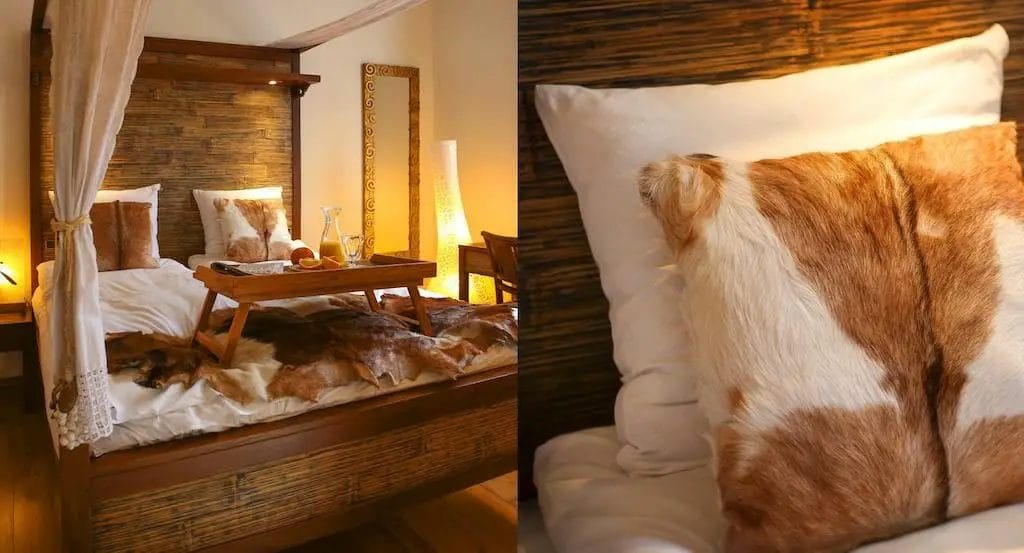 Carlton Guldsmeden is a good pick if you're searching to find an affordable yet comfortable place to stay for the night.
This boutique hotel in the lively district of Vesterbro has a spa and spaces with distinctive décor, free internet access and flat-screen TVs.
It is a 5-minute walk from the Tivoli Gardens as well as Copenhagen Central Station.
·      At low seasons the rates are often within the $103 cost.
You can book a night right away or expect to spend more when the season is on a high.
Top Comfy Hotel
Perfect for luxury lovers, Comfort Hotel Vesterbro is one of the cheapest options in the heart of Copenhagen. With a spacious lounge area with plenty of chairs, Comfort Hotel is perfect for road travelers. The hotel offers free Wi-Fi, and breakfast among other notable amenities for travelers comfort.
When in high season:
·      The small double room goes for $117 per night while
·      The standard double rooms go for $126 for the night.
For more options that meet your accommodation to book a night before arrival, check on the listing available.
Top luxury hotel
Built around the vicinity of the famed Tivoli Gardens in Copenhagen, this luxurious boutique hotel is located in an elegant building that is designed in the Moorish style. It provides on-site lounge and rooms with a flat-screen TV among other modern amenities.
All of the Nimb Hotel rooms showcase stylish rooms with old furniture and beds. Each bathroom is fitted with a double sink and a tub. There are also luxurious toiletries and bathrobes for visitors. There is a fireplace and a relatively cheap-standing bathroom in selected rooms.
Premium service and luxury catering
The Nimb Brasserie and the Terrasse, both spacious areas, offer clear views of Tivoli Gardens. Seasonal Scandinavian meals and French cuisine are available to guests. Bar' n' Grill offers fish and steaks, drinks and exclusive whiskies for guests to fully relax.
The elegant Nimb Vinotek, designed by Hans J Wegner, serves good wine and light meals. In a Victorian ballroom with candlesticks and a wood fire, the Nimb Bar is set.
Nimb Hotel will assist in arranging private limousine transportation to and fro Copenhagen Airport, which is just about 8 km away.
For its luxurious finishes, you'll get the;
·      Small double rooms at the rate of $416 per night
If the ultimate comfort is what you seek, find one in this hotel as you book a night.
Vesterbro hostels Copenhagen
Copenhagen Backpackers offer cozy accommodation in dorm beds within a minute's walk of Copenhagen Central Station or the vibrant Vesterbro Copenhagen district.
Just 100 meters from the central station of Copenhagen, the hostel offers dormitory rooms and free internet. Tivoli Gardens is about 350 meters from the hostel. The popular shopping street of Strøget is a 10-minute walk away.
All rooms come with shared bathroom facilities. Guests can lounge on the terrace during the summer and enjoy the BBQ. A beautiful setting for drinks and snacks is available in the lounge area.
Staff may suggest lunch or dinner in nearby cafes and restaurants. Tourists can get to rent bicycles in this hostel.
·      At $59 per night, travelers can have the double room with shared bathroom to themselves
·      If you go with the option of a bunk bed in a mixed 18-bed dormitory room, the cost is $15 for the night.
The simple yet elegant hostel is located in the center of Copenhagen, 10 minutes ' walk from the city attractions like the Tivoli Gardens and also the shopping street of Strøget. Free WiFi is available in all regions. 
With all personal and dormitory rooms available, Danhostel Copenhagen City provides stunning views of the center of Copenhagen.
At check-in, bed linen and a towel are given. They are very professional in taking care of guests to make them feel comfortable.
·      The rate per night for the standard triple room is about $80 during high seasons.
Airbnb or B&B in Vesterbro Copenhagen
If you only a place to pass the night with a minimal comfort in a bed and breakfast service, this is the best location you can find one. Private individuals offer this services as well as organizations.
Vesterbro is one place travelers can find a lot of BnB or Airbnb facilities for the night. This can be easily accessed by searching on the official website of Airbnb. There are so many of them to pick from. Both private homes and company managed facilities are on ground for rent.
Conclusion
A visit to Vesterbro can be just what you seek for a remarkable tour. Just like other districts of the city, you will find lots of small streets, plenty of relaxing spots and good food to keep the mood going.
If you're planning a trip to Vesterbro for the first time, it is ideal to keep taps of the location and what to expect when you finally arrive. Hotel reservation and bookings is very important in this business. Start booking your nights here
Related articles