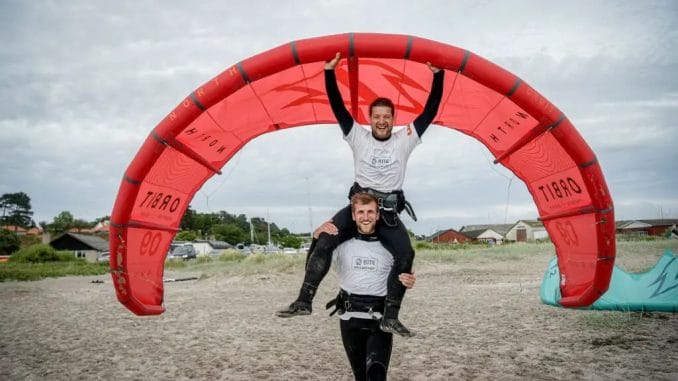 If you want to explore the benefits of the Danish nature such as the water and wind by the coastline, while feeling the sun on your cheeks and the adrenalin in your heart and are lacking inspiration for activities this summer then you should consider putting kitesurfing on your to-do list this summer. And don't hesitate, because Kitekollektivet offers kitesurfing courses around Zealand.
Kitekollektivet's mission
Imagine a unique combination of surfing and paragliding and one of the fastest growing sports in Denmark, and there you have it – kitesurfing! Kitekollektivet was founded with the ambition of teaching you how to get on board and kitesurf the waves. Kitekollektivets vision is to create an inclusive community where all levels of kitesurfers can meet up on the beaches on Zealand.
Their experienced instructors are able to teach and help all levels of kitesufers develop their skills, so whether you are looking for help with your first experience or need guidance on how to do your first jump – then Kitekollektivet's experienced instructors are ready to help you get to the next level.
Take advantage of the Danish coast for kite
The Danish nature has a lot to offer, and there has previously been a misconception that you should go abroad to surf, but if there is something special that Kitekollektivet hopes the Danes have taken with them from the time with Covid-19, is the fact that the Danish nature has a lot to offer – and here wind and water make the Danish coasts ideal for kitesurfing.
Statistics show that due to the bizarre time with Covid-19 the Danes have used the Danish nature much more compared to the times before, and perhaps they have even rediscovered the love for the Danish forests, beaches and other wonders that the Danish nature has to offer.
Kitesurfing courses
Kitekollektivet offers private, group-, and team courses, so you can choose your preferred settings when getting on board and starting your experience with the adrenaline-filled sport in a safe environment. The ambition is to follow and help you all the way – from your first time on the water, to buying your own equipment and until you become a skilled and independent kitesurfer. 
So, think about if you would prefer a 1:1 training, bring a friend or go to a kitesurf course a bigger group – whether it is a team building day for the department, the sports teams or a bunch of good friends, who want to try something new. Common to all courses is the ambition that everyone has a skilled starting point of stand even after completing the course. 
Read more about it, here
Kitekollektivets community
The goal is to make kitesurfing a team sport, where all levels of kitesurfers can unite on the beaches on Zealand both for kitesurfing and social events. It is possible to be a member of the Kitekollektivet, with the benefits of saving money when taking courses, be a part of the community and internal Facebook group filled with social talks and tips and tricks. The membership costs 500 DKK per year and includes a rashguard.
At the heart of the community are people, who spread joy and smiles. People who have learned to kite and want to share the experience and help. It is through interaction and relationships that Kitekollektivet is established. The courses are built on a common set of values and an ambition to bring our community and high quality together in one education. Through the courses they want to teach everyone to kitesurf safely and with optimal joy and fun. 
Where and how kitesurf in Copenhagen
Kitekollektivet surfs different places on Zealand: Sydvestpynten(Amager), Near Café Sylten(Amager), Lynæs, Nivå, Farø (Bogø), Sanddobberne and Landerslev. Group teaching takes place on Amager every Wednesday at 5 pm, so you have the opportunity to go straight out into the fresh air after work.
To participate in one of Kitekollektivet's courses, simply bring: Swimwear, towel, good mood and clothes that suit the weather conditions, as the course starts on land. If necessary, bring some snacks, drinks and sunscreen. Read more about Kitekollektivet, here https://www.kitekollektivet.dk/
Equipment
Kitekollektivets together with Kitesport.nu and North prioritizes your safety and are securing that you are teaching how to kitesurf with the latest and safest equipment. Also, Kitekollektivet are extremely focused on the students safety and have made an insurance with Codan, covering you on all the courses. 
Kitekollektivets instructors 
Kitekollektivets instructors have many years of experience and are all certified instructors. Common to them all is their passion for kitesurfing and their focus is to help and develop your skills in a safe and good environment.
Wind and weather
If the weather forecast doesn't seem promising the course will be moved. All courses have full wind guarantee due to the need for at least 6 meters per second and the wind must from a western/ southern or easterly direction. Other weather phenomena can also mean cancellation. 
Contact information:
Video and social media: