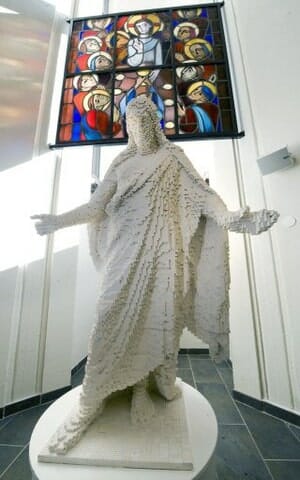 The use of the Lego brick toys in creating just about any figures has truly amazed people around the world, young and old alike. These genuine Danish brick toys have been made into buildings and movie sets of popular themes including the animated ones. In fact, the Danish toy maker has said it will continue to buy the rights that will allow it to make replicas of Disney and Pixar films in the future.
Now, the latest figure to be recreated with the use the Lego bricks is that of Jesus Christ. This one was not done by the toy manufacturer, though, but with the help of some 40 volunteers in Sweden. The Lego statue copied the sculpture of Danish artist Bertel Thorvaldsen entitled "Christus" which is displayed in Copenhagen.
The Lego figure of Jesus standing with his arms open wide was unveiled on Easter Sunday by parishioners of a church in Sweden. The 1.8-meter-tall status was built using some 30,000 Lego blocks all colored white and it took the volunteers one year and six months to complete it. That's truly an amazing feat, I should say.
When the Lego statue of Jesus was unveiled behind the altar, the Protestant church of Onsta Gryta in the Vasteras City of Sweden was jampacked with some 400 parishioners. As expected, the children attending the service with their parents were very amazed as well that some even really went near the figure to the touch it. Additionally, the church spokesman Per Wilder said that although the statue of Jesus appeared white on the outside, many of the Lego blocks donated to the church were of varied colors.