This great Renaissance-style castle in Copenhagen is a popular place to visit when in Denmark. Rosenborg Castle is built in the 17th century and it is a great example of Renaissance-style architecture.
The extensive grounds and striking appearance make it a popular place for tourists to visit when in Denmark.
Interestingly though, despite the Danish Royal Family not being too far away, the Rosenborg Slot Copenhagen (Slot being Danish for castle) has only been used as a royal residence on the odd occasion.
The History of Royal Copenhagen Rosenborg Castle
The castle was built in the early 17th century by Christian IV who was looking for a summer palace "far away" from Copenhagen.
He often stayed here and grew to love the place for its tranquility. He even passed away here in 1648.
The castle then was given to his son Frederik III who restored parts of the structure, but it was essentially abandoned in the 1700s as the royals preferred to live in Frederiksberg Palace.
It became, during the 1700s, a place to store art – from other palaces damaged by fires for example.
Eventually, a vast collection of works amassed, and an idea arose to turn it into a museum. The Royal Danish Collection was therefore created to show the works in 1833.
What To See In Rosenborg Castle Copenhagen
There is a vast array of art and other valuable pieces on display in the Rosenborg castle and treasury.
This includes the Royal Thrones, elaborate tapestries and well as some of the rooms preserved in time. The stunning Danish crown jewels are to be found here as well.
Will You Catch Rosenborg Castle Changing Of The Guard?
The changing of the guard happens at the nearby Amalienborg palace.
But the famous Danish Royal Guard marches there from their barracks at Rosenborg Castle. They leave the 100 Gothersgade address just before 12 and make their way to Amalienborg.
Closer Look At Rosenborg Castle Interior
Much of the Castle is open to the public and as a result you can see lots of rooms that are basically preserved in time.
This includes Christian IVs bedroom, writing room, and even his toilet! You can also see ballrooms, dining rooms, and elaborate corridors. Make sure you look up! The ceilings are stunning!
Get a feel for just how beautiful the interior before you visit Rosenborg Castle by taking a look at this well-made virtual tour.
Beautiful Rosenborg Castle Gardens Copenhagen
The 17th-century gardens of the Rosenborg Palace are open to the public and can be explored at any time.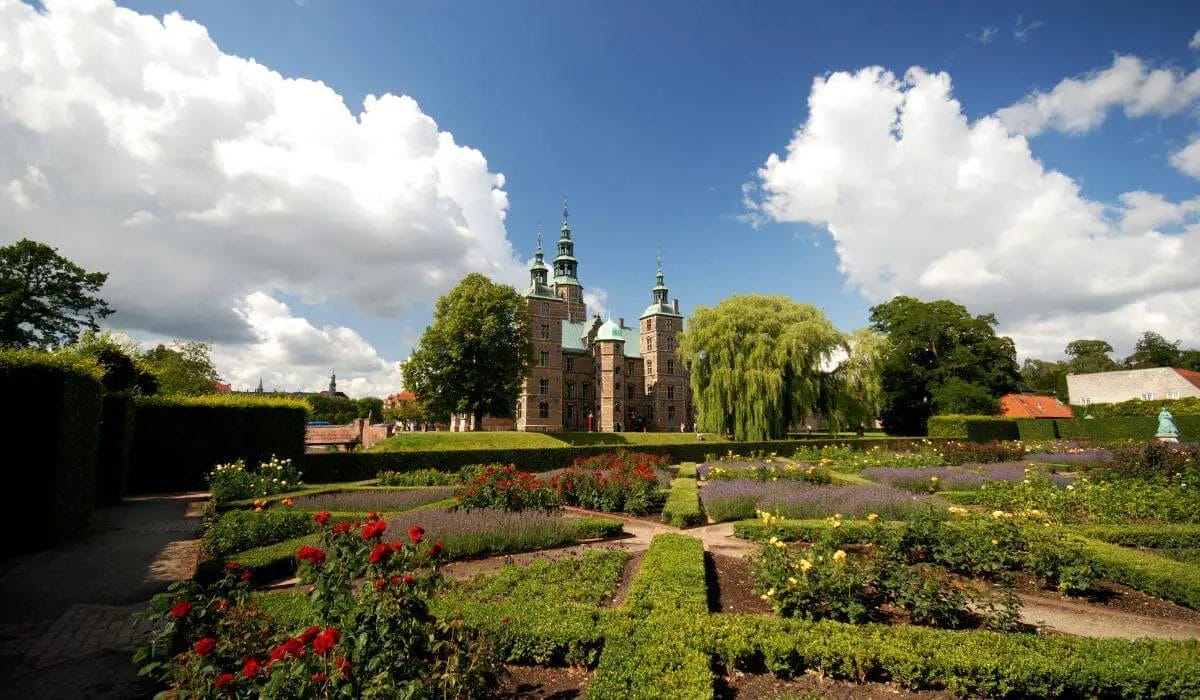 Here you can find beautiful art and sculptures as well as stunning tree-lined avenues and well-manicured lawns.
Most Visited Rosenborg Castle Guided Tours
Trying to understand the best way to visit the Rosenborg Castle?
Then perhaps take a guided tour! That way, you won't miss out on anything. Examples of good guided tours of the Rosenborg Castle include this one here.
If you don't want a guided tour you can take the Rosenborg Castle Audio Guide when you get there.
TOP TIP – If you have a Rosenborg Castle Copenhagen Card visit on your Copenhagen Card then you can get free entry! Otherwise, it's 125 DKK for an adult ticket.
Visiting Rosenborg Palace With Kids? Do This!
The top things to do with kids at the Rosenborg palace include:
seeing the Crown Jewels
letting them burn off some energy in the gardens
and finally watching the Danish Royal Guard begin their procession at midday
These can all be done as part of the guided tours of the Rosenborg Palace.
Distance From Famous Places
Rosenborg Palace is located 12 minutes on the bus from Christiansborg Palace (line 23) and a 16-minute walk to Amalienborg!
You can get there from the central station by train in just under 12 minutes, but it is also just a 26-minute walk from the center of town to the Rosenborg Palace. Copenhagen is pretty compact!
How Much Does It Cost To Tour Rosenborg Castle – Tickets
If you do not have a Copenhagen Card then you will need to book tickets.
Guided tours should be booked at least 2 weeks in advance. The Rosenborg Castle price is 125DKK for adults. Students are allowed entry for 80 DKK, and kids are free.
Get Rosenborg Castle Copenhagen tickets here online.
What Time Is the Castle Open?
Rosenborg Castle Copenhagen Opening Hours are every day from 10am to 4pm.
Where Is Rosenborg Castle Located?
The Castle is on the Oster Voldgade. How to get to Rosenborg Castle?
Well, since Copenhagen is pretty compact you are never actually that far away.
Most hotels and attractions will be about a 30-minute walk. You can also reach it by train from central station to Norreport Street.
Where To Stay Near Royal Copenhagen Rosenborg Castle
There are plenty of hotels for which to choose in Copenhagen, and many that are within walking distance of the Rosenborg.
For a splurge or special treat, try Nobis. It is just a 1.5km walk from Rosenborg Castle Denmark – but its exquisite rooms will set you back around €500!
For something a bit more manageable for most budgets, the Generator Copenhagen offers a sleek modern interior with rooms for just €120 including breakfast.
---
Frequently Asked Questions
How far of a walk from Rosenborg Castle to Marmorkirken?
You can walk this in about 20 minutes.
Who was the last king to live in the Rosenborg Castle?
Officially it was Christian IV – his descendants didn't care for it much although his son Frederik lived there for a time and extensively refurbished it.
How much time do I need to visit Rosenborg Castle?
Cover this castle off in about 3 hours.
Is there parking at Rosenborg Castle?
It's best you leave your car at a carpark in town and walk to the Copenhagen Castle.
Who lived in Rosenborg Castle?
Christian IV was the most famous resident.
What are the materials used to make the Rosenborg Castle?
It is mainly constructed of red brick.
When was the Rosenborg castle opened as a museum?
The Royal Danish Collection was established in 1833.
Conclusion
Try to get over to the Rosenborg Castle when you are staying in Copenhagen!
If you want to see a handful of sites when in town, then you may want to consider a Copenhagen City Pass to help control your budget.
---