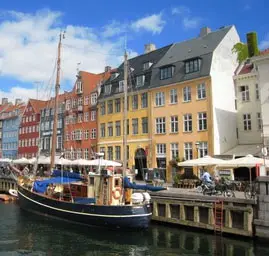 Many visitors to Denmark consider its capital of Copenhagen to be an expensive place to visit. If you go to mostly the high end restaurants, shops and hotels there, of course your travel will definitely be an expensive one. But the truth is, not everything in the capital is heavy on the pocket. If you're resourceful enough, you can enjoy your visit to the city without having to spend so much.
For the Swedish travelers, Copenhagen is actually the cheapest destination to go to. A research conducted by American Express entitled European Corporate Travel Index proves this. Of the 20 cities covered in the study, Copenhagen showed up to be the cheapest place that people from Sweden can visit.
The Travel Index research looked into the cost of traveling based on U.S. dollars from selected cities in Europe to 20 major cities around the world. Factors taken into account were air travel, hotel accommodation for one night including meals and taxi transfers from airport to the heart of the city.
Findings from the study showed that from Sweden's capital Stockholm, traveling to Copenhagen for a two-day stay costs only $586 whereas a trip to Paris, France would be the most costly for a Swedish national at $1,439. Spain's Madrid follows after France at $1,427 and Amsterdam comes next at $1,274.
After Copenhagen, the second cheapest place to visit if originating from Sweden is Brussels in Belgium at $809 or 38 percent more expensive while London is double the price of going to the Danish capital. With recent developments in Copenhagen's infrastructure, it is actually now very easy to go around the city. From the airport, you can take a train instead of a taxi and spend only less than $4. You just relax during your train ride that takes 13 minutes and then you're in the city centre already before you know it.
So if Swedes can visit Copenhagen the cheap way, there's no reason why you can't do it.