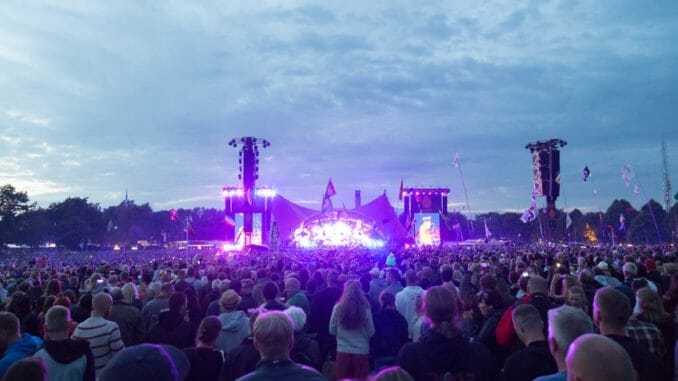 Summer is almost upon us. For music fans, that means it's the beginning of festival season. It's a magical time of year but going to a festival is often intimidating for first timers. The throngs of people, the sun, the costs of accommodation, and food can all be prohibitive factors. Popular American festivals like Coachella, Bonnaroo, and Lollapalooza, offer visitors a chance to experience wide varieties of music at a low relative cost. Also, the camaraderie that comes with camping and sharing musical tastes is unmatched. A festival is a right of passage for today's youth. It is chance to experiment with music, food, and independent living, if just for a few days. Europe has its share of fantastic festivals including the transcendent electro-fest Tomorrowland (Belgium), the urban island experience of Budapest's Sziget Sound (Hungary), and the radio friendly Pukkelpop (Belgium). In fact, almost every major European city has a giant festival during the summer. However, one of the biggest, most accessible, and attractive festivals in Europe flies a bit under the radar. Denmark's Roskilde Festival features massive acts, wonderful facilities, and an extremely upbeat vibe. Furthermore, Roskilde Festival keeps that traditional spirit of togetherness and anti-commercialism that many festivals now disregard.
Roskilde Festival began in 1972 as a small student-run experiment at a fairground about 30 minutes outside of the Danish capital of Copenhagen. Plagued by poor management and a true do-it-yourself spirit, Roskilde Festival struggled to attract mainstream attention until the 1980's. Buttressed by the purchase of a used stage from the Rolling Stones 1978 tour, Roskilde Festival started to book artists that brought in visitors from outside the "countercultural" scene. This neon orange "Canopy Stage" is now the distinctive symbol of Roskilde Festival and a central reason for its steady rise to widespread relevance. In 2014 Roskilde Festival attracted more than 130,000 visitors. Throughout its exponential growth, Roskilde Festival organizers have kept the principles of community, sustainability, and charity intact.
Unlike many of the world's festivals, Roskilde is still not for profit. The Roskilde Foundation operates the festival with an eye toward giving. That means that every dollar raised by the festival is distributed to Danish charities. Last year, attendees had the unique privilege of selecting which charities would receive the funds. Furthermore, almost all of the people staffing the festival are volunteers putting in their time so they can attend the festival for free. Roskilde also goes one step further by donating human waste for use as fertilizer for growing crops. All the abandoned tents, sleeping bags and recyclables are distributed to various organizations serving Copenhagen's homeless. So if you feel bad about the massive ecological footprint a festival leaves behind, consider Roskilde Festival the best of the best when it comes to sustainability and giving back.
As with any festival, the most important part is definitely the music. Lasting eight days, and with nine different stages, Roskilde Festival provides an eclectic mix of classic and cutting edge. Look no further than last year's headliners: Paul McCartney, Kendrick Lamar, Pharrell Williams, Nicki Minaj, and Disclosure. Ripped from the radio, and straight from the underground, Roskilde gives its attendees an unmatched mix of hip-hop, rock, pop, local, international, experimental, and timeless. It is another reason Roskilde Festival is a true experience; people of all ages are interested and entertained. Far from the sea of teens and hipsters other festivals have become, Roskilde brings together old and young to illustrate how small the generation gap can be.
 I arrived at Roskilde Festival last year alone and apprehensive. I had a small tent, a light sleeping bag, a week's worth of clothes, my iPhone (with no international service), some cash and a credit card. I didn't know anything about the festival (beside who was playing). I bought my ticket at the recommendation of my Danish relatives; it was around $250 US. I rode the train (just 30 minutes from Copenhagen Central Station), which cost me about $7. After I received my wristband and entered the festival, I headed straight for the first empty campsite I found. It turns out I wandered into the paid camping area, and I stumbled upon a group of friends that have attended Roskilde Festival together for over 10 years. They helped me assemble my tent and accepted me wholeheartedly into their camp. They were hardened festival veterans who came equipped with a massive battery to charge phones, and power the gigantic campsite boombox. They gave me access to the communal cache of beer and food, and told me hilarious stories from festivals past. When my credit card stopped working, they fed me and literally kept me alive. I have never felt so completely welcomed by strangers. I can honestly say these were some of the best days of my life. If you're alone or skeptical of attending a festival in a foreign country, I can tell you Denmark is the place to do it. The Danes will show you their friendly and generous spirit. Plus, almost everyone speaks perfect English.
 While my experience was certainly extraordinary, I believe the spirit of Roskilde Festival goes above and beyond that offered by other similar options. Everyone is camping on site, which creates a vibe of equality and community. Most of the people at Roskilde are dirty, tired, and interested in music. There are no VIPs, no posers, and no posturing. Roskilde Festival is a judgment free zone. You will find teens, and octogenarians, mingling amongst the hip-hop heads and head-bangers. Roskilde Festival is not a place people come to look cool on Instagram and Facebook. People come to Roskilde to let loose for a little while and forget about the problems of the real world.
If you are thinking about attending a music festival this summer, I urge you to take a chance on Roskilde. Consider it a crash course in cultural exchange. With classics like Neil Young, and the Red Hot Chili Peppers, headlining alongside indie favorites Tame Impala, PJ Harvey and LCD Soundsystem, this year's festival is in good sonic shape. 2016 will also be a good year for rap fans as Wiz Khalifa, and British legend Skepta will be in attendance. Roskilde Festival 2016 runs from June 25th- July 3rd.  There's still plenty of time to snag a cheap flight, and save up for the reasonable entrance fee of $310 (about $90 cheaper than Coachella and camping comes included!) Here are my three tips for surviving Roskilde: ditch your worries at the gate, bring sunscreen, and be yourself.